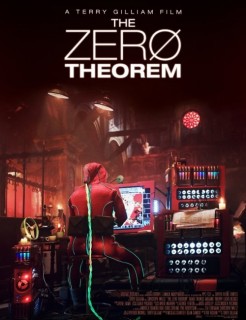 The Zero Theorem is Terry Gilliam's  final chapter in the trilogy of satirically dystopian films that began with 1985's Brazil and continued ten years later with 12 Monkeys.
Now, nearly twenty after that film, comes The Zero Theorem, which is the story of  a computer genius, played by Christophe Waltz, who seeks to unravel a mathematical formula which will reveal whether or not life has meaning. The film was the first feature screenplay from Pat Rushin, a college professor and writing teacher, based in part on his short story "The Call," which is notable for it's first person plural construction use of 'We" that gives the story a unique narrative angle.
The Zero Theorem's trailer was just released and has been generating interest among the worldwide cult of Gilliam's fans including Harry Knowles who had a chance to sneak review the film and gave it high marks.
The Zero Theorem

Stylistically, the film does indeed seem to reference Brazil and 12 Monkeys with all of Gilliam's trademark surreality, though Gilliam was forced to rely on a smaller budget than he has been previously accustomed to, as he discuses in the clip below.
Gilliam also talked with ScreenDaily about his philosophy of working with a smaller budget.
This was a more modest budget than some of the big effects movies I've worked on but it's going to look so good on the screen.

What's happened is the industry has become very much like society – there are the rich [films] and the cheap ones and the middle-budget films have been squeezed out of existence.

You've got to get clever and take advantage of your friends who work for scale and work in great places with great crews where you get a bigger bang for your buck.
The Zero Theorem will open in theaters in the UK on March 14th. There is no word yet however on a U.S. release date, but I, for one, can't wait.
**You should like Shea Magazine on Facebook to see more of our curated content.**

Tony Shea is based in New York, having recently moved from Los Angeles after more than a decade on the sunny coast. His short films have won numerous awards and screened at major festivals around the world including Comic-Con. As a musician, he is the lead singer for Los Angeles rock n' roll band Candygram For Mongo (C4M) candygramformongo.com who has been a featured artist on Clear Channel Radio's Discover New Music Program and whose songs have been heard on Battlestar Gallactica (Syfy Channel) and Unhitched (Fox) among other shows and films.