image via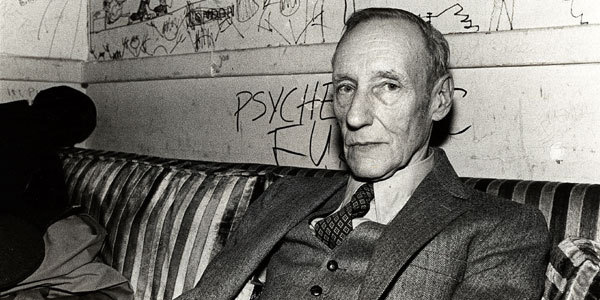 America's ultimate "Junkie", William Burroughs would have been 102 today. One of the primo Beat writers along with Jack Kerouac, Allen Ginsberg, and Paul Bowles, Burroughs was an unrepentant drug addict for most of his life, traversing some truly weird cerebral territory along the way and somehow living to be 83 years old, a feat which given the excessive nature of his lifestyle may be the most remarkable thing of all. Along the way he graduated from Harvard, killed his wife while playing a game of William Tell, wrote 14 novels, made numerous spoken word recordings, collaborated with numerous musicians including such disparate acts as Ministry, Tom Waits, and Kurt Cobain and appeared in the Gus Van Zant film Drugstore Cowboy.
Burroughs's most well-known work is 1959's Naked Lunch, which would be hard to describe since it is an utterly disjointed story that Burroughs designed so that any chapter can be read in any order and it will still have the same effect on you. Burroughs's narrative voice in the novel is a kind of maddening dream, a stream of consciousness punctuated by brilliant flashes of insight set against a horror show of madness, violence, drugs and sodomy (so very much sodomy) that somehow manages to be funny and terrifying at the same time.

Naked Lunch was made into the 1992 film of the same name by director David Cronenberg, starring Peter Weller of RoboCop fame as the Bouroughs-like main character William Lee, an American ex-pat dope fiend living in Mexico as he spirals through the alternate universe of the Interzone. Here he recounts the tale of the "talking asshole."
Did I ever tell you about the man who taught his asshole to talk? His whole abdomen would move up and down, you dig, farting out the words. It was unlike anything I ever heard. Bubbly, thick, stagnant sound. A sound you could smell. This man worked for the carnival,you dig? And to start with it was like a novelty ventriloquist act. After a while, the ass started talking on its own. He would go in without anything prepared and his ass would ad-lib and toss the gags back at him every time. Then it developed sort of teeth like little raspy incurving hooks and started eating. He thought this was cute at first and built an act around it but the asshole would eat its way through his pants and start talking on the street shouting out it wanted equal rights. It would get drunk, too, and have crying jags. Nobody loved it. And it wanted to be kissed, same as any other mouth. Finally, it talked all the time, day and night. You could hear him for blocks, screaming at it to shut up beating at it with his fists and sticking candles up it, but nothing did any good, and the asshole said to him."It is you who will shut up in the end, not me because we don't need you around here anymore. I can talk and eat and shit." After that, he began waking up in the morning with transparent jelly like a tadpole's tail all over his mouth. He would tear it off his mouth and the pieces would stick to his hands like burning gasoline jelly and grow there. So, finally, his mouth sealed over and the whole head would have amputated spontaneously except for the eyes, you dig? That's the one thing that the asshole couldn't do was see. It needed the eyes. Nerve connections were blocked and infiltrated and atrophied. So, the brain couldn't give orders anymore. It was trapped inside the skull sealed off. For a while, you could see the silent, helpless suffering of the brain behind the eyes. And then finally the brain must have died because the eyes went out and there was no more feeling in them than a crab's eye at the end of a stalk.

He had an unmistakable voice–a strange quavering midwest drawl, and he had many fascinating theories about the nature of drugs and their interplay on the human psyche.

Here Burroughs appears with Matt Dillon in the 1989 film from director Gus Van Sant, Drugstore Cowboy.

Experience the holiday joy of The Junky's Christmas as read by Burroughs.

Burroughs and Kurt Cobain.

Burroughs and Ministry
At the end of it all, Burroughs was a true card-carrying weirdo who had the power to disturb as well as inspire, a counter-culture voice that was as smart as he was dangerous.
**To follow Shea Magazine on Facebook go HERE!**
**To follow Shea Magazine on Twitter go HERE**
**If you liked this article you should share it!**

Tony Shea is based in New York, having recently moved from Los Angeles after more than a decade on the sunny coast. His short films have won numerous awards and screened at major festivals around the world including Comic-Con. As a musician, he is the lead singer for Los Angeles rock n' roll band Candygram For Mongo (C4M) candygramformongo.com who has been a featured artist on Clear Channel Radio's Discover New Music Program and whose songs have been heard on Battlestar Gallactica (Syfy Channel) and Unhitched (Fox) among other shows and films.