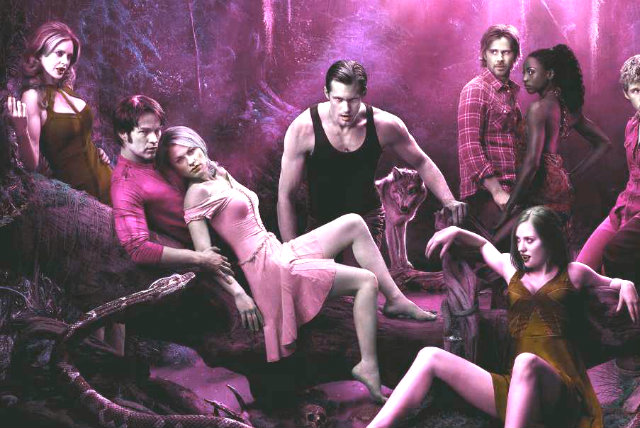 It was announced yesterday that True Blood will be back on HBO for a 7th season.
I've watched every episode of True Blood so far. Wait, I forgot I missed some episodes in season three. And maybe some in season five. But wait, I watched them over that long weekend, remember? But wait, I forgot the DVR was broken. But wait, now I remember I had the repairman come out and fix it. But wait, I forgot he had the wrong tools and left. But wait, then he said that he would come back. But wait, then he never came back. But wait, then he did, but only to tell me that he still didn't have the right tools and would have to come back again. So then I forgot all about watching those episodes. But wait, then I went to my friend's house and watched them on his DVR. So I have watched every episode of True Blood so far. But wait, if you're at a point where you just don't care, or not, whether I have or haven't since you can't quite remember what it was that I had or hadn't done, and are just scanning this paragraph in fast forward, skipping ahead to the end so you can get this over with like putting a check beside an item on a grocery list, then I'm with you. Or I'm not.
Since the departure of show creator Alan Ball midway through season five, True Blood is starting to feel more dead than alive, amidst a perpetually escalating frenzy of events that seem lively enough if examined on their own, but ultimately add up to less and less amidst an endless series of switchbacks that is turning the whole show into a bloody mess, and I'm starting to feel like I just don't give a suck about what happens. But I do. Although, I don't. Although, I do.
When True Blood began it had an interesting and focused premise – Vampires were real and they were "coming out of the coffin" to live among humans. They were able to do this because a Japanese company had been able to synthesize a human blood product known as "True Blood", and thus Vampires' need to feed on humans was no longer a concern, and we could all co-exist. Having never read any of the books in the "Sookie Stackhouse" series by Charlene Harris, I had no idea what to expect. This was an interesting turn on the familiar vampire genre, and I was excited to see where it would lead.
But then wolves and maenads and witches and shape shifters and smoke monsters and evil spirits and fairies arrived on the scene. It turns out that virtually every single character on the show is some kind of extraordinary being, or has a connection to one. With the addition of each supernatural element though, I find myself becoming less and less interested, as the show has devolved into a supernatural soap opera where anything can change at any moment, for any reason. Or not.
One of the problems of the constant switchbacks is that the internal logic of the show comes into question. What are the powers and capabilities of vampires? Or of the other beings on the show? Is vampire Bill Compton, the civil war veteran, and de-virginizer of Sookie, a vampire god, exalted via the all powerful blood of Lilith, the first vampire and sire of the vampire race, or not? Can he see the future, or not? Is he now beyond the true death, truly immortal because he does not die after being staked through the heart, always certain death for vampires– but no wait, he can be killed, because he catches fire when he steps outside in daylight, or not, because he burns but doesn't die and explode as Godric, Eric's maker, did when he exposed himself to sunlight, committing suicide. Although Godric was much older than Bill, so that may explain why Bill lives, or at least continues on undead, since we have seen him burn before. Although if Bill is now the vampire god, why would he catch fire at all? Is it only sunlight that will kill him? Or would sunlight have no power against him if he drinks fairy blood, which is what happened to Eric, after he drank Sookie's blood? Bill, of course, has certainly imbibed in Sookie's blood on multiple occasions, enough one suspects to render himself a daywalker, since the acquisition and consumption of fairy blood to become a daywalker is one of the things that makes vampires tick. Or not.
And what about the emotions of vampires? They seem to feel in all the ways that humans do, in differing degrees perhaps, but they seem to share the core traits, love, hatred, desire for revenge, desire for redemption. They too seem to have evolved into the modern world developing deeper needs apart from their lustful desires. Or wait, have they? Do they care about humans, other than as food? Do they care about each other? Certainly both Bill and Eric have loved Sookie, which shows that they can love humans. Oh wait, I forgot that Sookie is a fairy, or half fairy, or not.
And if we're talking about Sookie, then it occurs to me to ask under what circumstances is she still telepathic? Only when she consciously chooses to be? Or can the thoughts of others infiltrate her mind. She can't read vampires' minds, or wait, can she? And if she can summon explosive energy rays from her fingertips, than how is Lafayette able to kidnap her while he is possessed by the spirit of her dead father? Couldn't she fight him off? And what about Sookie's parents? Weren't they fairies, too? But they didn't know about vampires? Or whatever Warlow is, some kind of super half-vampire/half- fairy. Or wait, who is Warlow again? I thought he was Sookie's grandfather at first, oh wait, that's right, then he wasn't. Then he was that other guy, what's his name. Wait, did I watch all the episodes? Or did I miss some, like I first thought? Or did I watch some in fast forward? Which may explain my confusion, or not. I have no idea.
It may be that careful scrutiny of these questions will lead to consistent, repeatable answers, that make complete logical sense. Or not. It may be that to really drill down into True Blood with questions will be like the old saw: Atlas holding the world on his shoulder while standing on the back of an elephant that is sanding on the back of a turtle, and to ask what the turtle is standing on is to go mad.
One thing the show continues to do well is full frontal nudity and erotic, soft core pornography. So I guess I'll keep watching next season. But I won't. Although I will. Or won't.
**You should like Shea Magazine on Facebook HERE!

Tony Shea is based in New York, having recently moved from Los Angeles after more than a decade on the sunny coast. His short films have won numerous awards and screened at major festivals around the world including Comic-Con. As a musician, he is the lead singer for Los Angeles rock n' roll band Candygram For Mongo (C4M) candygramformongo.com who has been a featured artist on Clear Channel Radio's Discover New Music Program and whose songs have been heard on Battlestar Gallactica (Syfy Channel) and Unhitched (Fox) among other shows and films.