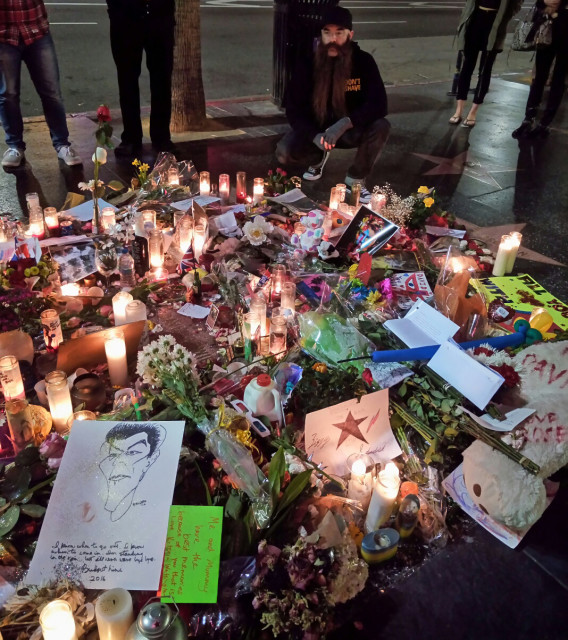 Like everyone else in the world, I woke up Monday morning to the unexpected news that David Robert Jones (aka David Bowie) had passed away after an 18 month battle with cancer. I got the news from a friend right at the very end of a Snapchat video, so it didn't really register with me at that moment. "What did he just say?", I thought. 30 seconds later, when I logged into Facebook, I found out what he was saying in the half second before Snapchat erased his video forever. Memes and messages of sadness, grief, and shock were pouring out to our Ziggy, the Space Oddity, our hero. David Bowie RIP (1947-2016).
A close friend of mine and I decided to step out last night and go pay respects at his star on the Hollywood Walk of Fame. As we approached, we could see the light from the mass of candles flickering, and the mound of flowers, gifts, handwritten messages, empty beer cans, fan-made drawings and paintings, surrounding his star. The mound had grown so large that only the letters of his name could be seen. The rest of the star's 5 points were covered and there was about a 4ft moat of fan gifts pooling out from around its center.
The atmosphere was calm and somber, but strangers spoke to each other about favorite Bowie eras, moments or songs, as they placed flowers and other gifts on the sidewalk. Others stood in reflective silence. Guitar players lead the crowd in quiet acoustic versions of "Starman" and "Changes". Several times vehicles pulled up to the curbside, rolled down their windows and blasted Bowie songs for the mourning crowd. A few people poured out vials of bright pink and purple glitter, spreading it ceremoniously around flowers and candles, as if the glitter were the ashes of Ziggy Stardust himself. The world's misfits were saying goodbye to a patron saint and sending him back home to the stardust above.
"I don't know where I'm going from here, but I promise it won't be boring." – David Bowie
**To follow Shea Magazine on Facebook go HERE!**
**To follow Shea Magazine on Twitter go HERE**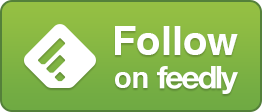 **If you liked this article you should share it!**

Nate "Chops" Johnson currently holds more than a dozen competitive bearding titles, including 6, 1st place victories, and 2 for Best In Show. He lives in Los Angeles, and enjoys Pabst Blue Ribbon beer.