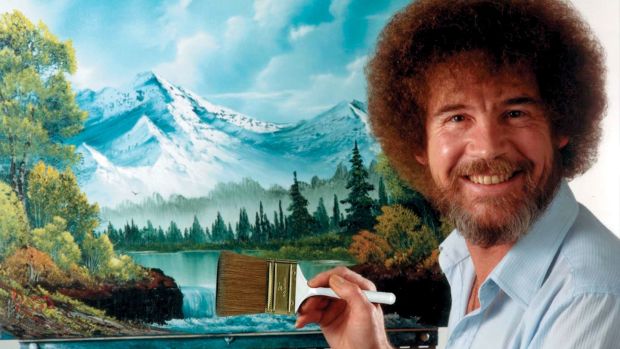 Last week a friend emailed that Angel City Brewery in LA was holding a Bob Ross Tribute Festival over the weekend. For real!
Bob Ross was of course the legendary afro'd host of the Joy of Painting, which aired on PBS from 1983 to 1994 (and might have aired forever if Ross had not died at the age of 54). Let me remind you of these Bob Ross fun facts: 1. Lost part of his left index finger while working as a carpenter in his youth. 2. Served in the United States Air Force from 1961-1981 (was a Master Sergeant). 3. All of his paintings were donated to PBS stations. 4. Was famous for using the color "Titanium White" and even sold his own brand of it. 5. Created his own line of art supplies and how-to books, which became a $15M business. 6. Brought the mello like no other with his gentle landscapes and whispered turns of phrase. 7. Had his hair permed so he didn't have to get haircuts – imagine this! Pure badass.
I was completely fascinated by the idea of a Bob Ross festival and had to see for myself. So I grabbed a couple of my closest "happy little friends" and we headed down to the Downtown Los Angeles Arts District to check it out. There were graffiti artists live tagging canvases with " happy little trees", Bob Ross merchandise (all proceeds benefiting Wildlife Waystation), men AND women donning afro wigs for the look-alike contest, and a Bob Ross inspired dance troupe called "The Titanium White Hot Dancers". As a professional beardsman, I was a bit disappointed in the lack of facial hair in the Bob Ross costumes, but the "Rossian" energy and enthusiasm that permeated the event was more than enough to make up for the missing follicles.
Check out the slideshow and videos below. You won't be disappointed! Just remember the words of the master: "You can do anything you want to do. This is your world." – Bob Ross
Slideshow

Bob Ross Pop n Lock Burlesque!

Bob Ross Look-Alike dance-off!

The Titanium White Hot Dancers

The Master at Work
For Bob Ross merch, go to: www.happylittlepinco.storeenvy.com
For info on the Wildlife Waystation: http://wildlifewaystation.org
For all Angel City events go to: http://angelcitybrewery.com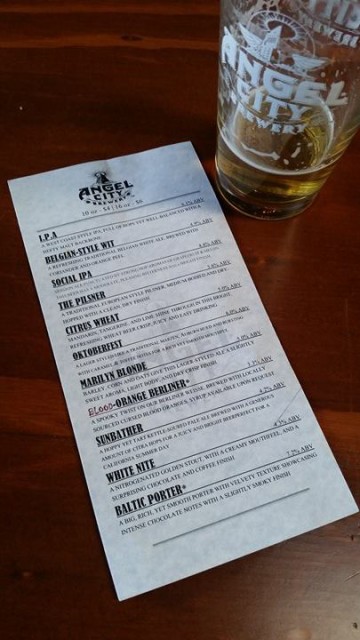 **To follow Shea Magazine on Facebook go HERE!**
**To follow Shea Magazine on Twitter go HERE**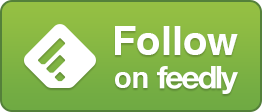 **If you liked this article you should share it!**

Nate "Chops" Johnson currently holds more than a dozen competitive bearding titles, including 6, 1st place victories, and 2 for Best In Show. He lives in Los Angeles, and enjoys Pabst Blue Ribbon beer.