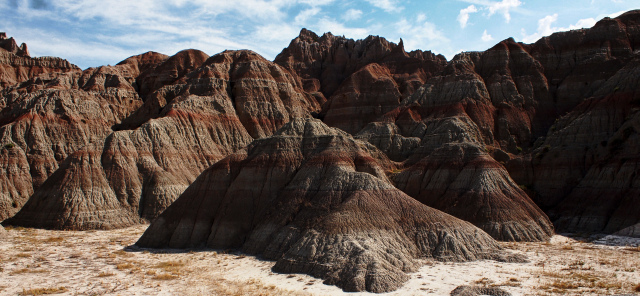 Know what would have sucked? Being a pioneer. Imagine being in your wagon train. You've trekked across the country. You've gone across the Mississippi. You've crossed grasslands and avoided the Indians. Things have got to get better, right? Wrong! Now, stretching as far as the eye can see are mounds of psychedelic colored rocks. They look all but impassable. Do you go around? Do you drag your wagon train over these insurmountable hills? Do you just turn back? How many obstacles must a pioneer face before giving up. No thank you.
Click on the photo to see large and check out the Shea Magazine Flickr Page for more

Jay Hood has lived in Baltimore, Maryland for the past 25 years.  He likes to travel and is an avid photographer.  His photography has been featured in several obscure and unassuming locations, such as John Ball Zoological Gardens.  He does not eat vegetables and is learning to enjoy seafood.  He strives to keep his DVR no more than 40% full.  Comfort is paramount and he is not above a little slacking.