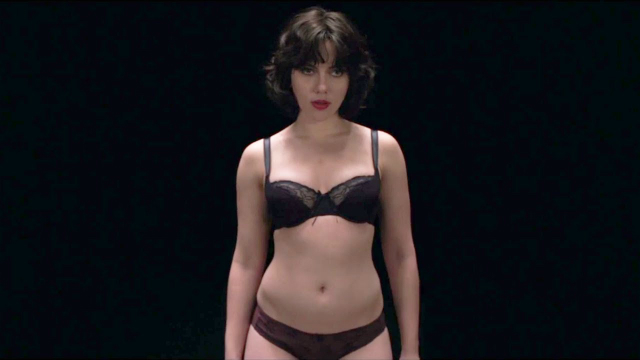 Jonathan Glazer's (Sexy Beast, Birth) most recent film Under the Skin is wildly different from any mainstream film you've seen in the last year, a darkly hypnotic work of almost pure cinema that seduces you with its mystery–and one that you should absolutely check out now on PPV.
Owing a deep debt to both the work of David Lynch and Stanley Kubrick, Glazer has created a slow burning nightmare whose ultimate meaning remains unknown, which for me is one of the great joys of the film. Unlike so many other films that feel they must bash you over the head with explanations, lest you, the idiot viewer, get lost, Under the Skin retains many of its secrets, even after multiple viewings.
In the film, Scarlett Johansson plays an otherworldly newbie alien life form, presumably — although even after the grand reveal, what she is not absolutely certain — who drives a van around Scotland luring single men, she avoids those with families, back to her lair where they are ultimately dissolved in a void of black liquid that is less literal and more figurative, a kind of spirit realm that exists beyond the physical world that we can know. Johansson's character seems to be the servant of another alien, who appears in the form of a "motorcycle man," who aids her in disposing of bodies. But like Johansson, what the motorcycle man ultimately is remains unknown.
In her murderous pursuits, Johansson's character is less ruthless than simply without feeling, a tabla rasa with a to-do list, lure men and vaporize them. That is until she attempts to seduce a lonely 27-year-old virgin with "elephant man's" disease, who arouses an heretofore dormant sympathy in her. She lets the deformed man go, and then she herself tries to escape, developing a brief relationship with a stranger who shows her kindness and with whom she attempts to make love, before fleeing into the forest. In the forest, she encounters a logger who tries to rape her, and in the process tears away portions of her outward disguise, the fleshy body she wears like a dress. Underneath she is a creature almost void of form, something more akin to a black shadow than anything else. Horrified by her, and perhaps by his own desires, the logger douses her with gasoline and sets her on fire. Her charred body rises as a column of black ashes into the sky. The end.
But even having told you this, the film can not be spoiled since its core strengths have nothing to do with the unfolding plot, but rather have to do with the questions the film raises. Who is she? What is she? A robot? An alien? Why does she kidnap these men, reducing them to their component elements, essentially sucking them dry? And as a consequence of these questions, we are also left wondering, Who are we? And trying to find the answers is what the film is all about.
Also on hand is the film's outstanding cinematography, provided here by Daniel Landin, which features a number of fascinating long shots, the kind that are scarcely seen anymore in commercial star vehicles that rely on a constant barrage of close-ups, as well as some crafty special effects that provide a truly unique experience from the perpetual bombast of action movie explosions.
The film reminds me most perhaps of Nicolas Winding Refn's excellent film Valhalla Rising, itself a largely dialogue free enterprise that does so much less in order to do more so much more. Under the Skin is available now on pay-per-view.
**You should follow Shea Magazine on Twitter HERE!**

Tony Shea is based in New York, having recently moved from Los Angeles after more than a decade on the sunny coast. His short films have won numerous awards and screened at major festivals around the world including Comic-Con. As a musician, he is the lead singer for Los Angeles rock n' roll band Candygram For Mongo (C4M) candygramformongo.com who has been a featured artist on Clear Channel Radio's Discover New Music Program and whose songs have been heard on Battlestar Gallactica (Syfy Channel) and Unhitched (Fox) among other shows and films.