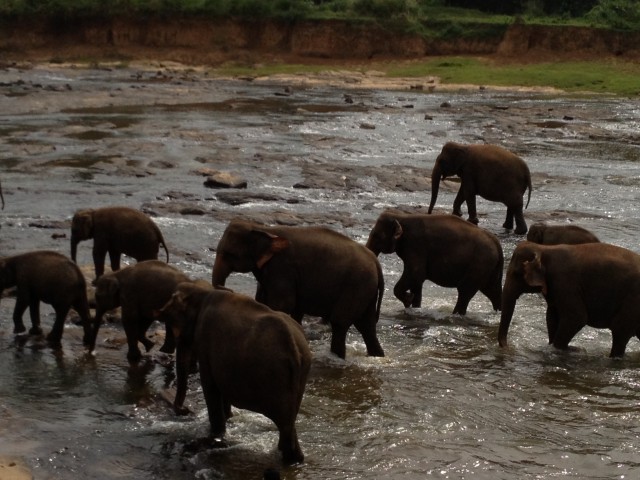 There are no boundaries when it comes to tacky travel souvenirs. Snow globes abound from the shops along the canals of Venice to the pyramids of Egypt. And while I myself have never purchased any of the "My XX went to XX, and all I got was this crappy t-shirt" souvenirs, I have bought such travel crap as wood-carved camels, Eiffel Tower earrings, coffee mugs memorializing trips to national parks, magnets galore and more. But it took a recent trip to Sri Lanka to find the most ingenious of all tacky tourists souvenirs ever…
When you are as travel crazy as I am – and can push small simple, vaccinate-able worries like typhoid and malaria to the far corners of your mind – then you can pack up your kids and venture to Sri Lanka. Why Sri Lanka?! I wanted the exoticism, adventure, beauty, colorful markets (and cheap prices) of Asia. My kids – ages 5 and 8 – wanted a beach. An island nation off the south coast of India, Sri Lanka offered both.
When you come to Sri Lanka with kids, there is a must do on every family's list: ride an elephant. There are herds native to Sri Lanka, and bejeweled colorfully painted elephants take part in many a local festival and are increasingly a core part of the tourist infrastructure. There was no way we weren't getting my kid's little tuschies up on an elephant.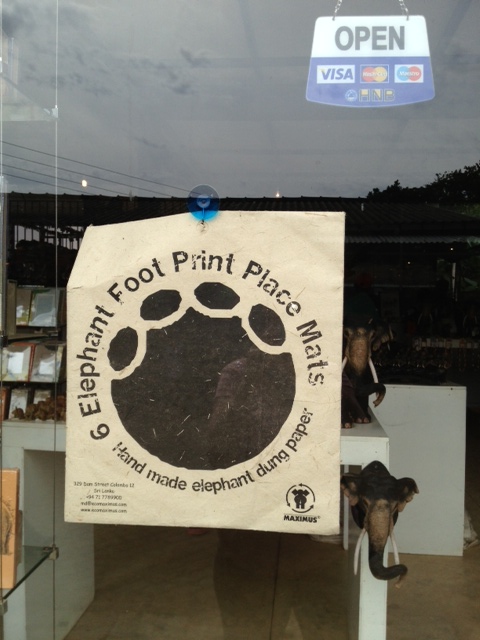 So, en route to Pinawalla Elephant Orphanage (where you can bottle feed baby elephants!), we made a pit-stop to ride an elephant. The only hitch in our plan: they wouldn't let the girls go on by themselves, an adult needed to be with them.  Now I'm normally the go-to person on these sort of adventures. I've done a dozen trail rides with the girls. My husband feels like its animal cruelty for him to hop on a horse. But I'm the photographer in the family, and my wonderful – and talented in many other ways – spouse has seemingly never met the zoom function nor managed to take a photo that doesn't contain some part of his finger. So there was no way I wasn't going to be firmly planted on the ground, camera in hand. And given the elephant weighed a few thousand pounds, it seemed less cruel to ride one. So up he and the girls went on Nona, a young 20-yr old elephant's back.
Everyone was terrified being so high up. With nothing to hold on to. Or even any instruction on what to do. Or anyone around who spoke particularly good English. But fear and questionable liability issues aside, they lumbered ahead for a stop in the local river for a "bath" that entailed Nona getting a trunk full of water, arching her trunk back, and totally dousing my husband and kids. Yes, I got the photo. And, stayed dry!
But the highlight was post-dismount, when we got to feed the elephant and its massive trunk delicately lifted bananas, watermelon and pineapples from our hands and into its mouth. Then, the best thing of all happened. It pooped. And I mean POOPED.  Seen a bowling ball lately?  (and I don't mean duck pin!) That's about what it looks like, especially up close, and we were close. And it gets even better, we got to handle the poop too! I mean some processed pulpy poop. Read on…
Which brings us to elephant defecation, tacky souvenirs and environmental genius all rolled up in one!  Do you know how paper is made – like the wood pulping process, etc?  Well, it turns us that the elephants digestive tract is like one big natural pulp factory for the 200 – 400 pounds of grasses and tree bark it eats each day. No need to employ machinery and chemicals to pulp the wood if an elephant can do it for you. So there is a small local industry of elephant dung paper products that sprouted up near the local orphanage herd of 50+ elephants.
We took a tour and saw the raw dung, then the cleaned and processed dung where they wash the poopy part away and save the pulpy fibers and watched as it got pressed into paper and laid out to dry.  And yes, we felt compelled to buy. A regular notebook in Sri Lanka costs about 30 cents, but we spent $10/each on what the girls term their new "poop books".
Also in my travel bag destined for home: elephant dung-based coasters for my coffee table, and new elephant dung based stationary/envelopes. Talk about a great gift for that 'person who has everything!'
My most unusual purchase in a foreign land ever!!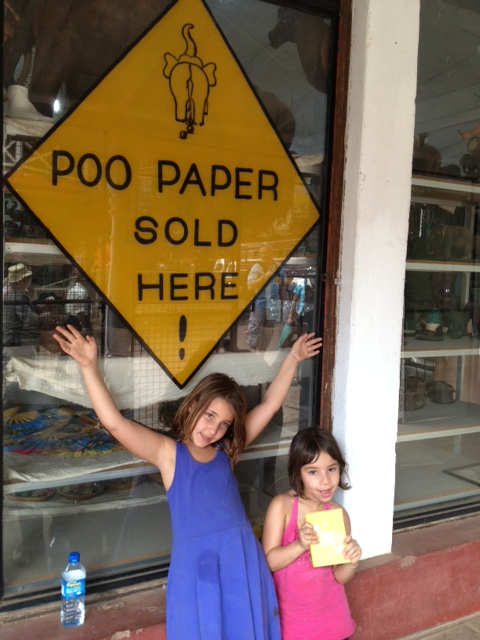 **If you liked this article please share it!**
A mom, wife, sister, friend, traveler, chaos-maker, eater, joke-teller, enlivener and adventure-taker trying to get some of the craziness in my head out into the world. For at least me to read. And maybe my sister. And a friend or two. And YOU? The only thing between me and my dream to join the Century Club and visit 100+ countries is about 25 more passport stamps, two kids, a husband and a full time job. The quest begins anew each day...