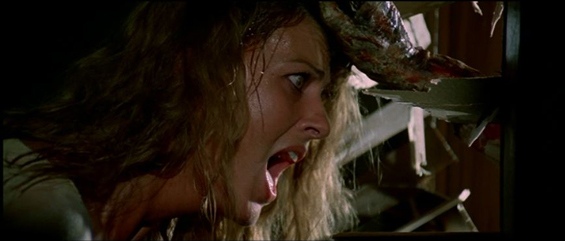 666! See what I did there? Actually I will list my top 6 horror movie scenes for this Halloween season.
Fall and the Halloween season is my favorite time of year. So, I will be writing reviews for the movies I watch this month, as well as, other scary topics that pop up.*
And oh yes, there will be eye violence!
Be warned, these scenes are gory, intense or just gross!
1. High Tension. Starts at 1:18. Ends when . . . .
2. Next up, Zombi 2, the "EYES" have it. Direct your gaze to 0:48, please.
3. Day Of The Dead. "Snacks" are available immediately. The Captain's troops get the butter, uh better of him. (Behind the scenes story: Real animal guts were used for this scene. Unfortunately, the refrigerator was left unplugged over the weekend before filming. The stench was said to be overpowering.)
4. Cannibal Ferox. This is what happens when you try to get ahead. Today's tip: Just start it and run out of the room.
5. Hellraiser. 2:30 gets you "hooked" on this scene!
I suggest that you do not watch this one. It is very chunky and filling, and may leave a Bad Taste in your mouth. If you choose to push on, Happy Halloween!
6. Bad Taste. Aptly named. Start this one at the beginning, and give yourself a Shamrock Shake if you make it to the end! You'll see what I mean.
Well, there you have it. Remember, horror is subjective, this was all movie "magic," and your list and experiences may vary. Scare you later!
Collector and watcher of (Horror, mostly) movies. Martial artist and part-time movie actor, producer, stunt coordinator and assistant director.