video clips via Dan O'Day McClellan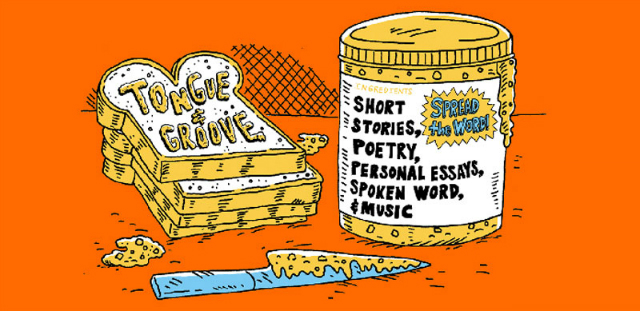 Tongue and Groove has been featuring the best in short fiction, personal essays, poetry and music for more than ten years now.
Founded and produced by Conrad Romo, one of the founders of Lit Crawl, which has produced large events in San Francisco and most recently here in LA with multiple writers reading at numerous locations all over town, co-opting coffee shops, theaters, bars, and restaurants, Tongue and Groove has become one of LA's best reading series and always features a strong eclectic line up of performers. I was honored to be on the bill at the last event, held January 19th, as per usual, the Hotel Cafe and share the stage with these great voices.
TONY SHEA

Here, I read from my new book Through the Jungle and the Rain, the story of Barney DeRussey, a 35 year old, down on his luck, medical supply salesman working the means streets of Los Angeles. During the hottest week of the year, the pressures from his tyrannical boss and his impending wedding spiral him into descending criminality as he seeks to keep his sanity and maybe finally succeed.
BONNIE NADZAM

Bonnie Nadzam is an American novelist, essayist and short story writer, and has published in Harper's Magazine, Orion Magazine, The Kenyon Review, The Iowa Review, and many others. She holds a BA in Environmental Studies and English Literature from Carleton College, and an MA and PhD from the University of Southern California. Her debut novel, Lamb, was the recipient of the Flaherty Dunnan First Novel Prize and was long listed for the Women's Prize for Fiction in the UK. Her second novel and first short story collection are forthcoming next year.
Here she reads "Tatoo."
JOHN ESPINOSA NELSON

John Espinosa Nelson has written for Esquire, the LA Weekly, and Players magazines, as well as for the non-profit U.S. VETS Inc. in support of homeless and at-risk veterans. Where Excuses Go to Die was created to fulfill a promise John made to writing instructors and education professionals, as well as the late comedienne, Lotus Weinstock, while serving time in California prisons for armed robbery.
Here he reads "Journey to the Center of a Sandwich – Roscoe State Prison."
IZZY COX

Izzy Cox was the musical guest for the evening. A voodoo billy punk jazz Ella Fitzgerald meets Tom waits Cox combines the sultriness of a torch song with the lyrical joy of a murder ballad. She played three songs spaced out over the evening, singing and playing the guitar while simultaneously providing the beat with a kick drum.
Here she performs "The Electric Chair."
**You should like Shea Magazine on Facebook to see more of our curated content.**

Tony Shea is based in New York, having recently moved from Los Angeles after more than a decade on the sunny coast. His short films have won numerous awards and screened at major festivals around the world including Comic-Con. As a musician, he is the lead singer for Los Angeles rock n' roll band Candygram For Mongo (C4M) candygramformongo.com who has been a featured artist on Clear Channel Radio's Discover New Music Program and whose songs have been heard on Battlestar Gallactica (Syfy Channel) and Unhitched (Fox) among other shows and films.