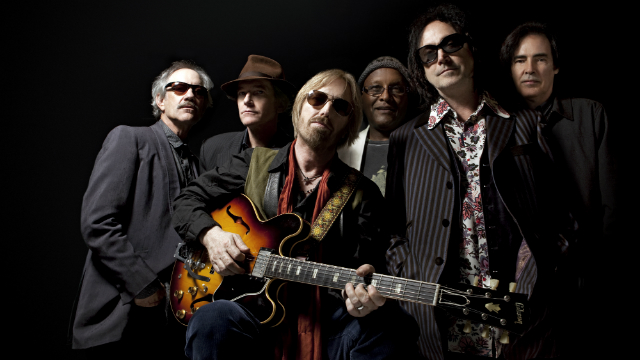 For nearly forty years Tom Petty has been rocking, becoming one of the best-selling artists of all time with more than 80M albums sold, and as the new album Hypnotic Eye demonstrates, Petty has still got it–whatever it might be. The new album drops July 29th, 2014, marking the 19th release for Petty–including the three "solo" records he has released–Full Moon Fever, Wildflowers and Highway Companion respectively–which all might as well be considered Heartbreakers records since virtually all the members of the band appear on those albums in some form or another–along with his album with Mudcrutch, and his two releases with the Traveling Wilburys. Through it all, Tom Petty has remained one of the great original American rock and roll voices. Whatever he lacks in terms of Springsteen's working man's populism, or Dylan's lyrical juggernaut, he makes up for with his catchy, laid back California (by way of Florida) stories populated by dozens of characters that radiate with humor and a kind of weather-beaten wisdom.
In honor of the new release, here's my vote – Tom Petty 10 Best Songs. P.S. Undoubtedly, there will be many who strenuously object to the fact that I have not included "Don't Come Around Here No More," "Refugee," "Last Dance with Mary Jane," "Breakdown," "Listen to Her Heart," "I Need to Know," " Don't Do Me Like That," and "Here Comes My Girl," which is to say most of the songs on the Greatest Hits collection. Feel free to tell me what your 10 Best list is in the comments section below.
10. Won't Back Down

This song is part of the Full Moon Fever trifecta represented on this list. Produced by Jeff Lynne of Elo fame this album is one of the best of the Petty catalog. Though classified as the first of the Tom Petty "solo" albums, all the Heartrbreakers, excluding Stan Lynch, are on board. And it's a great album, although over played enough by now on commercial radio that it's hard to hear it with fresh ears, which is why these songs, though all excellent in their own respect, anchor my list in the 8 though 10 slots.
9. Running Down a Dream

All the videos from Full Moon Fever feature the same novelesque device where Petty opens a book to reveal the video within, playing up his Mad hatter routine.
8. Free Falling

This song is the spiritual successor of American Girl–perhaps the story of what happened after the American Girl drove West and had a daughter of her own — that shined a spotlight on LA valley towns like Reseda.
7. Big Weekend
This jolly little tune comes from Petty's third "solo" album, Highway Companion, released in 2006. This album features a number of excellent songs, "Down South," "Flirting with Time," and "Night Driver" among them Presumably purists will be outraged that I have included it since it has not had decades to warm in their hearts, but it's a great story song where Petty examines what life is like as he gets older, and provides a nice counterpoint to his more youthful work.
6. Even the Losers

1979's album Damn the Torpedoes was recorded at the legendary Sound City Studios where a legion of great records came to life, including Petty's own album Wildflowers, along with Nirvana's Nevermind and Fleetwood Mac's Rumors among them. Damn the Torpedoes is probably the best of Petty's early albums featuring the aforementioned tracks "Refugee," "Don't do Me like That," and "Here Comes My girl."
5. Runaway Trains

The 1987 album Let Me Up I've Had Enough often seems to be one of Petty's overlooked efforts. For instance the lead track "Jammin Me," co-written by fellow Traveling Wilbury, Bob Dylan, went to #1 but was still mysteriously left off of Petty's 1993 Greatest Hits album for reasons that remain unknown. Of particular note, this album features the most collaborations between Petty and Heartbreakers co-captain and guitarist Mike Campbell on a single album. If you've never given it a listen, I highly recommend it and think of it as one of Petty's best albums.
4. Wildflowers

Petty's 1994 "solo" effort saw Rick Rubin come onboard as producer. All in all, it's one of Tom Petty's best efforts, brimming with a number of excellent tracks including: "You Don't Know How it Fells," "You Wreck Me," and "Honey Bee."
3. Into the Great Wide Open

The title track to 1991's album of the same name is like a novel miniaturized into 5 verses that tells the tale of Eddie who waited till he finished high school before heading out to the Hollywood to find fame and fortune. The song will resonate with anyone who ever dreamed of leaving their hometown. This is a great song that features all the talents of the band members seamlessly melding guitar, keys, bass and drums as well as the myriad talents of producer Jeff Lyne, who produced this record as well as the aforementioned Full Moon Fever.
2. Straight into Darkness

Long After Dark is another TP and the Hb's album that seems to get lost in the shuffle of the band's many fine albums. "You Got Lucky" is the most well-known track from this record, but for my money the best song is "Straight into Darkness," which features the fine background vocals of bassist Howie Epstein, who was an integral part of the original lineup before his tragic death at the age of 47 due to complications from heroin use. This is a kind of signature song for Tom Petty as I think of it that showcases what he does better than just about anybody–makes rocking story driven songs that are tinged with a romantic sadness that culminate in an uplifting sense of triumph. As song to song counterparts go, I would say that "Straight in Darkness" is the bookend to Springsteen's great song "Atlantic City."
1. American Girl

The Rolling Stone Reader's Poll of Tom Petty's 10 Best Songs and I agree here on this crucial matter. I would suspect that just about any fan would, for "American Girl" is one of the greatest populist rock songs ever recorded along with Bon Jovi's "Living on a Prayer," Journey's "Don't Stop Believin'" and Kiss's "Rock and Roll All Nite."
From Tom Petty and the Heartbreakers released in 1976, "American Girl" is perhaps the quintessential American rock song, a timeless tale of a Florida girl and her boyfriend. Somewhere right now in the United States (or Tokyo) this song is being played on the radio and simultaneously covered by a fledging rock band in some beach bar, and it always will be. Of course, we all wish that the band kicked back in for one more chorus after the solo, but it's a small complaint against a song that is one of rock n' roll's greatest. Here TP and the HB's perform at the Wiltern in Los Angeles, the band's home now for the last forty years.
Bonus Track: The Worst Tom Petty Song
Night Watchman

The worst Tom Petty song is "Nightwatchmen" from the album Hard Promises, since it is ostensibly a Grateful Dead B-Side, a kind of alternate universe "Shakedown Street" and that song sucks.
**To see more of our curated content, you should like Shea Magazine on Facebook HERE!**

Tony Shea is based in New York, having recently moved from Los Angeles after more than a decade on the sunny coast. His short films have won numerous awards and screened at major festivals around the world including Comic-Con. As a musician, he is the lead singer for Los Angeles rock n' roll band Candygram For Mongo (C4M) candygramformongo.com who has been a featured artist on Clear Channel Radio's Discover New Music Program and whose songs have been heard on Battlestar Gallactica (Syfy Channel) and Unhitched (Fox) among other shows and films.