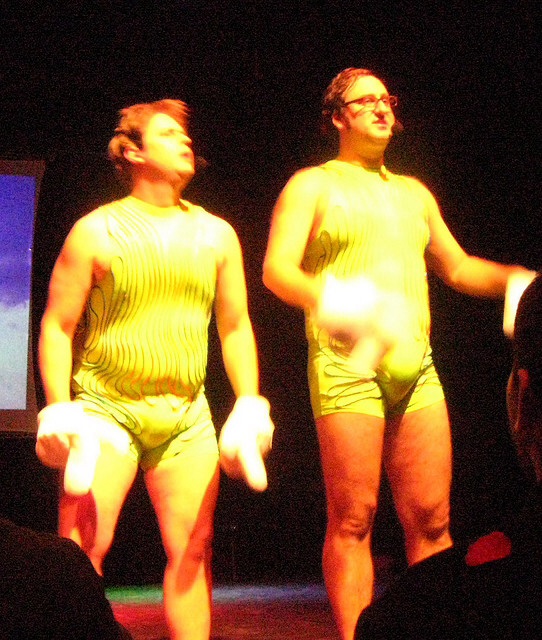 Today is the 38th birthday of Tim Heidecker, and words cannot do justice to the strange and hilarious output of his career thus far, mixing surrealism with slapstick that you have to see for yourself to understand. Climb on board and get ready for the weird ride.

Tom Goes to the Mayor
Begin your Tim Heidecker experience with the show that launched him and his comedy partner Eric Wareheim into the spotlight. Tom Goes to the Mayor began airing in 2004 on Adult Swim.
Encounters
Enjoy a clip from just before the Tim and Eric Awesome Show, Great Job! hit the air. This just hints at the absurdity to come.
Tim and Eric Awesome Show, Great Job!
The Tim and Eric show brought us many great moments and featured some great guest stars like Will Ferrell, Zach Galifianakis and John C. Reily (as the awesome Dr. Steve Brule) but there was nothing like the anticipation of what you might find inside your Chrimbus bush.
Jash
Recently Tim Heidecker, along with Sarah Silverman, Michael Cera, Reggie Watts and Eric Wareheim have started the Jash channel on YouTube. Tim and Eric's Go Pro Show brought the usual absurdity to a new format.

More Tim Heidecker
Tim and Eric at their best with Conan. Turning this appearance into an uncomfortable masterpiece.
Heidecker & Wood
And if that isn't enough, Tim Heidecker is also a pretty good musician bringing some smooth seventies sounds to the modern day. "Life on the Road" is from their album Starting from Nowhere.
For more on Tim you might enjoy this article in Esquire.
**Follow the Shea Magazine Tumblr to celebrate more Tim Heidecker madness.**

Jay Hood has lived in Baltimore, Maryland for the past 25 years.  He likes to travel and is an avid photographer.  His photography has been featured in several obscure and unassuming locations, such as John Ball Zoological Gardens.  He does not eat vegetables and is learning to enjoy seafood.  He strives to keep his DVR no more than 40% full.  Comfort is paramount and he is not above a little slacking.