I love beer.
A world of sensory exploration via brewed liquid awaits.  Any pub worth its salt in beer offerings can have you sampling it's arsenal of tap handles for hours and set you off on a course with destiny. To some this is enough, but if our pioneering forefathers taught us anything it's that if we have the means and the will to push into the unknown, we also have a god-given duty to craft our own ale and stow it along for the ride. This is Home Brewing.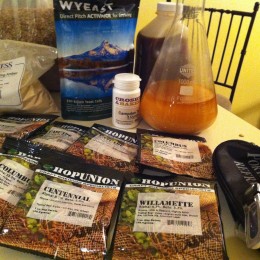 I started brewing exactly one year ago. One of the most comforting things that I've learned about brewing is that like many personal and artistic endeavors, you never stop learning. That, in my opinion, makes life worth living.
When approached with the challenge of brewing, it's important to demystify the process and the equipment to keep the goal obtainable and delicious. The basic beer consists of a mixture of crushed grains that are steeped in hot water to extract sugars, flavors and colors. The "wort" is then boiled for an hour with periodic introduction of flowered hops responsible for bitterness, flavor and aroma. Once the wort is cooled, it gets one last addition of some healthy yeast to kick-off the fermentation. You must have preparation, attention to detail, cleanliness and patience. Fortunately, there are three levels of beer making that cater to would-be brewers with different budgets and time constraints.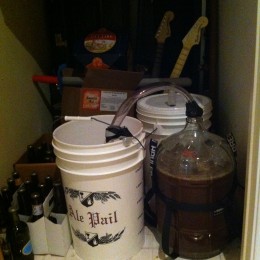 The introductory method used by most home brewers is Extract Brewing. This method gives you the opportunity to get to know your equipment and the basic brewing process without much distraction. You have one vessel for your boil and one for fermentation. The smaller amount of grain is purely for color and flavor. All of the sugars necessary for fermentation come from liquid or dried malt extracts. There are dozens of extract kits and ingredients available for any type of beer.
The full blown method is referred to as All Grain Brewing. It is called All Grain because there are no extracts. All of the needed sugars are enzymatically extracted straight from the grains. A large quantity of crushed grains are "mashed" in hot water for a longer period of time to break down starches and release the sugars. Then the "sparge" process involves rinsing the grains to get all of the sugars out,  leaving you with a pot of wort ready to boil. Everything else is elementary. Another vessel for the mash is needed for this method as well as another heat source and much more attention to the details of temperature and time.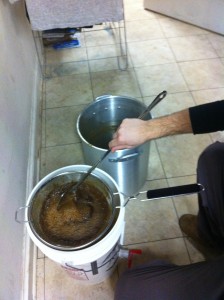 The third method is a combination of the two other methods called Partial or Mini Mash Brewing. You do a proportionate amount of mashing grains and boiling with extracts. You need some of the same equipment as you would for all gain brewing. The benefit with partial mash brewing is that less time is spent mashing, sparging and setting up. It's essentially the perfect bridge between the other two.
I've done 10 brews so far using extract and partial mash methods. I have not done any all grain batches yet because I'm still in the process of nailing down my technique. All grain is a big investment in terms of time and effort, which is why the technique has to be routine. I have had good brews and bad brews along the way and I have learned from all of them. Every experience has brought me closer to understanding. For me, the goal is to find my go-to. Eventually there is going to be a single batch that can be a building block and experimented with until I have my prized unicorn, and that is the purpose of home brewing. If you do your homework and stay focused, you can pry open a bottle of beer you made in your basement that rivals your favorite tap handle.
Stay thirsty my friends. Cheers!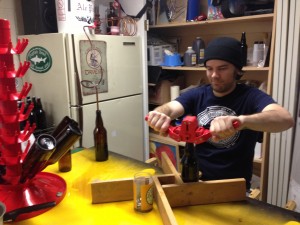 Jay Stone was raised in Bethesda, MD among a musical family. Bands and instruments were always coming and going to the basement of his parent's house. It was around that time that a 4-track cassette recorder and a Boss DR-550 were left behind. Around the age of 10, Jay made some of his earliest (and long lost) recordings. After fooling with mixing and scratching on turntables in high school, he throw some money down on digital recording gear and some instruments and started recording some original material. Over the years Jay's style and and process has become more refined, though an ensemble has never been formed. Jay Stone's music has been strictly a solo effort using digital multi-tracking software and a small recording studio. To this day, the mission remains to strive to write, record and mix music with the utmost importance put on originality, self-sufficiency and professional audio quality.