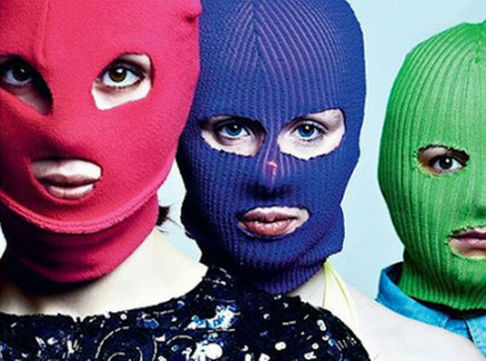 Earlier Shea Magazine brought you PART ONE of The Hottest Woman in the World This Month featuring American pop superstar Miley Cyrus, who has inspired a moderate amount of ire in the United States recently with her provocative sexual displays and earned the censure of Irish singer Sinead O'Connor. Today in part two, we look at the other side of the coin, Nadezhda Tolokonnikova, front woman for the Russian all female punk rock band, Pussy Riot.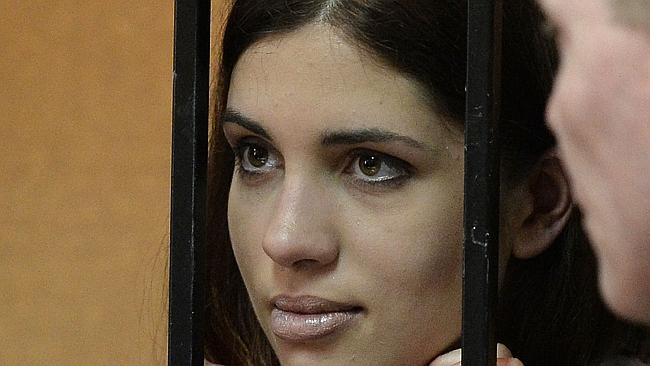 This 24-year-old from Russia just may be the only real punk rocker left, going headfirst at the Russian government to considerable detriment to her personal well being. Not since Johnny Rotten and the Sex Pistols sailed down the Thames blasting their music from a barge at the Houses of Parliament, has a performer so energetically thumbed her nose at the established order and in such an effective manner too.
Many rock stars through the years have used a variety of shock tactics to gain media attention. Marylin Manson, Alice Cooper, The Meatmen, Rob Zombie, GG Allin, GWAR, KISS, all have used shock of one kind or another as their modus operandi. For GWAR it's a blood soaked comic book come to life. For Marylin Manson it's eyeball fetish, robotic, transsexual omnisexuality. In Pussy Riot's case, their brand of shock is more of the raw grassroots political mayhem variety, the gas station hold up in ski masks and combat boots. In their focused political attacks, they're reminiscent of DC hardcore stalwarts, Minor Threat, and Oregon 3rd wave feminists, Bikini Kill, with their legion of Riot Grrrlll's.
Tolokonnikova has certainly shared in her fair share of shock theatrics including participating in orgy that was filmed in a biology museum, in a clever twist, perhaps, while she was six months pregnant. You can see more pictures from that event HERE. But overall, her motives seem to be nothing less than to bring about social change. And I admire her willingness to go all the way, so to speak.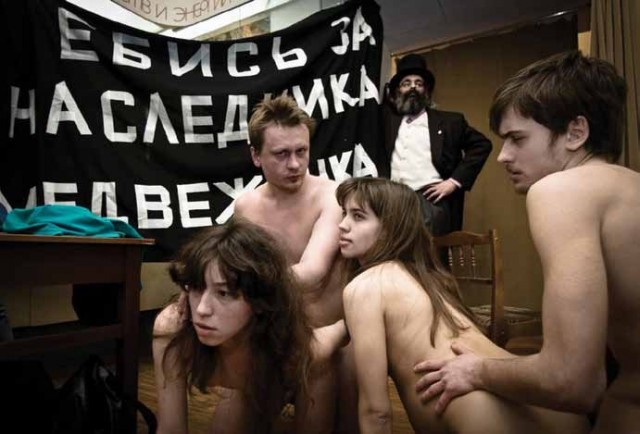 Most recently, Tolokonnikova, and the members of Pussy Riot, outraged the Russian government, as well as much of the citizenry, with a display of anti-religious rebellion, performing their "punk prayer" in a Moscow cathedral. Their prayer consisted of ripping into one of their cacophonous hardcore songs while dancing on the altar wearing ski masks, shouting anti-government slogans – a pure piece of performance art that was designed to rattle religion's cage. Which it surely did, albeit in a way that we've haven't seen in a while – someone performing an attack against a culture's normative values where nobody got hurt. Which is to say that Tolokonnikova may indeed be a kind of cultural terrorist, but no bombs went off, no one was killed. All that happened is that we have been asked to reconsider an idea. Although precisely what idea, I am not entirely certain. And that it what master provocateurs do.
But of course governments and organizations tend to take themselves fairly seriously, and hate it most of all when their power is mocked and so now Tolokonnikova finds herself imprisoned for a sentence of two years in one of Russia's notoriously awful Siberian gulags as a consequence of this act. And while you might find such an act disrespectful, it hardly seems the kind of thing to merit serious prison time. But of course, as I'm sure Pussy Riot would tell you, the goal of such a stern sentence was to make an example of them and thus silence the emerging brand of Russian feminism that Tolokonnikova seems to represent, and for which she has become a cause celebre' around the world, earning the public support of Madonna among other notables.
Here Madonna expresses her support for Pussy Riot in front of a stadium filled with fans in Moscow.
Indeed, Tolokonnikova is an excellent focal point for the movement since not only is she well spoken and possessed of a brave spirit, she's also quite beautiful, a combination that makes for a good spokesperson.
Here she poses with roaches for some reason. I'm not sure why, and I'm not sure it matters.
What will become of once Tolokonnikova once she is released from prison? Will she go on to become a cultural icon inspiring a feminist Russian revolution? Or will her fate be something more mundane? Who can say? But for right now – in a band, brave, sexy and strong. Nadezha Tolokonnikova – the Hottest Woman in the World (This Month)(Tie).
Putin Lights Up the Fires
**To follow Shea Magazine on Facebook go HERE!**
**To follow Shea Magazine on Twitter go HERE**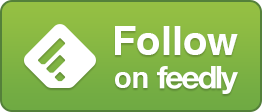 **If you liked this article you should share it!**

Tony Shea is based in New York, having recently moved from Los Angeles after more than a decade on the sunny coast. His short films have won numerous awards and screened at major festivals around the world including Comic-Con. As a musician, he is the lead singer for Los Angeles rock n' roll band Candygram For Mongo (C4M) candygramformongo.com who has been a featured artist on Clear Channel Radio's Discover New Music Program and whose songs have been heard on Battlestar Gallactica (Syfy Channel) and Unhitched (Fox) among other shows and films.