The voting surrounding The Hottest Woman in the World This Month has been heated as various folks here at Shea Magazine have made their respective cases. Our judges have had an astute eye lately as evidenced by the fact that Shea Magazine's Hottest Woman in the World This Month from a few months back, Emily Ratajkowski, was selected at the Woman of the Year by Esquire.
Included among this month's nominees were Scarlett Johanson, Olivia Munn, Adriana Lima, and Hannah Davis. Any of those ladies would have made sense, but ultimately none of them will be crowned The Hottest Woman in the World This Month, because the award shall be jointly shared by Miley Cyrus and Nadezhda Tolokonnikova, who, like it or not, are both incredibly hot  – with all due acknowledgement that their respective controversies are of astonishingly different degrees of severity.
On the one hand you have a former Disney child star who is taking her rockin' 20 year old body out for a spin on the landscape of American Pop culture and driving all the uptight and religious folks nuts with her supposedly vulgar sexual theatrics. And on the other hand you have the front woman from an underground, Russian, punk rock band called Pussy Riot,  Nadezhda Tolokonnikova,  who has made a career of politically motivated  shock theatrics, like any good punk rocker would, that have included being filmed having sex during an orgy in an art gallery while she was six months pregnant, and performing an impromptu punk rock show inside a Cathederal, a crime under Russian law designed to rouse public ire and insult organized religion. So successful was Tolokonnikova in achieving these goals that she finds herself imprisoned, having outraged Vladamir Putin. Tolokonnikova recently ended her hunger strike to protest the deplorable conditions and her whereabouts currently remain unknown after being transferred from prison. I'm sure we all that hope that she is okay, because we need people like her, shaking things up. And we need Miley Cyrus too.
Therein we present the first half of our piece devoted to the Hottest Girl in the World This Month – with a tip of the cap to Toulca Lake's own Miley Cyrus. Because when you're simultaneously turning on and pissing off half the country with your supposedly vulgar displays of sexuality, while getting the other half to express shock and concern and worry about you're well being, you've hit the showbiz lottery.
Since  the now infamous performance at the VMA's when she danced with Robin Thicke, grinding on his pin stripes and rubbing herself with a giant foam finger,  Miley has put on a "How to be Famous" masterclass seminar. She's swung naked from a giant ball and chain, licked just about everything not nailed to the floor, and appeared on Saturday Night Live twice, no less, once as host for one of this season's better episodes. She's young, hot and funny.
Of course she's also received and an open letter letter of condemnation from from 80's, Irish, singer/songwriter Sinead O'Conner, amidst the muffled public outcry about her sexually provocative antics,  who says:
Real empowerment of yourself as a woman would be to in [the] future refuse to exploit your body or your sexuality in order for men to make money from you. I needn't even ask the question. I've been in the business long enough to know that men are making more money than you are from you getting naked. Its really not at all cool. And its sending dangerous signals to other young women. Please in [the] future say no when you are asked to prostitute yourself. Your body is for you and your boyfriend. It isn't for every spunk-spewing dirtbag on the net, or every greedy record company executive to buy his mistresses diamonds with.
O'Connor's letter is certainly seething against the music business and its supposed practices of exploitation, but ultimately it serves as a list of her own grudges, rather than anything of concern to Miley's reality. What Sinead O' Connor fails to realize, with her joyless, albeit well intentioned, open letter is that Miley's world and the world of her parents has been sewn from showbiz cloth. Hollywood is her homeland and she is clothed in the latex g string of her people. The music business, far from fucking her and her family over with their callous attitudes, has made her and her family rich beyond most peoples' wildest dreams. She is surrounded by friends and family who are a part of show business, glorious show business I would say.
The myth that O'Conner perpetuates that every person in the entertainment industry is a scumbag is an erroneous one. The field of entertainment arts is populated by some of the smartest, most creative people on the planet. It includes people as diverse as Miley Cyrus and Nadezhda Tolokonnikova, who one presumes Sinead O' Connor would approve of: fiercely principled, rallying against the established order using the tool of incendiary punk rock. But some entertainments are raw and visceral, some are glossy bubblegum , some high minded, some lowbrow. Some entertainments are designed to titillate and some to repulse. And some to do a combination of those things.
Miley as evidenced by her recent interview with Rolling Stone seems like a happy, and I would suggest, well adjusted person who understands show business in a way that Sinead O' Conner probably can't, since Miley is coming at it from a perspective of pure success. She has not had to struggle to get her message heard. She has not had to struggle with religious or governmental oppression. Miley is not worried that the music industry doesn't care about her, or is turning her into a prostitute. In fact she seems to be having quite a laugh, as evidenced by her recent hosting stint on Saturday Night Live in what has been this season's funniest clip, the parody of her own video, done government style.
The original video is nearly as ludicrous.
Miley is now working the Hollywood former child star playbook to a tee, better perhaps than just about anyone in recent memory. She is a pro, and we must admire anyone that has risen to the top of their chosen field of endeavor.  She came from showbiz, born of showbiz, and entered the family business as a child. And now that she is twenty she wants to take the Ferrari out for a spin. She represents the perfection of a kind of art form – manufactured glossy pop stars. And we wouldn't have her any other way.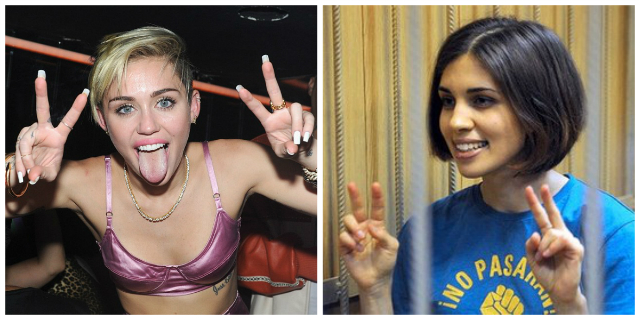 Undoubtedly, like Angelina Jolie and numerous others before her, the time will come when Miley parts ways with her inner wild child and becomes a more mature woman, and perhaps a mother. The script on this is already written. You know what comes next. Miley will be transformed and her semi-nude Sinead O' Connor baiting, Robin Thicke grinding, sledgehammer licking days will be behind her and serve as a perfect counterpoint to the new seriousness she will express as she goes on to star in a series of dramatic roles, probably playing Nadezhda Tolokonnikova in a Russian jail cell for her first Oscar nomination. We'll wait and see. But we think Miley is on to something that just might surprise us all in the end.
Ludicrous? Perhaps. But hot none the less: Miley's video for Wrecking Ball
Miley responds to Sinead O'Conner's letter with some provocative pics.
images via Terry Richardson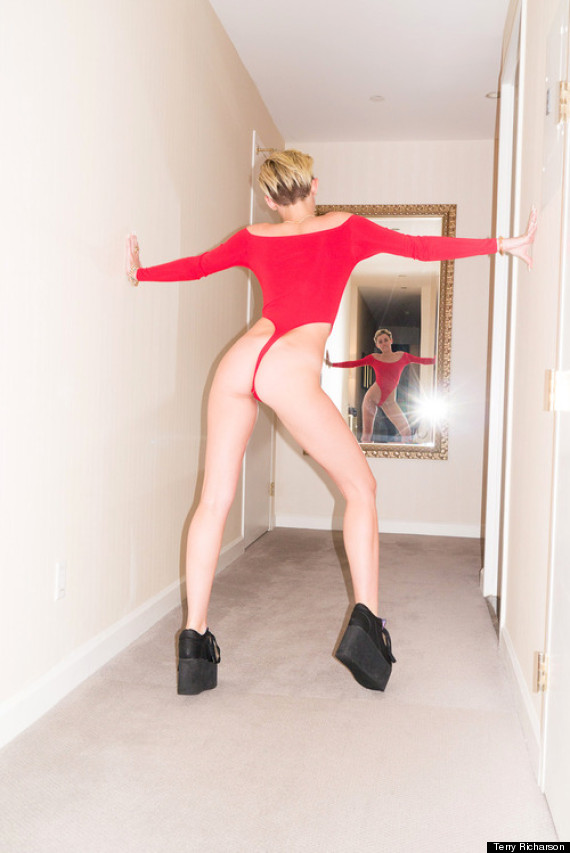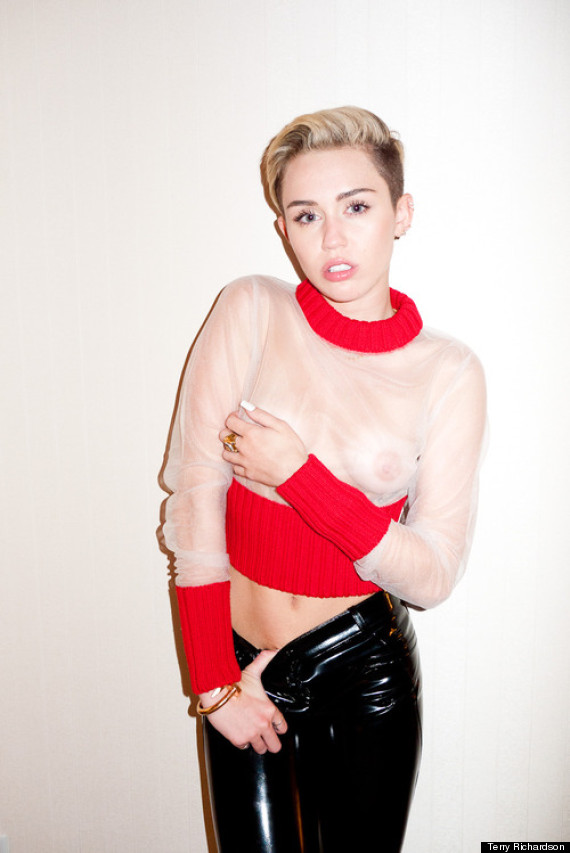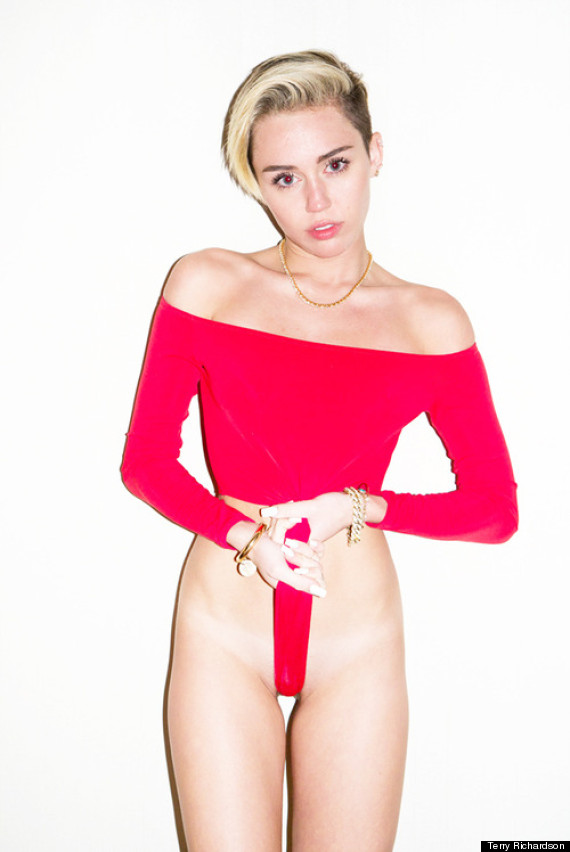 Next week part 2, as we celebrate our co-winner of the award for The Hottest Woman in the World This Month, Pussy Riot front woman, Nadezhda Tolokonnikova.
You should like Shea Magazine on Facebook to see all of our curated content.

Tony Shea is based in New York, having recently moved from Los Angeles after more than a decade on the sunny coast. His short films have won numerous awards and screened at major festivals around the world including Comic-Con. As a musician, he is the lead singer for Los Angeles rock n' roll band Candygram For Mongo (C4M) candygramformongo.com who has been a featured artist on Clear Channel Radio's Discover New Music Program and whose songs have been heard on Battlestar Gallactica (Syfy Channel) and Unhitched (Fox) among other shows and films.