Jay Hood searches for America's best donut.
"Mmmmmmmm, donuts" – Homer Simpson
There, that's out of the way. I believe it might be mandatory to include a Homer Simpson quote when discussing donuts. And why not? Admit it. You know you say it every time you eat a donut. It is the perfect summation for a little ring of fried dough.
For more than 200 years, people have been enjoying donuts. And not just enjoying, but devouring. And devouring in mass quantities. In early 2012, Dunkin' Donuts announced that they sell 1.9 BILLION donuts and MUNCHKINS® donut hole treats every year. I'll admit to adding to that tally in years past. In fact, I added to that number three at a time. Because when eating donuts, you need variety.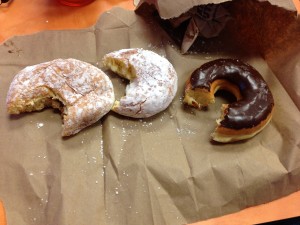 But Dunkin' Donuts has changed over time. Franchises now get donuts which are already prepared and frozen and then delivered to each store. That is hardly drool worthy and certainly doesn't elicit the "mmmmmm, donuts" response. I tried some recently. I could barely finish them.
Thankfully, across the country, the local donut shop still thrives. Instead of being shuttled in and out as quickly as possible, these local places create a sense of community where customers can discuss the day ahead while enjoying a fresh quality donut.
This is not a review of donuts. What this is, is encouragement. A small prod. A little kick in the pants to get you to drive past the Dunkin' Donuts and seek out something fresh and delicious.
My wife and I set out on a roadtrip across the country this year. One of the goals was to avoid chain restaurants. We decided to only eat at local restaurants. We wanted to soak in some of that local flavor and sense of community. And, we wanted to eat some good donuts.
We spent our first evening in Des Moines, Iowa. The Midwest did not disappoint. With Yelp as our guide, we started with a stop at the Donut Hut. It was a little off the beaten path, but well worth it. I started simple. A chocolate frosted and a glazed.
This was the perfect start to the trip. Eating these donuts made it real easy to begin forgetting about Dunkin' Donuts. If this was what we had in store for us just eating local, this was going to be a good trip.
The next morning we filled up with a dutch baby so had to do without donuts for a day. Thankfully, the following day, Jerry's in Rapid City, South Dakota was waiting with open arms to welcome us to town and feed us.
Rapid City seemed stuck in time. Sure, there was the obligatory wal-mart, 7-11, McDonalds, etcetra, but the bulk of downtown was untarnished by the big chains. And that's where we found Jerry's. A small little strip of stores along a small street just outside the main part of town.
Jerry's was filled with locals. Old-timers. These were people who gathered daily to discuss life over their morning coffee and donuts and in no rush to leave. An older gentleman was sitting by himself at a table next to us one morning. He wasn't there long before the table next to him invited him over to join them. Nothing like that ever happened in a Dunkin' Donuts that I've been in. It truly seemed local. The place was definitely part of the community.
These weren't frozen and then reheated. These weren't mass produced. These weren't cooked somewhere else and then brought to the store by truck. They weren't quite perfect rings, but instead, somewhat misshapen. The creme filling might not have filled the entire donut. But that didn't matter. What they were was tasty. So tasty we went back the next day.
When I mentioned that this was encouragement to go out and try something new, I should have added a disclaimer. Not everything you try will be good. For various reasons, it didn't take long to be in Cheyenne, Wyoming before we were a little disheartened. Thankfully it was only an overnight stop between Devil's Tower and the Grand Tetons. But an overnight stop means donuts before hitting the road. Enter Daylight Donuts. It took us about 15 minutes to weave our way through town from our interstate based hotel. Daylight Donuts was in a depressed plaza with a rutted parking lot next to a local gas station. One week into our trip and we were learning not to judge the food by the exterior of the place. So with some slight trepidation, we entered Daylight Donuts.
The interior was sparse. The selection was limited. The presentation was lacking. But we needed breakfast and we were here, so we forged ahead and ordered. This probably was not the place to be adventurous with a jelly filled and creme filled. I can't say it was a total let down. But this certainly was not the best donut we'd had. That was still 439 miles away.
Monday morning. Smack in the middle of Salt Lake City, Utah. Who would have guessed? After spending an exasperating Sunday evening seeking out a burger, we didn't have high hopes for donuts the next morning. Boy were we wrong. Banbury Cross Donuts. There might have been angels perched on the roof singing and blowing horns. I probably missed them as i dodged early morning rush hour traffic down a busy highway. But when I walked out, I surely knew they must have been up there. These donuts were heavenly. Words cannot do justice the pure delight that was Banbury Cross donuts.
So just pause for a moment and enjoy the beauty of these.
"Mmmmmmmm, donuts" – Homer Simpson
Update: After vacation, I found out that my doctor didn't exactly share the same views I had about donuts. Throughout the fall, I cut back on my donut consumption. And then, I discovered the Pennsylvania Dutch Market just outside Baltimore, Maryland. Having lived in Baltimore for twenty-five years, I thought I had found all the good places to go. I was mistaken.
I saw the dutch market out of the corner of my eye while seeking out Andy Nelson's BBQ (another location I missed for twenty-five years). Having grown up outside of Philadelphia, I was quite familiar with dutch markets and dutch baking. Before Christmas, the opportunity finally presented itself to go back.
Just inside the door is a small stall selling donuts. I was disappointed that they were out of cherry fritters. But disappointment turned to delight when I crouched down and spotted a tray of caramel coated donuts with white cream. While they say everything is better with bacon, I'm pretty sure everything is better with caramel too.
We ordered a half dozen to take home with us for breakfast the next morning. This was going to be the perfect way to rekindle the love of donuts. Caramel and creme filled, coconut topped, chocolate frosted, sugar and spice. It was hard resisting pulling the box out that night.
But I waited patiently until the next morning so I could share a bit with you.
"Mmmmmmmm, donuts" – Homer Simpson

Jay Hood has lived in Baltimore, Maryland for the past 25 years.  He likes to travel and is an avid photographer.  His photography has been featured in several obscure and unassuming locations, such as John Ball Zoological Gardens.  He does not eat vegetables and is learning to enjoy seafood.  He strives to keep his DVR no more than 40% full.  Comfort is paramount and he is not above a little slacking.