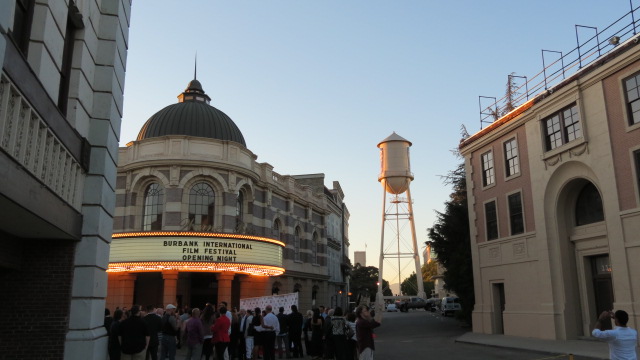 I have lived in Burbank for the last five years and I love it. I love that it feels like a small town despite the fact that it connects with Los Angeles on the other side of the hill. I love Burbank's tree-lined streets, which are a welcome relief from Los Angeles' asphalt hardscape. And I love the history of this little enclave of 100,000 full time residents, which includes much of the history of cinema, since Burbank is inhabited by some of the world's biggest motion picture and television studios, including Disney, NBCUniversal, and Warner Bros.
So it was fitting that the Burbank International Film Festival, now in its fifth year, got underway on Wednesday night with a screening of the documentary film "The Brothers Warner" at the famed movie studio lot beneath the iconic water tower, mere yards from the sound stage where Casablanca was filmed. Now in it's 90th year of operation, Warner Bros. is part of the world's second largest media and entertainment conglomerate Time Warner, which includes numerous subsidiary organizations such as New Line Cinema, HBO, The CW Television Network, Turner Broadcasting System, Castle Rock Entertainment and Cartoon Network Studios, among others. But when it began, Warner Bros. was a family owned company operated by four brothers: Albert, Harry, Sam and Jack.
The "Brothers Warner" was written and directed by Cass Warner Sperling, the granddaughter of Harry Warner. The Warner Bros. lot was her childhood playground so the film has a uniquely personal touch. The film is a fascinating look inside the family tribulations of the four brothers replete with ambition, fortunes made and lost and made again, and betrayal, most notably Jack's betrayal of the family in 1956 when he convinced his brothers to sell the company to Boston banker Serge Semenenko, only to buy it back from Semenenko a month later and appoint himself president.
Along the way, despite the various upheavals, the Warner brothers managed to craft an enduring legacy that includes a number of films now regarded as all-time classics including: "The Treasure of the Sierra Madre", "The Public Enemy", "The Life of Emile Zola", "Yankee Doodle Dandy", "The Big Sleep", "A Streetcar Named Desire", and "Bonnie and Clyde" among hundreds of other titles.
The Burbank International Film Festival will continue through Sunday, screening more than fifty features and shorts in the categories of drama, comedy, mew media, animation, student, faith based, and sci-fi/horror/fantasy at a number of different locations around town. The festival will conclude on Sunday night with the Closing Night Awards Gala honoring the winning films and filmmakers from competition, as well as special honorees Shane Black (writer of "Lethal Weapon" and director of the forthcoming "Iron Man 3"), Marco Beltrami (Academy Award nominated composer of "3:10 to Yuma" and "The Hurt Locker"), Brenda Chapman (Academy Award wining director of the animated film "Brave"), John Savage (actor from "The Deer Hunter", "The Thin Red Line", and the HBO series "Carnivale"), Neville Page (creature and concept designer on "Avatar", and "Tron: Legacy"), Greg P. Russell (16 time Oscar nominated sound designer for such films as "The Bodyguard", "Usual Suspects", and "Skyfall"), Mike Hill ( artist and prosthetic sculptor for "M.I.B III" and "American Horror Story"), and Dave O'Brien (award wining documentary producer of "In the Moment" and "Equality U").
Under the direction of President/Festival Director Jeff Rector (along with Board of Directors: Edward Clift Jr., Leonard Ghazarian, Pamela Van Zandt, Christian Zonts, Jerome Courshon and Ed Ghertner) the Burbank International Film Festival is growing exponentially year by year turning the spotlight away from Los Angeles for a moment and shining it on this special, little town.
To learn more about The Burbank International Film Festival go HERE.
**You should like Shea Magazine on FACEBOOK HERE**
**You should follow Shea Magazine on TWITTER HERE**
**If you liked this article you should SHARE it**

Tony Shea is based in New York, having recently moved from Los Angeles after more than a decade on the sunny coast. His short films have won numerous awards and screened at major festivals around the world including Comic-Con. As a musician, he is the lead singer for Los Angeles rock n' roll band Candygram For Mongo (C4M) candygramformongo.com who has been a featured artist on Clear Channel Radio's Discover New Music Program and whose songs have been heard on Battlestar Gallactica (Syfy Channel) and Unhitched (Fox) among other shows and films.