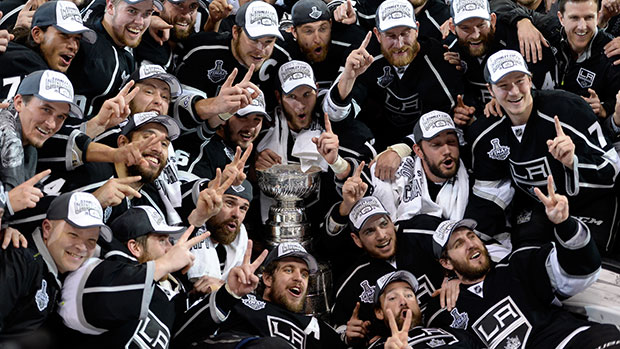 For the second time in three years, the Los Angeles Kings are the rulers of the of the NHL, having defeated the New York Rangers in 5 games to win the greatest prize in all of sport, the Stanley Cup. Demonstrating why the west is best, the Kings ground opponents away with a brand of relentless never say die hockey that resulted in the best season in franchise history.
The road to the cup is always a long one, a grueling mental and physical journey that lasts several months and requires victory in four post season series – potentially 28 games in all. This year was especially rough as the Kings became the first team to face three consecutive 7-game series on their way to the finals – that's 21 games of firece bump and grind against three of the NHL's most formidible opponents: the San Jose Sharks, the Annaheim Ducks, and the then defending Stanley Cup champion Chicago Blackhawks.
Through it all, the Kings demonstrated a kind of resilience that has now become their team trademark – a kind of perpetually renewing self belief, an idea that no matter how far behind they were in a game or a series that all was not lost. Against hated west coast rivals, the San Jose Sharks, the Kings became only the fifth team in NHL history, to come back from an 0-3 deficit to win the series. Through the ups and downs of the successive series with the Ducks and Blackhawks, the Kings remained steady, even and focused. By the time they faced the Rangers they were a team emanating a kind of insurmountable power. While the Rangers did an admirable job against the Kings, taking three games into overtime including the final game last night, they were simply outmatched by the Kings exceptional athletic talent and their mental resolve.
Here's to the Los angeles Kings – 2014's Stanley Cup Champs!!

Alec Martinez scores the winning goal in double overtime.

For the second time in three years the Kings rule!

Tony Shea is based in New York, having recently moved from Los Angeles after more than a decade on the sunny coast. His short films have won numerous awards and screened at major festivals around the world including Comic-Con. As a musician, he is the lead singer for Los Angeles rock n' roll band Candygram For Mongo (C4M) candygramformongo.com who has been a featured artist on Clear Channel Radio's Discover New Music Program and whose songs have been heard on Battlestar Gallactica (Syfy Channel) and Unhitched (Fox) among other shows and films.