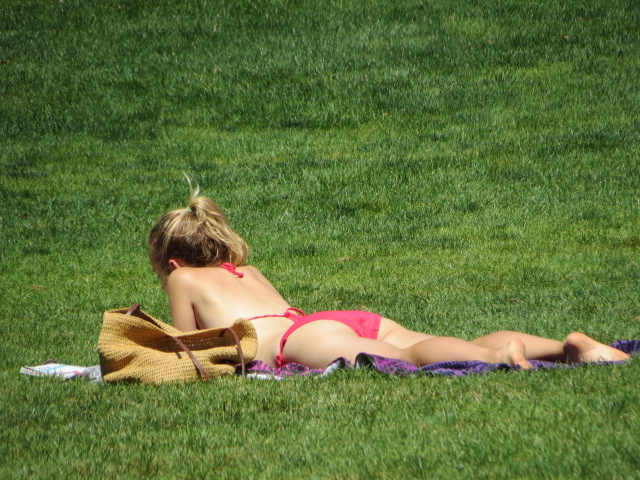 Summer has come to an end – that is unless you live in Los Angeles, in which case summer will continue right up to Halloween. Hell, maybe longer, what with global warming and the record-setting drought that has blown up the power grid – 20 Million folks in SoCal turning on the A/C. I remember those unbearably long summers, for when Summer 2014 began I still lived in Los Angeles.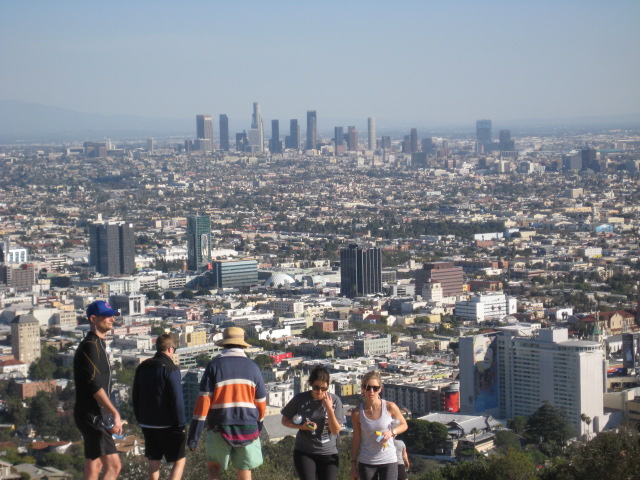 I lived there for almost fifteen years before we packed up the house, and took the kid and the dog (who are both huge pains in the butt with their constant needs) and moved 3,000 miles to set up shop in New York – the bi-coastal move, the Yin and Yang of American super-city life.
And both towns are awesome.
If you're wondering, the answer is that I still like LA better than New York, for indeed I had a deeper relationship with the great western city, and went through some pivotal times of personal growth there that I am no longer probably capable of. I was still a young man in Los Angeles.
I came to New York middle-aged.
In the end, I just couldn't take another Los Angeles Summer. And though it was hot and sickeningly humid for a few weeks in New York, and though black flies and mosquitoes swarmed the night looking for blood, and though wine and beer are sold at separate stores for some reason here, the summer in New York was easy and departed after the second week of September, switching into a foggy chill that reminds me of San Francisco weather, my favorite weather of them all. Now, of course, the fall will be replaced with WINTER, which promises to be a bear if it is anything like it was last year. All the New Yorkers I have met seem to shudder at the thought of last winter, telling tales of countless driveways shoveled, biting winds and frozen misery.  In all likelihood, if such a winter should arrive then I too will shiver and curse the cold darkness, dreaming back to the gloriously sunny LA days. But for right now, I'm ready for the East Coast fall for the first time in fifteen years – cooler temperatures and sweater weather, rain and darkness, leaves changing color, Halloween and Octoberfest, Thanksgiving and Christmas. And I hope its dark and rainy, so there.
Farewell Summer 2014! Your heat and humidity shall not be missed, but I raise a warm cup of apple cider to you, for indeed you were one of the more memorable summers of my life. You were a challenge, but you were fun.
Some of what happened to me this summer was turned into magazine pieces, some of still waits to be converted, and some it of just never took hold. This is what happened.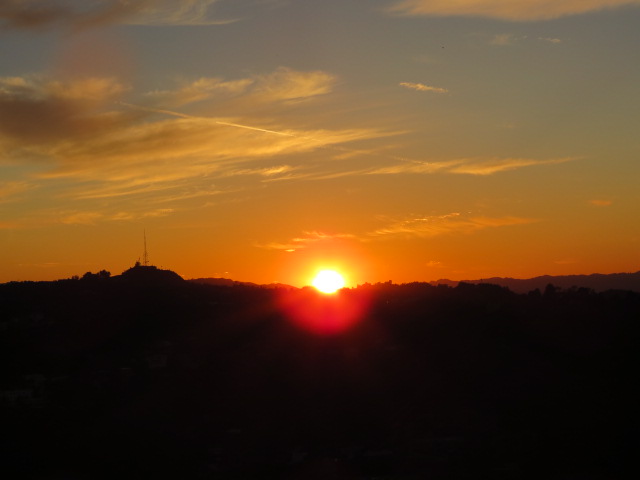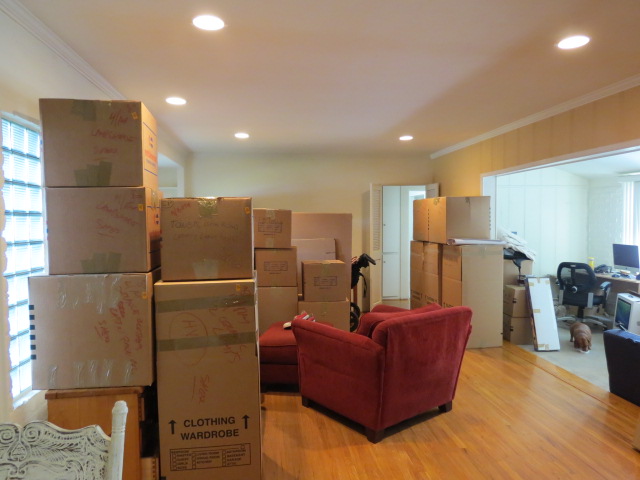 Moved from LA in June to New York. Give my regards to Broadway here we come.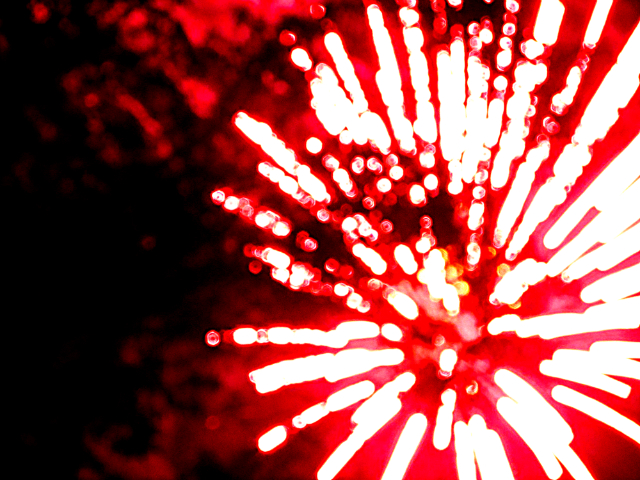 As always,the 4th of July was dynamite.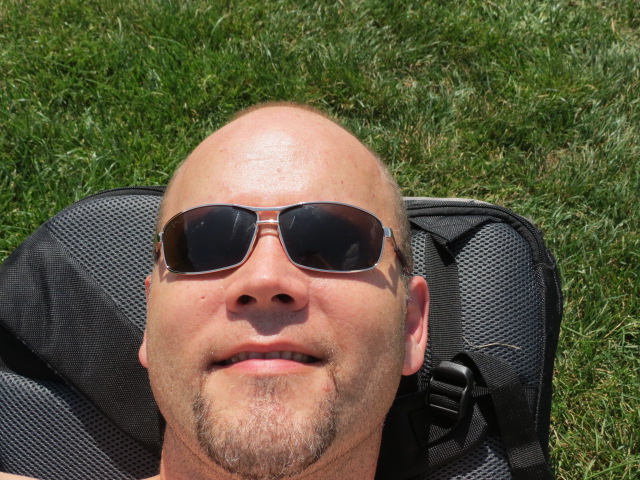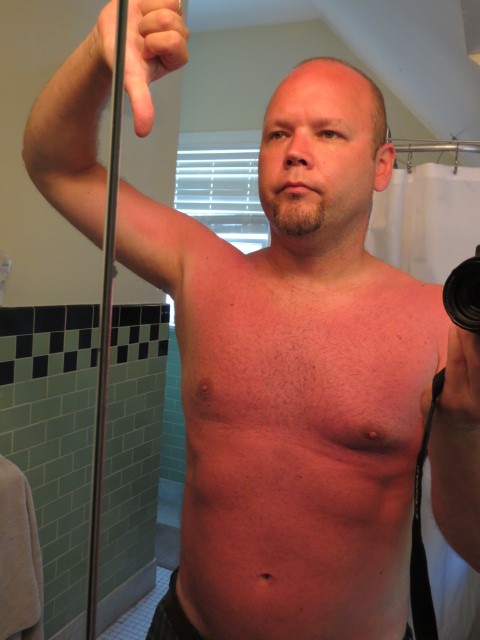 Do not adjust your monitor. This is an actual person with a sunburn. No special lighting or filters have been used!
Ironically, after 15 years in the sun zone, without a burn to my name, I got the worst sunburn of my adult life laying out in Central Park on a clear blue day with temperature in the mid-70's, after I closed my eyes for just a second and woke up three hours later with no sunscreen on. The gods have punished me for my hubris.
This sunburn was so heavy that I was motivated to write verse. Here is my poem:
Do Not Adjust Your Monitor
I am that red thing that stands before you,
the crimson creature
the burgundy body
the vermillion vessel
the macabre maroon.
I am swarmed by flocks of cardinals seeking to mate.
I am on the wine lists of restaurants
among the clarets and the merlots.
I am strawberry jam.
I am a corn beef sandwich.
I am a boiled hotdog.
If I were a ruby I would be worth 10 million dollars.
But I am not a ruby.
I am a puce and punished penitent,
sanguine and sorry
nestled in a shirt of not-so-imaginary needles,
my raw russet skin
pulsing with every heartbeat
in the scarlet seconds
between applications of aloe.
I am a fool
flushing from three hours in Central Park
surrounded by the similarly shirtless.
Did I think I was invincible
against the star's scintillant?
Did I learn nothing from a decade
of the relentlessly decadent
Los Angeles sun?
Did I not somehow recall
my fair-skinned propensity
failing to find sunscreen
and yet still proceeding,
lost in the glory of a fine New York City day?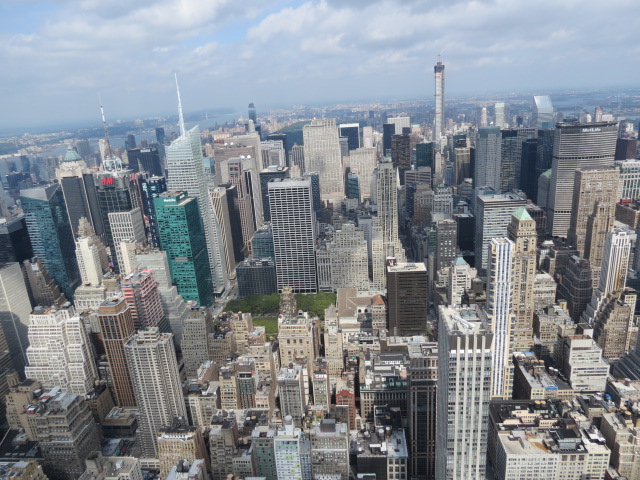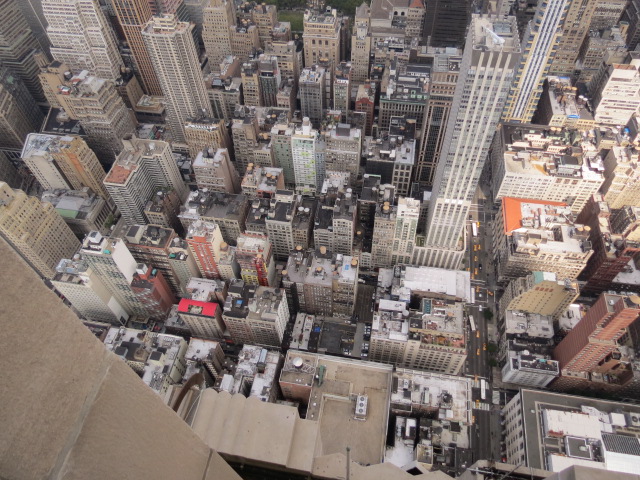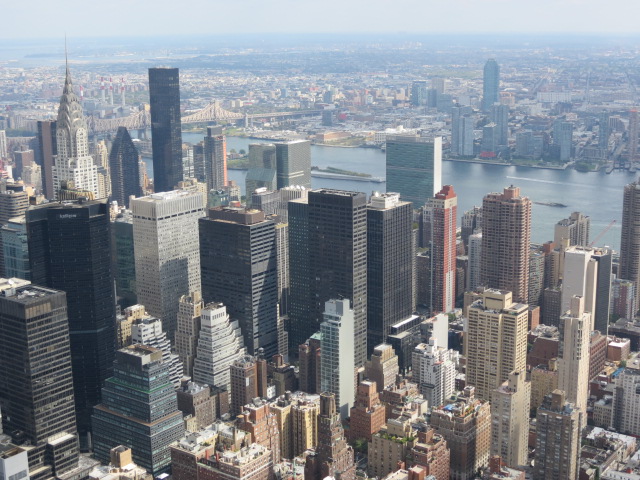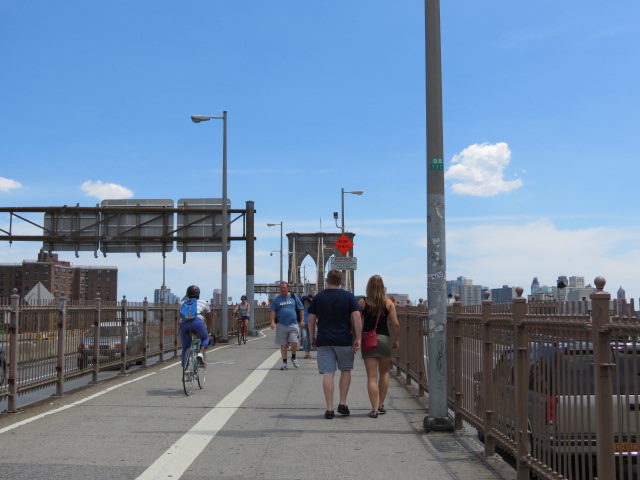 I love buildings. And I love to walk. Since I arrived in New York, I figure I've walked about 700 city blocks so far. Not bad, but of course I've barely scratched the surface as they say.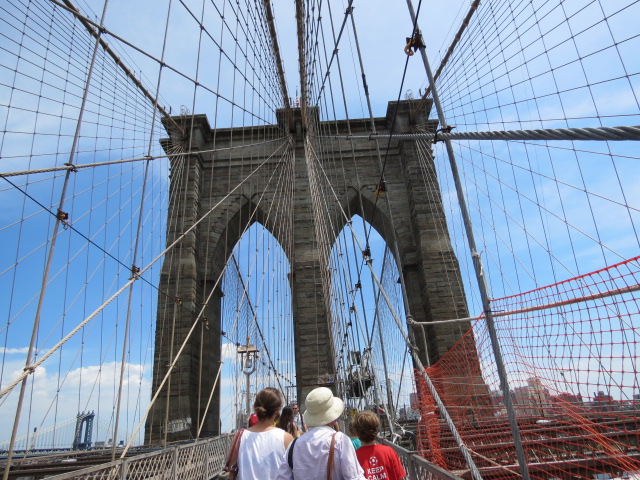 I walked through Manhattan over into Brooklyn.
This summer, I did some touristy stuff.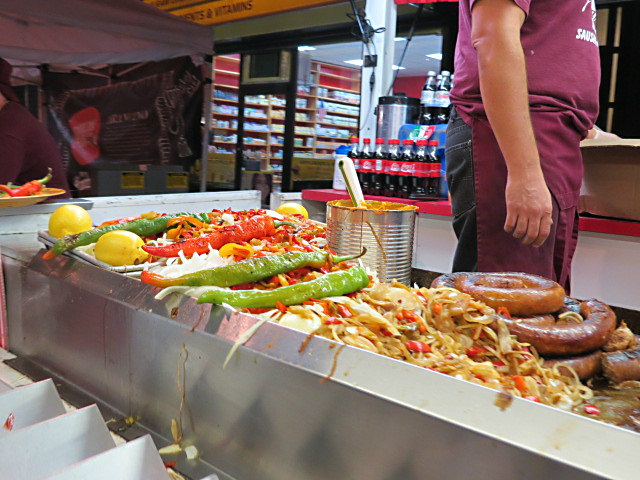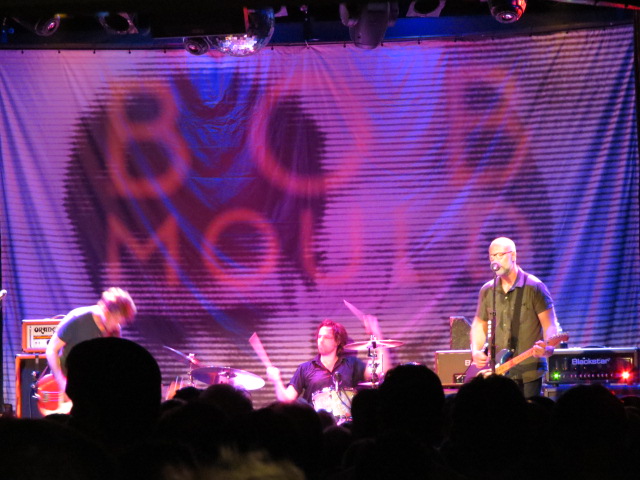 And some not-so-touristy stuff.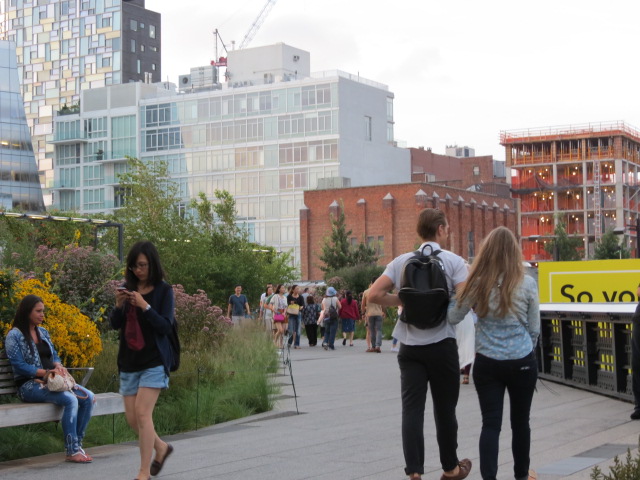 I walked the Highline and Chelsea and Tribeca and Lower Manhattan, and still I walked. [COMING SOON!]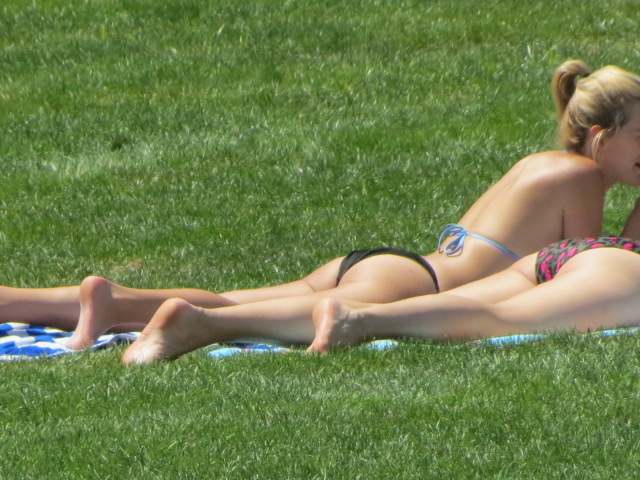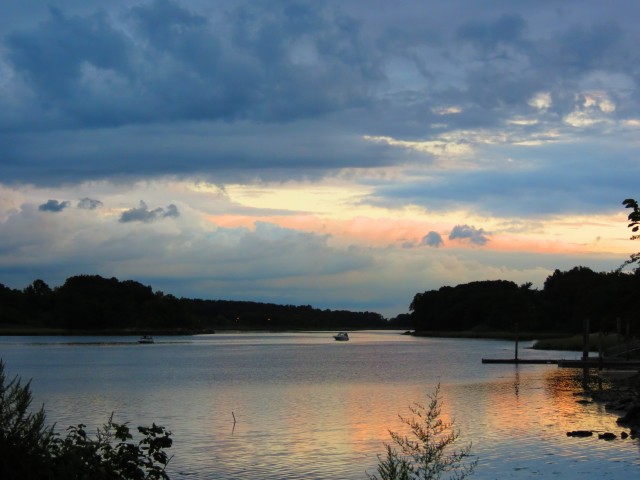 I went to City Island and Orchard Beach, aka The Bronx Riviera, and watched…
I walked through the Village, north and south and side to side.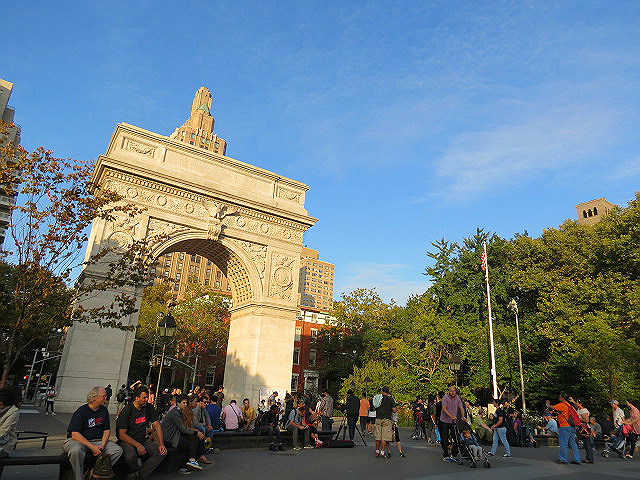 I did some highbrow stuff.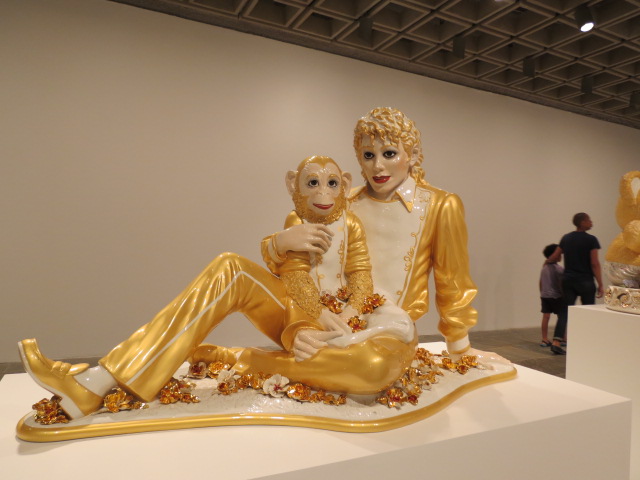 And I did some middlebrow stuff.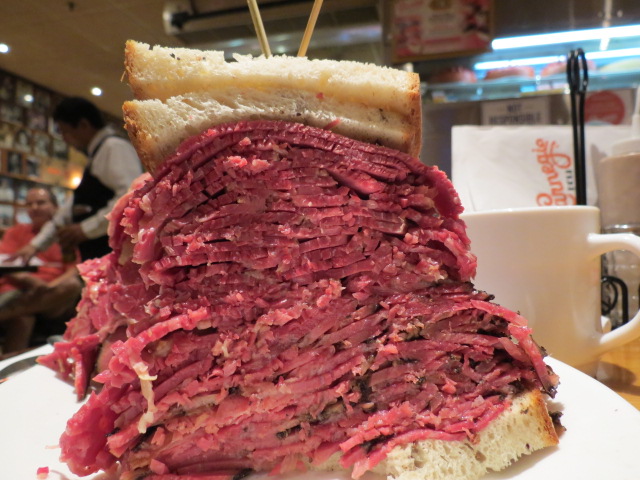 And I did some lowbrow stuff, too.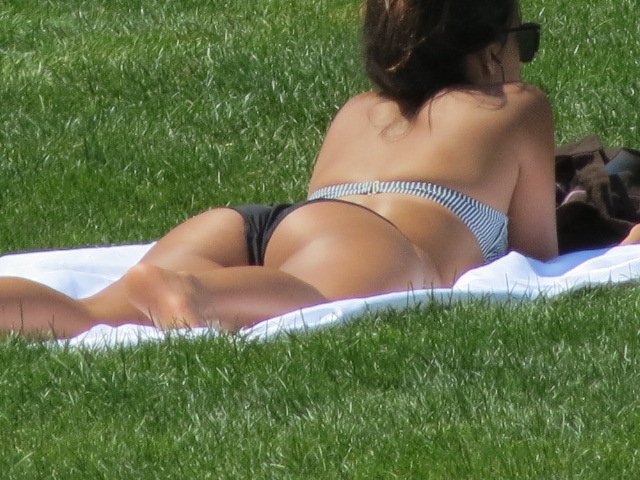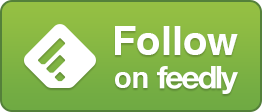 **If you liked this article you should share it!**

Tony Shea is based in New York, having recently moved from Los Angeles after more than a decade on the sunny coast. His short films have won numerous awards and screened at major festivals around the world including Comic-Con. As a musician, he is the lead singer for Los Angeles rock n' roll band Candygram For Mongo (C4M) candygramformongo.com who has been a featured artist on Clear Channel Radio's Discover New Music Program and whose songs have been heard on Battlestar Gallactica (Syfy Channel) and Unhitched (Fox) among other shows and films.