Another Thursday night in Los Angeles – a good night to go out and catch a show somewhere.
On this particular Thursday night, a friend of mine was performing at Skinny's Lounge in North Hollywood. I have known Anjelia "Anj" Pelay for just over a year. Anj has been performing regularly since she got to Los Angeles from New Jersey in 2012. This night, she was doing one song at "Elixir the Show," a burlesque/cabaret show featuring a variety of performers backed by scantily clad dancers. Sounded good to me.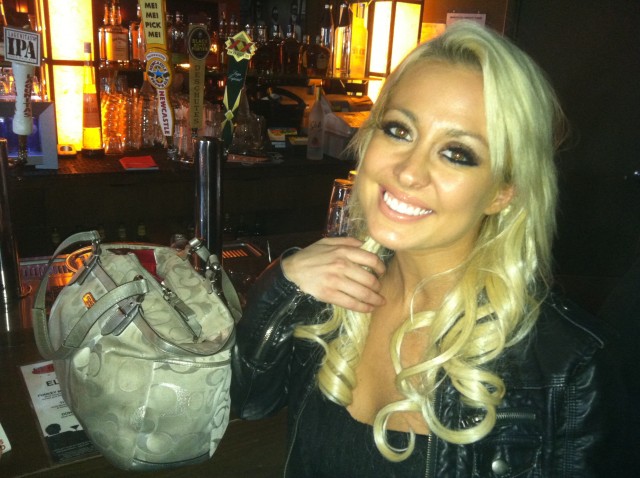 Tired from a long day and with an early morning awaiting on Friday, my plan was to go watch Anj do her song, have one drink and then vamoose. The plan went awry, however, as the night became a multiple drink affair as I, along with the rest of the packed house, celebrated the one year anniversary of this fun cabaret show. I made my way to the bar and ordered a red wine. Scantily dressed dancing girls ran passed me after finishing a routine on stage. I sipped my wine and was intrigued.
The evening, as it would turn out, had an old time feel to it – singers performed and burlesque dancers gyrated, combining in a bawdy theatrical show that had a soulful feel.
It was standing room only. Skinny's is a cozy place with mirrors low on the wall that wrap around the bar. If you have a clear view you can see the stage from almost any angle.
I found my friends, Chuck and Anj. I ordered another drink. I took some pictures of the dancers.
Anj performed her song "In the End." She sounded great and the crowd loved it, rising to their feet to applaud. Anj has a mesmerizing presence. Almost everyone experiences an attraction to her energy – both men and women. I took some pictures with my iphone.
After her song, Chuck and Anj and I jumped into a photo booth that was on hand to commemorate the good time.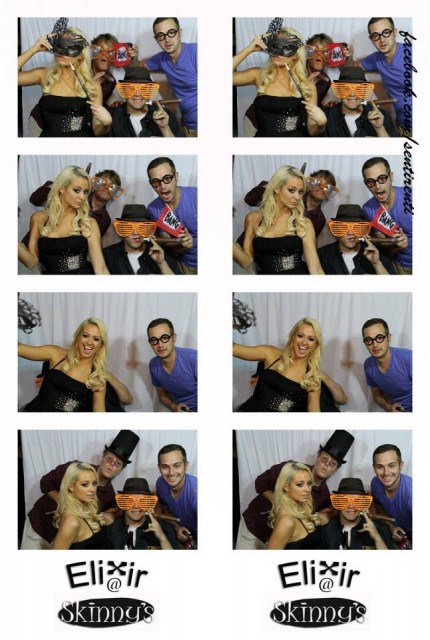 "Elixir the Show" show at Skinny's is a fun, energetic, sexy night that won't disappoint. Catch the next one this Thursday, September 19th. Skinny's Lounge, 4923 Lankershim Blvd, North Hollywood. To learn more about Skinny's go here.
To learn more about Anjelia Pelay go here.
**You should like Shea Magazine on Facebook HERE!**

Pennsylvania native Dan O'Day McClellan is a seasoned actor, writer, comedian, voice over artist and producer. Dan is the founding member of Los Angeles improv comedy troupe, The Omelettes. Dan's ongoing film making/producing work with Pete Galaxie Productions includes the award-winning short film, The Silence of Bees, along with the short films, Just Out of Reach, Reality of the Situation and The Afikomen. Dan's 1st Novel, Lognotes of a Wino, is due out in fall of 2015.