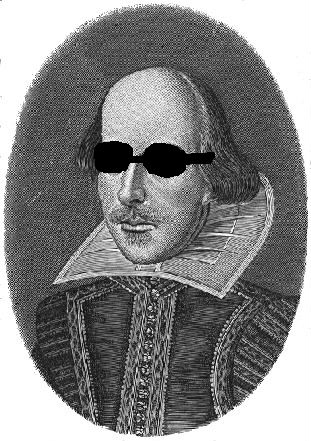 Shakespeare's works continue to find new expressions, even now some four hundred years after his death. On IMDB, the Bard is listed as a writer for 948 titles. If he were alive today, he would be worth a billion dollars, live in a 100,000 square foot house in Malibu, date supermodels, and have surgically implanted hair. Let's do lunch, baby.
Our favorites list of Shakespeare in film.
Ran
This 1985 film from legendary director Akira Kurosawa is based, in part, on Shakespeare's play King Lear and tells the story of the patriarch of a mighty clan as he turns the reigns of power over to his younger sons.
My Own Private Idaho

Directed by Gus Van Sant of Drugstore Cowboy and Good Will Hunting fame, Shakespeare's Henry the IV and V are reworked into this 1991 story of gay junkie hustlers on the streets of Portland.
Romeo and Juliet

In this 1996 film, Baz Luhrman modernizes the tale of two star crossed lovers, setting the story in a modern Los Angeles gang world, but keeping the original 16th century dialogue, which creates an interesting back and forth as the past is overlaid on the present.
Hamlet

That's Sir Laurence Olivier to you. One of the great actors gives his take on the tortured Dane in this film from 1948. And those tights!
Macbeth

Roman Polanski, no stranger to the world of madness and murder, directs this 1971 adaptation of Macbeth.