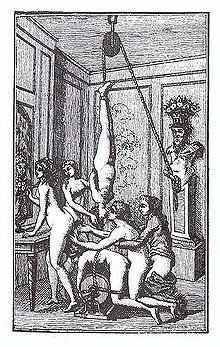 "To judge from the notions expounded by theologians, one must conclude that God created most men simply with a view to crowding Hell." Marquis de Sade
Sunday marks the 173rd birthday of the Marquis de Sade, so we here at Shea Magazine are throwing him a party. But the Marquis won't be blowing out the candles on a cake, rather he'll be drenched with urine – just the way he likes it. And we won't be singing happy birthday, either. The only music at this party will be the wailing laments of our catamites being whipped, while their nipples are clamped and scalded with hot irons; the only gift the Marquis shall receive, a brick of excrement that he shall wear on his head like a party hat.
Master of literary outrage, the Marquis de Sade, born Donatien Alphonse François in 1740, was William Burroughs, Marilyn Manson, and Pierre Woodman all rolled into one. A French nobleman who was expelled from high society for his delight in libertine excess, de Sade was certainly willing to go all the way and further still. Frigging, as he calls it, cunnilingus, objects and insertions, anal sex, copraphagia, rope play, horsewhipping, bondage, fellatio, group sex orgies, analingus, semen and urine consumption, bestiality, testicle weights, fisting, and blasphemy – the Marquis loved it all. Perhaps it is no surprise that in addition to his roles as a writer and philosopher, de Sade was also a politician, an elected delegate to the National Convention during the French Revolution.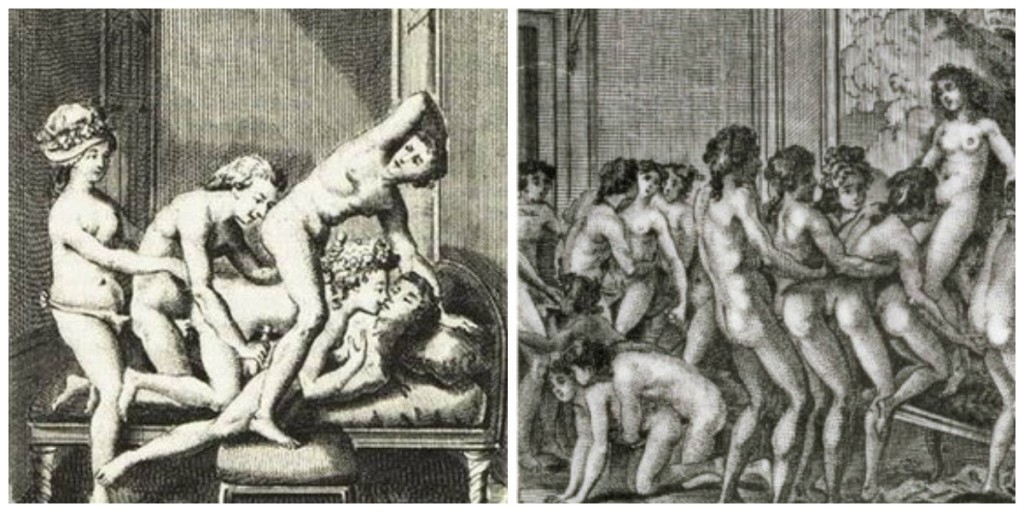 And he was also insane, or at least deemed so, spending 32 years of his life confined in prisons and mental asylums writing, as necessary, on the walls with his own feces. De Sade was unrepentant though, saying "Either kill me or take me as I am, because I'll be damned if I ever change." During his ribald career tickling the feather quill, the good Marquis chronicled seemingly every disturbing thought that churned in the fiery cauldron of mankind's perpetually ejaculating ID in books like 120 Days of Sodom and Justine, a virtual encyclopedia of unusual sex practices, giving rise to the discipline, no pun intended, that bears his name, ie: Sadism as derived from Sade, with some masochism thrown in for good measure, depicting in many of his lurid scenes a kind of Hell on Earth in which the insatiable lust of the depraved is fueled by slaves and, perhaps worse still, willing participants to their own debasement.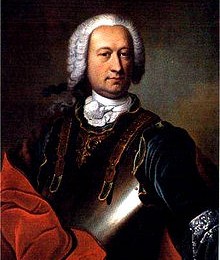 De Sade's son burned all of his unpublished works after his death. Who knows what territory de Sade explored in those pages? How much further could it possibly go? What's left? One wonders what de Sade would think of the modern world boiling over with internet pornography that chronicles in lurid HD detail, virtually every act which de Sade himself once described using words on a page, all of it now only a single mouse click away.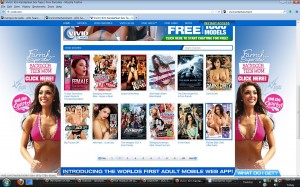 **You should like Shea Magazine on Facebook HERE!

Tony Shea is based in New York, having recently moved from Los Angeles after more than a decade on the sunny coast. His short films have won numerous awards and screened at major festivals around the world including Comic-Con. As a musician, he is the lead singer for Los Angeles rock n' roll band Candygram For Mongo (C4M) candygramformongo.com who has been a featured artist on Clear Channel Radio's Discover New Music Program and whose songs have been heard on Battlestar Gallactica (Syfy Channel) and Unhitched (Fox) among other shows and films.