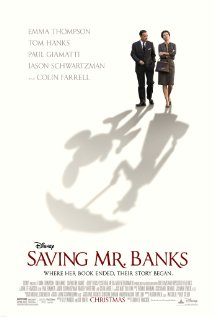 Saving Mr Banks, which is about the behind-the-scenes maneuvering that went on so Walt Disney could secure the rights to P.L. Traver's book, Mary Poppins, may be the worst titled film of the year, since unless you are well schooled in the world of Mary Poppins those words mean absolutely nothing to you. I actually wondered if the film was some kind of fictionalized version of the life of Walt Disney. I imagine the film was so titled owing to some arcane contractual language, since the film is so much about contracts and the more obvious title "Saving Mary Poppins" would have made more immediate sense. Also for a film about the making of the film Mary Poppins, released in 1964 and starring Julie Andrews and Dick Van Dyke, there is precious little of that film on display to clue us in to why it is such a beloved work. I have no idea. I can't remember ever seeing it, although my mother says I watched it as a child. Perhaps it is floating around in my subconscious, but pragmatically Mary Poppins hasn't registered in my life in any way. Which is to say, maybe I would have found Saving Mr. Banks more fascinating (although to be fair there are many fascinating details on display) if I had.
The film begins as writer P.L. Travers ventures from London to Los Angeles to explore the possibility that Walt Disney might option her book and make a film version of it, a musical no less – a fact that she is none too pleased about, turning Mary Poppins, the model of propriety, into a feel-good gimmick – pending her final approval of the script and a variety of other considerations. Emma Thompson does an excellent job of portraying an overly mannered, formal, tense and fiercely principled writer on the verge of selling out to the man she sees as a cartoon money factory, namely Walt Disney, played here with affable charisma by Tom Hanks.
The film splits the A and B stories between Travers' present on the Disney lot in sunny Burbank, as the film of her book takes shape in a number of musical gags, and her childhood in Queensland, Austrailia, dealing with the demise of her alcoholic father, played with troubled charm by Colin Farrell. As he dies from tuberculosis, Travers divines what will become the Mary Poppins story from the events of her life, particularly the mannerisms of a certain aunt. Along the way, Walt Disney courts this matronly English woman and convinces her to give him the rights to Mary Poppins, thus setting Travers free from the painful memories of her past, and "saving Mr. Banks,"  the character modeled on her father.
The film is certainly a well crafted affair. Directed by John Lee Hancock, who also directed The Blind Side, for which Sandra Bullock won the best actress Oscar, the film is well paced, features some beautiful scenery, and has some moments of emotional impact. Ultimately, however, the film feels a little flat to me, although not by much. I suppose part of the problem for me is that while Hanks does a good job, there just isn't enough of him on screen. Since the story focuses on Travers, Disney is relegated to a supporting role. Excluding the fun fact that Disney was a secret smoker, and a tale from his childhood delivering newspapers in the frigid Missouri winter, Disney is never really plumbed for the gold of his enormous myth, which presumably is the intention, to display him as a regular human being rather than a much bigger brand name. Still, between Disney and Travers, Disney is undoubtedly the more interesting of the two characters.
To make Travers seem more likeable and engaging, a subplot follows her fairly pedestrian encounters with her limo driver, played by Paul Giamata, as they develop a small friendship, but really there's no payoff to the relationship.
Also lingering over the film is the fact that you already know what happens. You know that Mary Poppins was made. You know the answer to the big conundrum of whether or not she signs the papers. She does. Signing papers just doesn't have much of a punch. The stakes are simply not high enough, as they were in films like Apollo 11 and Argo which had the same handicap of the audience's foreknowledge of events, but were still able to ratchet up the tension. Obviously Saving Mr. Banks is not meant to be a thriller. Nor is it. It's a folksy feel good story for holiday family viewing – the kind of thing that Disney continues to specialize in.
**You should like Shea Magazine on Facebook to see more of our curated content.**

Tony Shea is based in New York, having recently moved from Los Angeles after more than a decade on the sunny coast. His short films have won numerous awards and screened at major festivals around the world including Comic-Con. As a musician, he is the lead singer for Los Angeles rock n' roll band Candygram For Mongo (C4M) candygramformongo.com who has been a featured artist on Clear Channel Radio's Discover New Music Program and whose songs have been heard on Battlestar Gallactica (Syfy Channel) and Unhitched (Fox) among other shows and films.