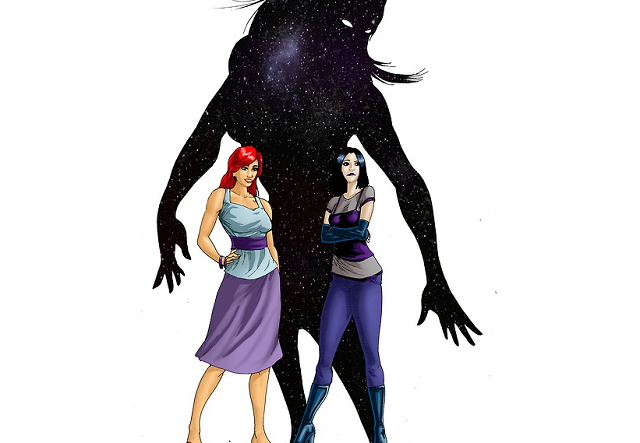 Art by http://carlchrappa.deviantart.com/
There's a lot of writing on the internet, and a lot of it's not very good.  Imagine if you wanted to go out and listen to some music, but you had no money.  In our metaphorical scenario, the only place you can listen to music for free is a karaoke bar.  So you travel from bar to bar, from town to town, from state to state, going into each karaoke bar in order to find something listenable.  Imagine all the drunks howling through eardrum-shattering renditions of Garth Brooks songs you'd have to sit through before you found that beautiful girl with the awe-inspiring voice belting out an amazing rendition of Bob Dylan's "Like a Rolling Stone."
That's sort of what it's like looking for good writing on the internet.  Everyone has a voice now, and in some ways that's a good thing.  In other ways, it's not so good.  It can take hours and hours, perhaps days, to wade through all of the mucky crap out there in order to find that one island of clarity.  When you do find that wonderful piece, you feel like a drowning man who's been handed a life preserver.  Well, there are not just life preservers out there, my friends.  There are also yachts.
One such yacht is the serialized novel Correspondence From the Goddess by Andrew G. Foltz.  At the time of this writing, there are ninety-five chapters and I've read all of them.  They read fast, so don't worry; it's not as monumental a task as it seems.  I didn't have to slog through it.  It was engaging, vivid, and most importantly, well-written.  There's a good dose of humor, which is necessary in just about any story.  This serial has had me laughing embarrassingly loud in public places on a number of occasions.  The characters are well-developed and they are so real-seeming that when you participate in the on-going question and answer session, you feel like you're really speaking with the characters rather than the author.  I'd like to add that the two main characters are both female and though the author is male, I didn't realize this until I actually started communicating with him outside of the story.  To me, that shows his skill in character development.
The interactive aspect of this serial is both innovative and entertaining.  It isn't often that you are given the chance to exchange messages with the characters in a story you're reading.  Mr. Foltz has also posted all of the conversations in the blog along with the story itself, so you can read all of the past interactions and it serves as a fine supplement.
So let's talk about the story a little.  I don't want to spoil anything so I'll just go over the basics.  It's not long before you realize you're following the journal of a super-powerful being of some sort who's practically a goddess, as the title states.  She wasn't always like this.  The story follows her progression from mere mortal to supreme being, and like the Greek gods and goddesses of old, she has very human flaws which make her an endearing character whom I, along with many other readers judging from the interactions posted, have no problems relating to.  She also has a sister who posts in the blog, complimenting her powerful sibling.  The sister has had her own journey, and the differences between her posted observations and her potentially  omnipotent sister's running story make for a very interesting read.
I'm now caught up with the latest chapters and I find myself anticipating the next chapter as I would an episode of a favorite television show.  Start reading and give it a chance and I think you'll also be hooked.
TIP: To start from the beginning, use tumblr's archive feature on the right side of the interface.  It'll save you the time of having to move through pages and pages of posts.
Here it is, folks:
http://goddesscorrespondence.tumblr.com/

Michael Monroe was born in Baltimore, MD and has lived there most of his life. He's a poet and fiction writer whose preferred genres are Science Fiction and Fantasy, and he's always had a thing for Allen Ginsberg and the Beats. His poetry has been published in Gargoyle Magazine, nthposition, the Lyric, Scribble, the Loch Raven Review, Foliate Oak, Primalzine, and various other publications.