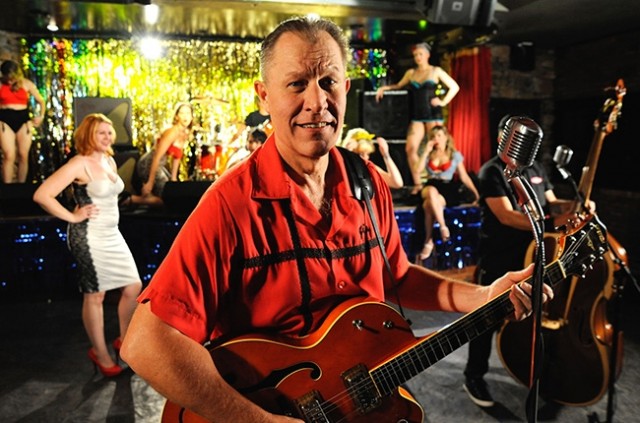 Over the course of 30 years, and 11 albums, so far, Reverend Horton Heat, aka Jim Heath, has been blending surf, rock, punk, psychobilly, jazz, rockabilly and country into his own sizzling brand of rock and roll. With influences that include Link Wray, Scotty Moore, Bill Hailey and the Comets, and Dick Dale, Reverend Horton Heat is one of the best guitar players out there, and I would suggest almost criminally underrated, able to play a number of different styles both with raucous abandon and lightning precision somehow at the same time.
Reverend Horton Heat's Saturday night show at the Roxy in Los Angeles was a mindblowingly awesome night of hilarious, rollicking, rock n'roll. The second show of a three night stint at The Roxy, the Sunset Strip's legendary club, kicked off with an intro by none other than Jesus of West Hollywood himself, Kevin Lee Light, and then immediately caught fire as the good reverend launched into "Victory Lap," shredding on his signature Gretsch 6120, along with Jimbo Wallace on the upright bass and Scott Churilla on the drums, and blazing away for nearly two hours of high octane tunes to the delight of the sold out crowd, who merrily moshed in front of the stage.
Heat managed to play a number of songs from his new album REV including "Zombie Dumb" and "Let me Teach You How To Eat."
Also featured were a number of his classics including "Psychobilly Freakout" and "It's Martini Time."
Joining Heat onstage for a several songs towards the end of the show was Deke Dickerson, who you might mistake for that other double neck guitar playing icon Junior Brown. Heat and Dickerson conspired on a rousing version of the Ramones' song "Psycho Therapy," as well in a guitar duel on "Double Neck Boogie" that was stellar.
The full setlist from the March 22nd show is below.
Victory Lap
Smell of Gasoline
Psychobilly Freakout
(Necroman guest stand up bass)
The Devil's Chasing Me
Never Gonna Stop It
It's Martini Time
Zombie Dumb
Jimbo Song
Scenery Going By
Loaded Gun
Johnny B. Goode
(Chuck Berry cover) (Rev on stand up bass, Jimbo on guitar)
Let Me Teach You How To Eat
Mexicali Rose
(Jerry Lee Lewis cover) (with Deke Dickerson)
The Millionaire
(with Deke Dickerson)
Big Guitar
(Deke Dickerson cover) (with Deke Dickerson)
Double Neck Boogie
(with Deke Dickerson)
Last Dance?
Muleskinner Blues
(with Deke Dickerson)
Psycho Therapy
(Ramones cover) (with Deke Dickerson)
400 Bucks
Baddest of the Bad
Big Red Rocket of Love
Encore:
Bales of Cocaine
Galaxy 500
Honky Tonk Night Time Man
(Merle Haggard cover) (with Deke Dickerson)
Drum Solo
Galaxy 500 (Reprise)
Reverend Horton Heat concludes his three day stint at the Roxy tonight before heading to San Diego later in the week.
Click HERE To contact the Roxy for tickets.
For more information on upcoming tour stops, click HERE.

**To see more of our curated content, you should like Shea Magazine on Facebook HERE!**


Tony Shea is based in New York, having recently moved from Los Angeles after more than a decade on the sunny coast. His short films have won numerous awards and screened at major festivals around the world including Comic-Con. As a musician, he is the lead singer for Los Angeles rock n' roll band Candygram For Mongo (C4M) candygramformongo.com who has been a featured artist on Clear Channel Radio's Discover New Music Program and whose songs have been heard on Battlestar Gallactica (Syfy Channel) and Unhitched (Fox) among other shows and films.