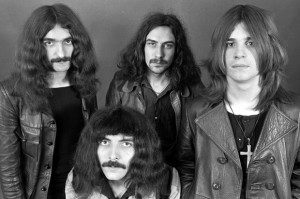 The godfathers of metal have released their first album of new material in 35 years. Featuring the core unit (sans original drummer Bill Ward) fronted by the bat head biting legend, Ozzy Osbourne, the new album, entitled 13, is the nineteenth album for the band. Upon Ozzy's original departure from the band in 1979, after eight albums, Sabbath soldiered on with a variety of lineups, the most successful of which were the albums fronted by former Rainbow singer and fellow metal pioneer Ronnie James Dio, who sang on four albums, although Ian Gillian, Glen Hughes, Ray Gillen and Tony Martin all took a turn at the mic. In honor of the return of the princes of darkness, we have compiled our Top 10 list of Sabbath songs from a variety of live recordings.
10.The Wizard

From their self titled debut album, Black Sabbath. A rendition here from Ozzfest 2005.
9. Fairies Wear Boots

From their second, and arguably best, album Paranoid. Here played during a live performance from 1997.
8.Snowblind

From their fourth record, Black Sabbath Vol 4, Ozzy sings about a subject he knows all too well in this clip from 1977.
7.Changes

The band's signature ballad also from Vol 4. Here is a rare live recording from New Zealand in 1973.
6.Children of the Grave

From their third album, Masters of Reality, from this show sometime in the 2000's.
5. Sweet Leaf

Also from Masters of Reality, Ozzy's ode to weed, here from a live recording from the 70's that is like a giant slug slogging its way through molasses.
4. Iron Man

The stadium sci-fi sing along from a recent 2013 show in Sydney, Australia.
3. Paranoid

A song that favors speed over Sabbath's trademark heaviness from the Sabbath reunion tour in 2011.
2. Die Young

Here the Ronnie James Dio fronted Sabbath reunite under the name Heaven and Hell (so as not confuse fans with the original lineup shows fronted by Ozzy). Tony Iommmi opens the song with some of his patented shred in this blazing anthem of youth.
1. War Pigs

A blistering assault on the political war machine also from the Paranoid album, we here at Shea Magazine rank this is as the ultimate Back Sabbath song. Here is a clip again from a recent show in Australia that will make the hair on your arms stand on end as Ozzy shares vocal duties with the crowd in this mega-anthem.
**You should like Shea Magazine on Facebook HERE!