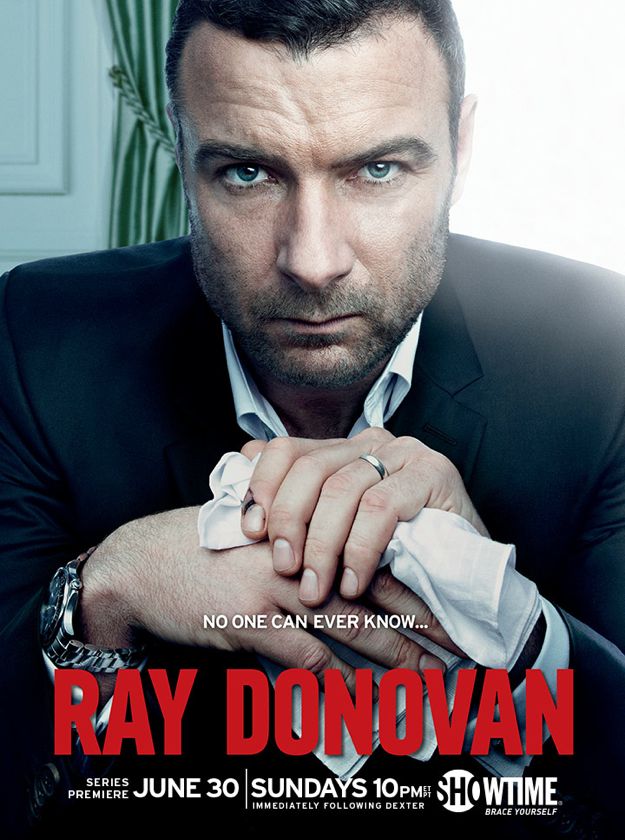 As a typical rule of thumb, I'm an HBO man rather than a Showtime one. The look and feel of HBO shows like Boardwalk Empire, Game of Thrones, and True Blood is more to my taste – shinier, funnier, and generally more fun than their counterparts on Showtime, which tend to have an inherent darkness as part of their DNA that sometimes seems insurmountable to me. Dexter or Shameless, and even the comparatively light Californication, always somehow manage to leave me feeling depressed.
So I find myself somewhat surprised when I say that the best new show on television is Ray Donovan. Airing on Showtime on Sunday nights at 10/9 Central, Ray Donovan is the story of a Bogart with a baseball bat style fixer/enforcer who makes the problems of his wealthy clients disappear. Embodied by Liev Schreiber, in one of the best roles of his career, Ray never says more than absolutely necessary, boiling beneath his quiet exterior, and ready to do whatever is necessary: frame ups, blackmail, and beat downs, which he hands out with a nonchalance that is at once both terrifying and hilarious. Ray doesn't judge, since he is no longer capable of shock. As he says to a pro football player in a panic in the opening episode, "You think you're the first person I've dealt with that woke up in bed with a dead body?" Ray is not the kind of person you like. He's the kind of person you need.
Perhaps it's no surprise that the show was created by Ann Biderman, who also created the absolutely brilliant police show Southland, which aired on TNT and was unfortunately cancelled last year. It's a show I will miss, but perhaps Ray Donovan will take away the sting. One of the things that Biderman does better than almost anybody is character. There's plenty of plot to go around for sure, but the thing that really makes her shows tick is her incredibly complex characters who have to resolve the myriad demands of their family and work lives. Just as in Southland, one of the most complex characters in Ray Donovan is the city of Los Angeles itself. As a person who has lived in Los Angeles for almost fifteen years, I can testify that Biderman knows her way around this astonishingly diverse city, capturing life in many of its disparate neighborhoods.
While Southland tended to focus on the grittier eastern and southern parts of the city proper: Hollywood, Koreatown, Los Feliz, Silverlake, Echo Park, Downtown and South Central, Ray Donovan goes over the hill to focus on the wealthy western parts of the San Fernando Valley: Calabasas, Thousand Oaks, swinging back around to Malibu on the coast. It's a world of mansion homes owned by the ultra wealthy: pop stars, actors, financiers, and movie producers – people who are removed from the workaday lives most of us experience. As such, it's a fascinating look behind the curtain of wealth and privilege at the many shady dealings that go on behind the beautiful, sunset beach scenes.
The show is rounded out by terrific ensemble performances, most notable among them Jon Voight, playing Ray's father, Mickey, an aging charmer newly released from prison after twenty years, who has bequeathed to Ray the genetics of his dark past. Also excellent is veteran TV actress Paula Malcomsom, who plays Ray's wife, Abby, a tough girl from Southie, who knows what her husband is and still loves him anyway.
If you haven't yet seen this show, you absolutely should, for once you do you'll be hooked – like a millionaire rock star with a needle in his arm. You can watch the premiere episode below in its entirety, and see the fifth episode (of twelve for this season) tonight on Showtime.
Ray Donovan Première Episode

**You should like Shea Magazine on Facebook HERE!

Tony Shea is based in New York, having recently moved from Los Angeles after more than a decade on the sunny coast. His short films have won numerous awards and screened at major festivals around the world including Comic-Con. As a musician, he is the lead singer for Los Angeles rock n' roll band Candygram For Mongo (C4M) candygramformongo.com who has been a featured artist on Clear Channel Radio's Discover New Music Program and whose songs have been heard on Battlestar Gallactica (Syfy Channel) and Unhitched (Fox) among other shows and films.