HUNTER S. THOMPSON DIED ON THIS DAY BACK IN 2005. THIS PIECE WAS ORIGINALLY PUBLISHED ON JULY 18, 2013 TO COMMEMORATE HIS BIRTHDAY.
The Edge…there is no honest way to explain it because the only people who really know where it is are the ones who have gone over. Hunter S. Thompson

By all accounts, Hunter S. Thompson, who would have celebrated his 75th birthday today, had an insatiable appetite for life, and by life I mean heavy drugs, alcohol and firearms. An unrepentant addict, Thompson is widely credited for developing Gonzo journalism, a hybrid story telling technique that fuses fact and fiction, elevating the journalist to the starring role.
Writing articles for Rolling Stone, The New York Times Magazine, Esquire, and Harper's, among numerous other publications, Thompson covered sporting events like the Kentucky Derby, hung out with the Hell's Angels, and tracked presidential elections, criss-crossing the country, cataloging the death of the American dream, which he felt had been reduced to a kind of "fear and loathing", his signature catch phrase.
By the end of his life, Thompson had become a mythological figure of prodigious stature, due in large part to his legendary excess. Here an excerpt from E. Jean Carrol's biography of Thompson, Hunter: The Strange and Savage Life of Hunter S. Thompson catalogs Thompson's consumption.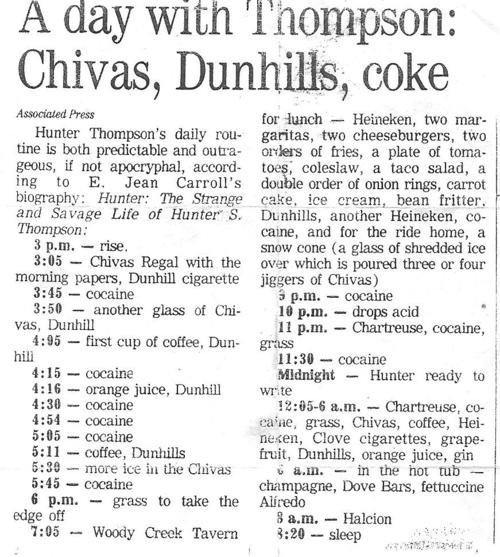 The idea that anyone could function with a daily regimen of eight-balls of cocaine, gallons of Chivas Regal, packs of Dunhill cigarettes, and hits of LSD is almost impossible to imagine. But this penchant for excess fueled the Thompson legend, placing him alongside Ernest Hemingway, Jack Kerouac, and Charles Bukowski as one of America's ultimate literary, cult heroes. And like those other inebriants, Thompson has been canonized on celluloid in multiple biopics.
Where the Buffalo Roam

This 1980 film, directed by Art Linson, starring Bill Murray as Thompson, and featuring a soundtrack by Neil Young, played the Thompson myth for laughs.
Fear and Loathing in Las Vegas

This 1998 film, directed by Terry Gilliam of Brazil fame, explored darker realms of the Hunter S. Thompson experience, taking the viewer for a ride-along through the twisted lens of a bad acid trip.
The Rum Diary

This 2011 film, directed by Bruce Robinson, again stars Johnny Depp, this time in the role of Paul Kemp, Hunter S. Thompson's fictional alter-ego.
Having been in failing health for many years, no surprise considering his nefarious predilections, Thompson decided that he had had enough, sliding the barrel of a gun into his mouth and blowing his brains out, bidding this world goodbye with a suicide note entitled "Football Season Is Over."
No More Games. No More Bombs. No More Walking. No More Fun. No More Swimming. 67. That is 17 years past 50. 17 more than I needed or wanted. Boring. I am always bitchy. No Fun – for anybody. 67. You are getting Greedy. Act your old age. Relax – This won't hurt.
His body was cremated and during a private ceremony attended by Jack Nicholson, John Cusack, Bill Murray, and Charlie Rose among other notable mourners, his ashes were fired from a cannon, going out with a bang.
But apart from the myth of Hunter S. Thompson, we must remember that underneath it all there was a dedicated writer who logged untold hours at the typewriter fighting a war against society with words. During his lifetime, he wrote 17 books, including novels and collections of articles, that continue to find new adherents in those looking to book passage on the weird ride.
**You should like Shea Magazine on Facebook HERE!

Tony Shea is based in New York, having recently moved from Los Angeles after more than a decade on the sunny coast. His short films have won numerous awards and screened at major festivals around the world including Comic-Con. As a musician, he is the lead singer for Los Angeles rock n' roll band Candygram For Mongo (C4M) candygramformongo.com who has been a featured artist on Clear Channel Radio's Discover New Music Program and whose songs have been heard on Battlestar Gallactica (Syfy Channel) and Unhitched (Fox) among other shows and films.