image via www.thegrumpyowl.com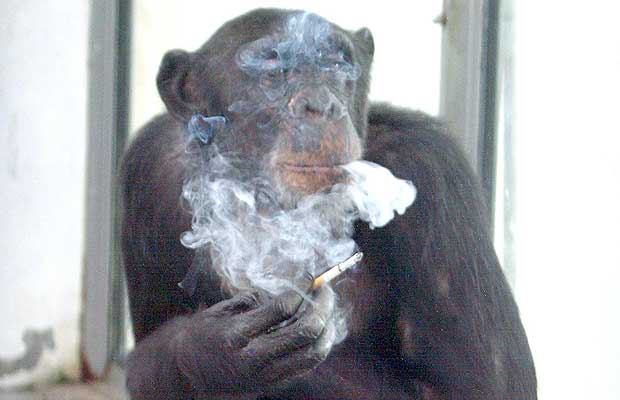 When I was a kid
there was a gorilla
at the zoo
who smoked cigarettes
for the public amusement,
like an act from the
old time medicine shows,
beside the woman
with the accessory breast
and the man who could fit
inside a bread box.

His name was Zeus,
like the mythological god,
for he was six
and a half feet tall
standing on his hind legs,
made of rounded muscles
beneath his dark pelt.
They had locked the savage away,
no chance for parole,
for Zeus did not know
his own strength.
There were no controls on it.
There was nothing to reign it in.
He was made
without refinement
culture and education,
and now it was too late.
They tried to teach him
to play the xylophone
but he just demolished it
with one swipe,
hurling it up into
the branches of his fake tree
where it hung now,
a lifeless wind chime.
Zeus, it seemed,
was only interested
in smoking.
Four-a-day
at regular intervals
like his feedings
so the crowds could assemble
in front of the
three inch thick plexi-glass
that kept him
from killing us.
And if the cigarette
was a minute late,
he would thump upon
his massive
leather chest and roar,
showing us white fangs
wild with craving
before the keepers
would light one up
and toss it in.
And damned if
Zeus didn't have
a certain dignity
when he smoked,
the delicate way
he tipped his ashes
and held the cigarette
between the extra long tips
of his extra long fingers,
exhaling cloudy
satisfied breaths.
If only they could have
made him wear
a red velvet
smoking jacket
that he wouldn't
have torn
to shreds
in ten seconds,
the whole thing
would have been
positively
civilized.

Tony Shea is based in New York, having recently moved from Los Angeles after more than a decade on the sunny coast. His short films have won numerous awards and screened at major festivals around the world including Comic-Con. As a musician, he is the lead singer for Los Angeles rock n' roll band Candygram For Mongo (C4M) candygramformongo.com who has been a featured artist on Clear Channel Radio's Discover New Music Program and whose songs have been heard on Battlestar Gallactica (Syfy Channel) and Unhitched (Fox) among other shows and films.