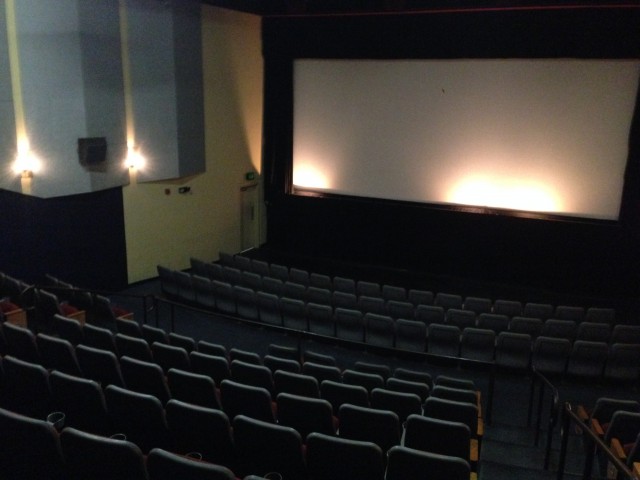 We made our annual trip to the Charles Theater in Baltimore this past weekend for a marathon viewing of the Oscar Nominated short films of 2014. The day started with the Oscar Nominated short films in the animated category and followed later on with the live action shorts. Last year had a pretty strong lineup and was going to be a tough act to follow.
This year, the Oscar Nominated Short films in the animated category were a mixed bag. I preferred some of the "highly commended" shorts that were included at the end to extend the run time of the film to ones that got an actual nomination. The Blue Umbrella and especially The Missing Scarf could easily have slotted in to the list of nominations.
5. Possessions
Possessions, by Shuhei Morita, is a magical trip inside a cottage in the woods. A traveller is confronted with various visions inside, each requiring him to fix some type of object, ranging from umbrellas to kimonos. The animation was spot on, capturing the feel of a Japanese painting. The story itself had moments of humor and wonder, but I found the continual grunting of the character to be somewhat off-putting. In the end, this was visually stimulating, but otherwise lacking. I could just as easily rank this one number four and flip flop it with Feral. Both were very watchable and both were eventually let down by other flaws.
4. Feral
Daniel Sousa does a fine job with the animation. Unfortunately, the story really is nothing new. Boy is raised by wolves. Wolf-boy is integrated back into society. Society scorns wolf-boy. But what this lacks in story, it makes up for in animation. The visual style of this short is stunning.
3. Mr. Hublot
I really wanted to like this one. The steampunk setting was perfectly realized through animation. There was a sense of whimsy to all of the activity outside Mr. Hublot's door. Mr. Hublot turned out to be an interesting character beset by a number of OCD type mannerisms. Sending the chaos of a pet into his highly regimented world seemed the perfect subject for a short. But I found it hard to muster up the emotion that I know Laurent Witz probably wanted the audience to feel, mostly due to the steampunk environment and lifeless look of the dog. Ultimately this was a great story that might have been better served through different style animation. The fact that he managed to wring any emotion at all out of this bumps it ahead of the other two shorts.
2. Room on the Broom
Room on the Broom doesn't really break any new ground with animation. The style serves the story well, but doesn't really add to the overall enjoyment of this feature. But unlike Mr. Hublot, the animation serves the characters well and you can actually experience bits of emotion. You can feel the cat being exasperated. You can feel the delight of the dog. Max Lang and Jan Lachauer have written a tight story that moves along quickly. This was the longest of the Oscar Nominated short films in animation, but it never dragged. Each successive stop along the way added to the story. This one managed to capture a sense of wonder in the animation and combined it with just enough of a surprise in storytelling to merit a chance at winning.
1. Get a Horse
Much like Room on the Broom, this one does not break much new ground. We are treated to a blend of classic black and white Mickey Mouse and modern animation. The black and white portion serves as a reminder of how good classic animation can be. The modern color portions are just clever ways of breaking through the screen. As an Oscar Nominated short, this one seems to tick all the boxes. Great animation. Clever story. Whimsy.
I could easily see a surprise in this category. Both Get a Horse and Room on the Broom seem very safe choices. I would hope that an Oscar Nominated short would bring something new to the table. Unfortunately, none of these nominated films really did that. If the Missing Scarf had been nominated, it would have made my choice easy.
**You should like Shea Magazine on Facebook HERE! to see more of our curated content.**

Jay Hood has lived in Baltimore, Maryland for the past 25 years.  He likes to travel and is an avid photographer.  His photography has been featured in several obscure and unassuming locations, such as John Ball Zoological Gardens.  He does not eat vegetables and is learning to enjoy seafood.  He strives to keep his DVR no more than 40% full.  Comfort is paramount and he is not above a little slacking.