Dan O'Day McClellan takes us along for the Los Angeles Metro's yearly "No Pants Day."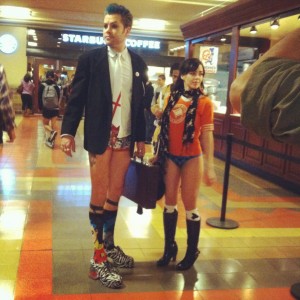 No pants day on the Metro. Last year I remember thinking, why would anyone want to go on the Metro without pants? This year, I wanted to find out.
I arrived at 1:30pm at the North Hollywood (NoHo) Red Line station. I planned to ride downtown to Union Station, and then back. The train arrived and I climbed on board. Sure enough, there they were – people with no pants. How ludicrous, but at the same time, I enjoyed looking at the girls without pants. Force of habit. Of course, one need not stare, just the casual I'm-not-really-looking glance. Didn't they expect me to look? I counted twelve in total: four solo guys without pants, two solo girls without pants, two guy/girl couples without pants, and one boy/boy couple without pants. Some wore long coats, others not much at all. Still, there were more people with pants on board than those without.
Part of me wanted to take off my pants. I had brought a bag along to put them in, and was wearing a button-down shirt that hung past my buttocks. But I just couldn't bring myself to do it. How foolish it would feel. Most of those without pants stood, but some sat on the seats of the train. My germophobic mind could not comprehend this – skin touching those seats, one thin layer of cloth separating private parts from dirty seats used by 1000's every day. The pants wearing people on the train looked, laughed and even asked questions to the non-pants people, who seemed to be feeling pretty good about not wearing pants.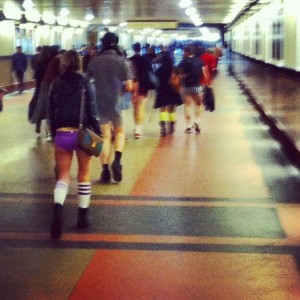 The train arrived at Union Station. As I walked along the corridor, I saw other people without pants: girls with wigs on, guys in chaps, more girls in super hero costumes. All had no pants. I turned the corner into the main hall of Union Station and I was overwhelmed by the throngs of people without pants, standing around in their underwear, feeling a sense of togetherness, rebellion, and freedom. Short, tall, skinny, fat, of different ages and races, united without pants. There seemed to be a sense of righteousness as they walked around, people proud and happy about not wearing pants.
I was going to do it. I had to. I ducked around a corner where there were less people. I took a deep breath and then I took off my pants. Almost immediately, I was lifted up in spirit. I was now part of something larger than myself. As crazy as that sounds, it was true. It felt good. I wasn't an outsider anymore, I was one of them. I approached a few people and asked, "Why do people enjoy no pants day?"  "Pants are for squares," "I dress like this every day," "Just doing something we want to do anyway," "Saying goodbye to winter," "Going against the social norm." These were some of the answers I got as I talked to people without pants.
After twenty minutes, the main hall slowly began to clear out as the no pants people caught trains elsewhere. There were still a few stragglers in the café, including myself, but now we were in the minority. As I waited for the train that would take me back to NoHo, I contemplated putting my pants on for the ride home. But I wasn't quite ready, yet. I decided to keep them off.
There were a few non pants people on the train: a guy with his wife and kid, him being the only one without pants, a flamboyant young man with his two chubby female friends, all proud of the skin being shown, a couple of attractive young women in their early 20's, sitting without pants, talking and laughing.
After a few stops, the train was losing people and by the time we got to Hollywood, heading out for Universal City, I was the only one on the train without pants. When I was part of the group it felt okay, even good. Now it felt odd. Being the only one without pants didn't feel right. I felt out of place, absurd. Standing against the wall, my bag being used as my buffer between my underwear-ass and the train wall, I stood with my hat down low over me face, feeling the gawking stares of those still enslaved by pants.
A drunk guy got on and wondered about, talking to himself, doing pushups, trying to get people to look him in the eye so he could ramble on to them. I kept my head low as I listened to him mutter on about many things, including the fact I wasn't wearing pants. The train arrived in North Hollywood.
I walked off the train and up the stairs next to the escalator, two steps at a time. As I got to the top, I walked out into the sunlight, and towards the parking lot. A woman standing next to the entrance looked at me and proclaimed, "Look at him, he doesn't have any pants on. Hey, you got no pants on. You see that guy, he has no pants."
My bare legs blushed alternately in shame and pride.

Pennsylvania native Dan O'Day McClellan is a seasoned actor, writer, comedian, voice over artist and producer. Dan is the founding member of Los Angeles improv comedy troupe, The Omelettes. Dan's ongoing film making/producing work with Pete Galaxie Productions includes the award-winning short film, The Silence of Bees, along with the short films, Just Out of Reach, Reality of the Situation and The Afikomen. Dan's 1st Novel, Lognotes of a Wino, is due out in fall of 2015.