It was No Pants Day in LA this past Sunday, actually all over the globe. What began in NY 11 years ago as an event started by a group called Instant Improv, No Pants Day has grown to thousands of men and woman strutting around the world, riding the metro with no pants.
Why would anyone walk around with no pants, you may ask? My one friend argued with me that there was no redeeming value in this event. She said it was irrelevant in the grand scope of things and absolutely ridiculous. I agreed with her to a certain point, but my experience last year taught me that there is a sort of togetherness one feels with the fellow no pants people, a shared freedom of the absurdity of it all.
This year, having one No Pants Day under my belt, so to speak, I decided to venture out again. I got a late start on Sunday after a long week but went to the North Hollywood train station to jump on the red line to Hollywood. Not one person at the NoHo station or on the train was without pants, so I kept my pants on. Once I got to Hollywood though, the no pants presence made itself felt. So I took my pants off.
It was no big deal taking off my pants and walking around this year. I had on the same blue shirt from last year, my no pants shirt apparently. I walked around and gave knowing nods to fellow no pants participants, as if we were all in on some not so secret secret. Everyone with no pants seemed happy, and everyone with pants seemed happy to look at those with no pants. Perfect harmony.
A teenage girl and her mom watched the handful of people walking around without pants. She asked me what was going on and I explained. When I asked her if she would ever partake in something like this, she said yes. Her mother shook her head and said no she wouldn't. She was a decent girl; she couldn't go out in public without pants. The teenage girl went on to explain that there was an "underwear run" at her high school every year that she participated in. Take that mom. No pants for everybody.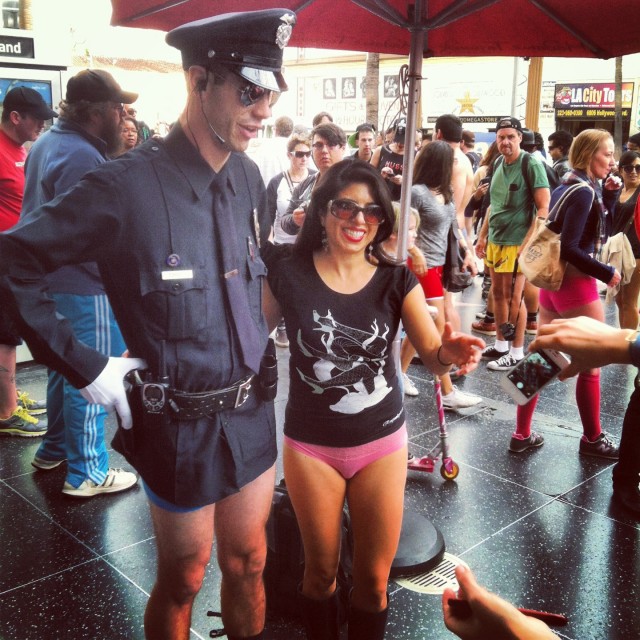 On my way home from my short trip out without pants, a well groomed red headed guy with stylish glasses stood on the train with no pants on. He was the only one on the train sans pants since I had already put mine back on. He stood proud in his multi colored boxers and nodded and smiled at the people around him on the train. A hip pants wearing guy in his 20's entered the train right before the doors closed. He immediately congratulated the red headed guy with no pants for participating. The hip guy said he forgot No Pants Day was today and wanted to join in. So he took of his pants. An attractive girl in her 20's chimed in on their conversation. She wanted to take off her pants too. And then at the next stop a taller guy entered the train and don't you know it, off went his pants. Well, the next thing I knew, my pants were off again and there we were talking like a group of old pantless friends.
No pants day, bringing people together, one leg at a time.

Pennsylvania native Dan O'Day McClellan is a seasoned actor, writer, comedian, voice over artist and producer. Dan is the founding member of Los Angeles improv comedy troupe, The Omelettes. Dan's ongoing film making/producing work with Pete Galaxie Productions includes the award-winning short film, The Silence of Bees, along with the short films, Just Out of Reach, Reality of the Situation and The Afikomen. Dan's 1st Novel, Lognotes of a Wino, is due out in fall of 2015.