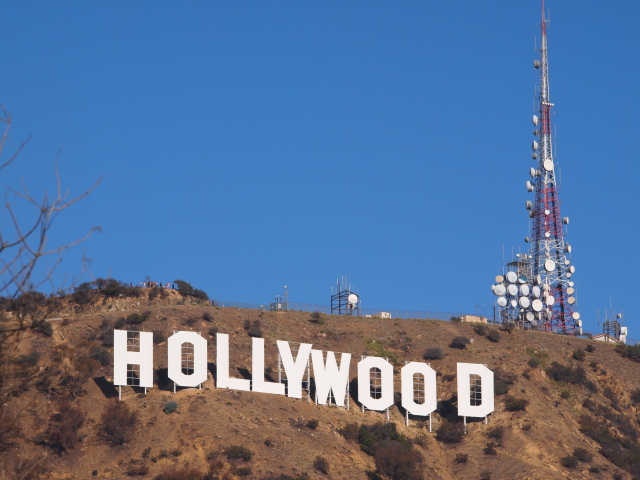 Los Angeles was the last big city on our checklist of big cities that my wife and I hadn't yet visited. It wasn't because of lack of interest. Every TV show, every movie, every award show sparked another round of conversation.

"Where exactly is that Red Carpet?"

"I want to feel like I'm in the opening credits of Entourage."

"Can we go eat at the diner from the Big Lebowski?"

So instead of yet another trip to Vegas or Chicago, Los Angeles finally got scheduled as a way to escape the cold Baltimore winter.
Once the hotel and airfare had been graciously booked for me, the hard part started. What do we do while we are there? A few days before we left we sat down and drew up a big list of the things we wanted to do most. It turned out to be a very long list. It included the obligatory "must-do" Los Angeles sights such as the Hollywood Walk of Fame, Rodeo Drive and the Sunset Strip. We knew we wanted to go eat some Fried Chicken at Dinah's after seeing it on the Melt Master and we knew we definitely wanted to eat some good fresh donuts.
But as the list stretched up over fifty items, we realized that there was just an incredible diversity to Los Angeles and that there was no way we would be able to do everything. And we also realized that due to this diversity, there is no way we'd have a very cohesive trip. This wasn't going to be our usual type of vacation that might be focused on nature, or themed around famous architecture, or visiting cultural sights and museums. What we realized was that this was about to become a huge Whitman's sampler just to whet our appetite before our next trip back to Los Angeles. Yes, it seemed as if our second trip was already being planned before our first trip even started. Our itinerary became a bingo card filled with random items that we had to check off just to get familiar with the city before we could go back again and do it right.
In fact, a bingo card seemed very appropriate. Just a simple bingo card with everything we wanted to see seemed the perfect travel companion. If you are planning on taking a trip to Los Angeles, might I suggest printing out your own Metropolitan Bingo Cards: Los Angeles Edition (Get your own set of Metropolitan Bingo Cards: Los Angeles Edition right here. They're free! and fun for the whole family!). They served us well and we got to see a wide range of sights around town.
We barely landed and were on the ground before we got to mark off our first box.
1. Los Angeles Freeway Traffic

We hadn't been in Los Angeles more than thirty minutes before we got the opportunity to consider the first item on the card. Traffic. But what really counted as Los Angeles gridlock? We had a five minute backup on the I-10 trying to get from the airport to Johnnie's Pastrami. Did that count? Was this the dreaded gridlock that everyone spoke of? It actually didn't seem so bad. Without a frame of reference it was hard to tell. It might have been slow, but this really wasn't any worse than the DC beltway at rush hour.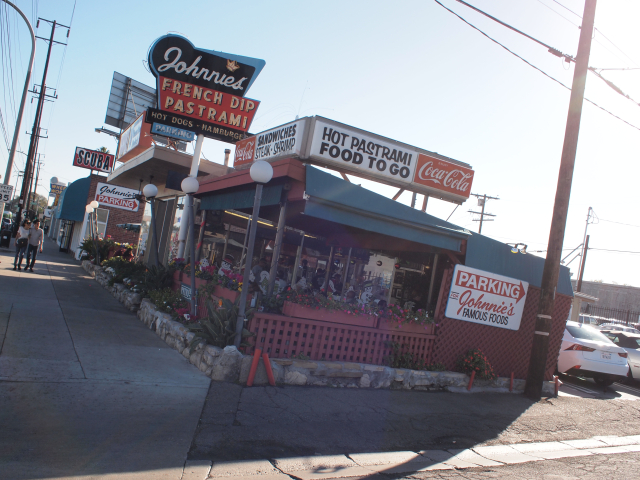 Johnnie's Pastrami had not been on our list of places to eat in Los Angeles. Unfortunately, what should have been a simple pickup of a rental car took over an hour and a half that would have made OJ mental (I am NEVER renting Hertz again!!) By the time we got off the lot, our plans for the afternoon had been thrown out the window. We were starved (in hindsight, the fact that there was even a snack bar in the car rental place should have been a sign on several ominous levels). Through the magic of Yelp, we found a place to get a decent sandwich real close to the airport. Actually, this sandwich was beyond decent. This was heavenly. The conversation between mouthfuls consisted mostly of "Why can't we get a sandwich this good in Baltimore on a consistent basis?" It was that good.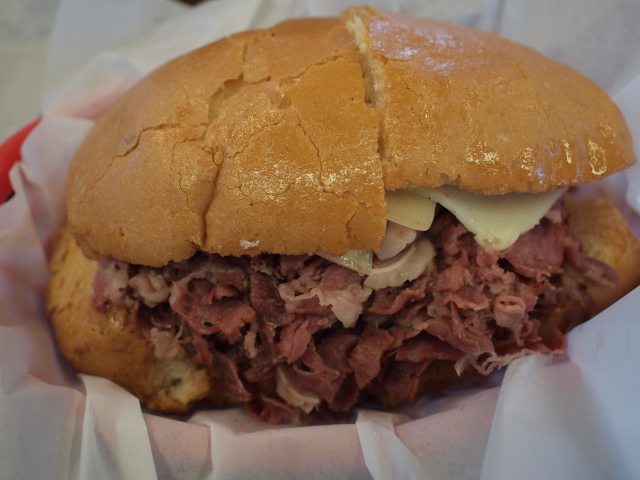 As it turns out, our assessment of the traffic situation on the I-10 was accurate. That five minutes was nothing. We soon discovered what real Los Angeles gridlock was all about.
We had wanted to go to a comedy show and we love Doug Benson. So we bought tickets to see him at the Irvine Improv. Little did we know that Irvine might as well have been in another state. Google Maps laid out a course from one freeway to the next. Estimated travel time: 1 hour 45 minutes. That doesn't seem right, I thought to myself. But the route was entirely red indicating traffic the entire way. So after checking into our hotel, we jumped back in the car to get our first true experience of Los Angeles traffic. Now this, this was traffic. This was what I always pictured. A slow crawl across downtown. Cars merging left and right. Brake lights flickering on and off into the distance as far as the eye can see.
Slow motion chaos.
Square one checked off.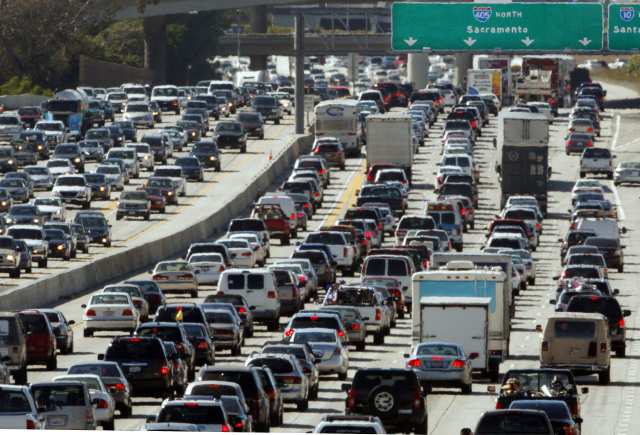 2. Comedy Club

We were pretty excited to go see Doug Benson at the Improv in Irvine. We quickly came to terms with the truly epic nature of the drive we were about to embark on. We made the most of it by taking advantage of the satellite radio in the car. It felt just like we were back in the 80's listening to some classic 80's music while driving through downtown Los Angeles. We just needed Belinda Carlisle in the back seat.

We had no idea what to expect from Doug Benson's stand-up which was actually a good thing. We knew we liked watching Getting Doug with High on Youtube.
His laid back sense of humor really appealed to us and we hoped his show would have that same vibe. There was also a certain appeal of the unknown. This show was going to be a complete surprise.
The Improv in Irvine is in the Irvine Spectrum Center. Navigating the sprawling parking lot situation there was an experience unto itself. We unsuccessfully drove around for awhile trying to find a parking spot until finally deciding to bypass the valet and brave entering the 'parking structure'. This wasn't just a parking lot. No, this was a massive structure complete with indicators for how many spaces were available on each level. We pulled in. Eighteen spots left in the entire 'parking structure'. Well this isn't good. We're on the first level and the sign says there are eleven spots on level four and seven spots on level five. Clearly there are already eighteen cars in here. But we were trapped. Trapped, but, as it turns out, quite fortunate. Someone pulled out of a parking spot on level three just as we approached. Score!
The Irvine Spectrum Center was a mall unlike any I had ever seen. It had a Ferris wheel. This was a Ferris wheel that would rival our state fair at home. It had an ice rink. An ice rink. And it was all outdoors. Overhead, classy white lights were still hung from the holiday season. Something told me they might be there year round though. They fit in with all the beautiful courtyards and fountains. But something seemed odd about the place. It might have been because every store there just seemed like something I'd see in the mall at home. The Body Shop. California Pizza Kitchen. Dave and Busters. GameStop. This was nothing special. The store directory seemed rather pedestrian, but everything listed was in the most surreal of surroundings. It was all facade. It was all about the show. Adding to the surreal nature was that it was a somewhat chilly evening, but everyone there was dressed to kill as if were a beautiful summer night. They were all there for the show too. Or perhaps to become a part of the show.
And there, amongst it all, was the Improv. Outside on the marquee was a poster announcing that this was a "special event" with Doug Benson. We were in for a treat with that type of billing. Special. Event. This is special folks. Special!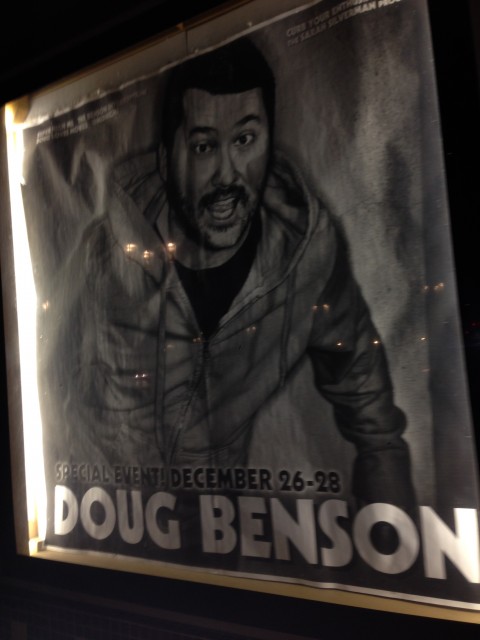 I'm sure boardrooms full of high priced executives and consultants have spent countless hours determining that this is the optimal design, motif and configuration to elicit as many chuckles as possible. Otherwise, why would you design a place like this? Why would you serve up bland food? Why would you want half your audience to have to sit facing away from the stage? What other form of entertainment uses this layout? It baffles me every time. Our luck for the evening continued and we got a table to ourselves actually facing the stage.
I had adapted to the Los Angeles traffic pretty quick and made good time getting down to Irvine. We had time to get a few drinks before the show started and ample time to enjoy the circa 1998 PowerPoint presentation (set to loop) being projected onto a small screen featuring a random selection of trivia questions (which, having cycled through twice, I was nailing) and fascinating facts (not quite as interesting the second cycle through) interspersed with notifications of upcoming shows. A "special event" with Jay Mohr coming soon. A "special event" with David Spade scheduled for February. It seemed the only event that wasn't special there was the Friendly Frank's Five Dollar Funnies on a Tuesday night. It gave me pause that maybe tonight's show wasn't all that special after all.
Wrong. Doug Benson was awesome!
Saturday was over. We had been on the ground just about twelve hours and I just filled in my second box on my bingo card, good live comedy. It was well worth the drive.
3. Movie Location

On Sunday I wanted to do an architectural tour of downtown Los Angeles. I wanted to see the Frank Gehry designed Walt Disney Concert Hall. I wanted to see the brutalist structure of the Ronald Reagan State Building. I wanted to see all the architecture that appeared in the wide shots taken from a helicopter of every movie filmed in Los Angeles. And most of all, I wanted to see the Bradbury Building, the interior of which was transformed into the dystopian world of Blade Runner. We found a self guided walking tour on a webpage and, after a short-stack of face-sized pancakes at the Griddle Cafe on Sunset, drove downtown.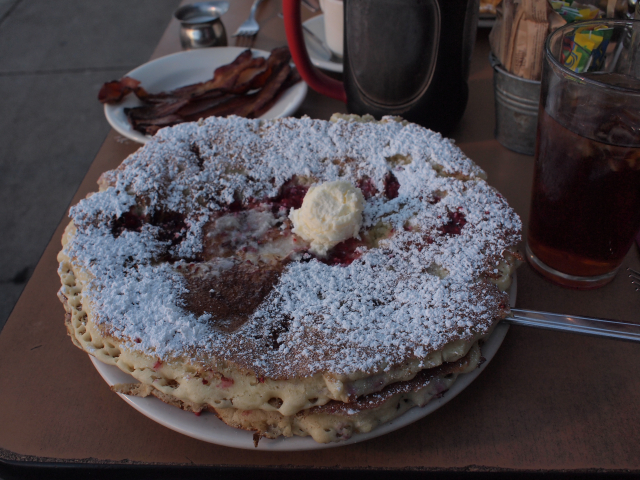 Downtown Los Angeles was a bit of a ghost town on a Sunday afternoon. We drove around, slightly confused for a bit, not sure where to park, because there seemed to be no activity anywhere. We finally settled on a lot, eager to do some walking to work off our breakfast. We passed Angel's Flight, which was closed, and instead skipped ahead looking for the Walt Disney Concert Hall. Frank Gehry architecture always amazes me and this did not disappoint. We stood around the front for a bit in awe. (Click on photos below for large images and here for an expanded set of photos from the Walt Disney Concert Hall)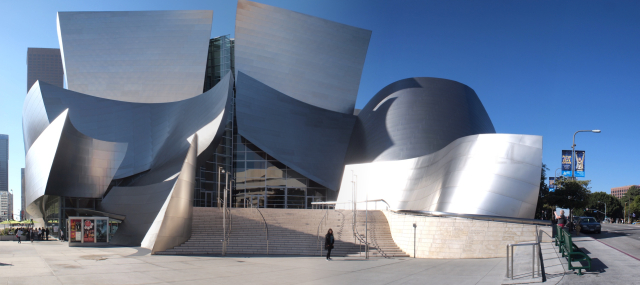 While standing at the corner, we realized that directly across the street was the Dorothy Chandler Pavilion. What an unexpected surprise. How many times had I watched the Academy Awards and watched the stars gather outside waiting to enter. It always sounded so magical when the announcer welcomed us to the show.
We detoured across the street to recreate some Academy Award moments and then were distracted again by the groovy mid-century modern design of the Los Angeles Department of Water and Power which was across the street and down a small hill.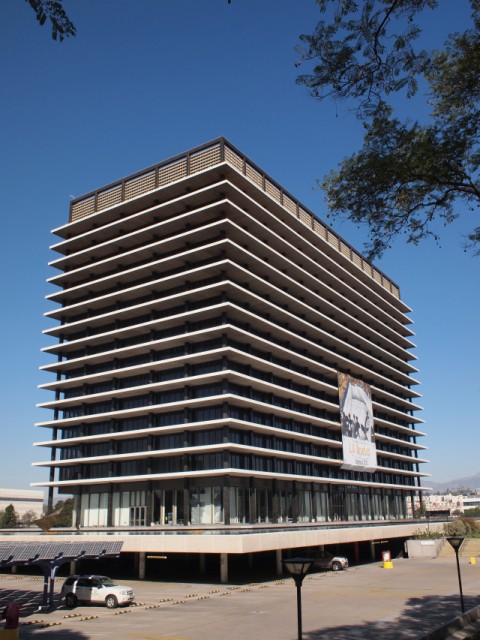 And there is where we spotted the back side of the Walt Disney Concert Hall. Standing in the front, we had no idea there was going to be a whole private garden behind it. And the architecture was even more amazing than the front. Frank Gehry did the hard part designing this building. From there, I could have taken photos all day utilizing the lines and shadows and forms that he created.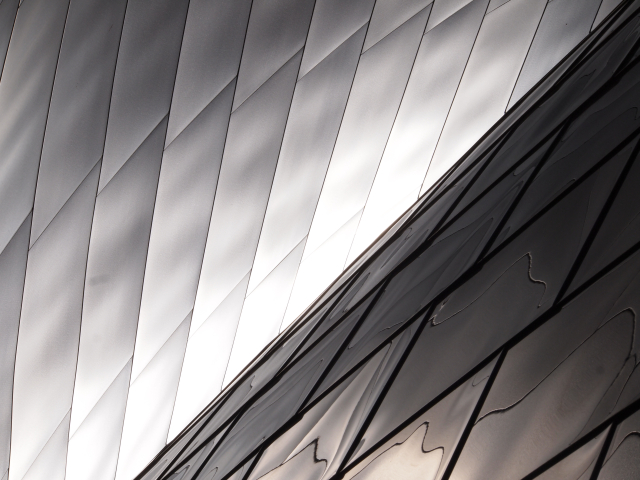 After taking way too many photos, I was pried away and guided down First Street toward Broadway so we could find the Bradbury Building. Built in the late 1800's, the Bradbury Building was designated as a historical landmark in 1977. With good reason. Despite the unassuming exterior, the inside is unbelievably gorgeous. A cathedral like ceiling provides light that shines down on a pair of caged elevators flanking an impressive lobby. Polished wood and marble are everywhere. And yet, somehow, the designers of Blade Runner saw through the beauty and turned it into a dystopian nightmare.
From the outside, you would never guess that the interior was so impressive. Sprint and Subway plastered cheap plastic signs where they could.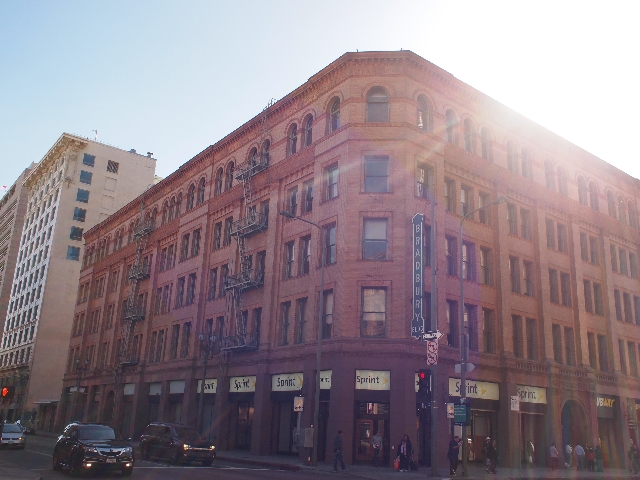 The lingering smell of baking bread from the Subway next door quickly gave way to a smell that can only be described as "old". The air felt cooler and only a bit of light filtered down from the skylight above.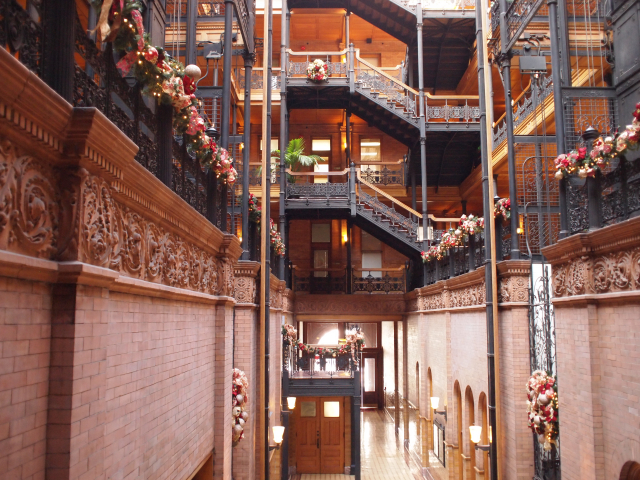 Stepping off the street you are immediately transported to another time. An age when architects and designers focused on detail and gave some personality to the things which they built.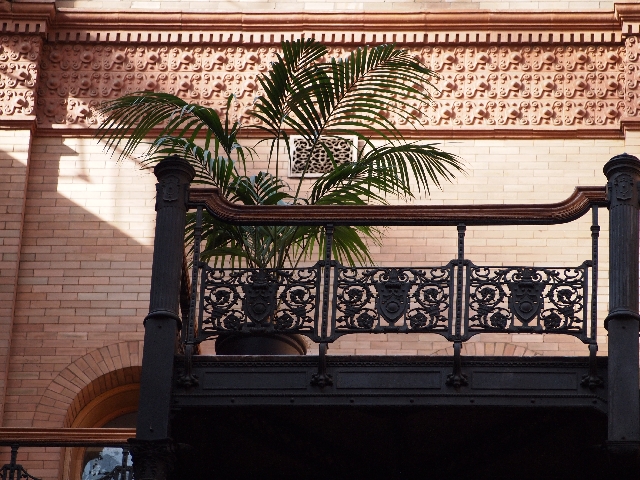 It would have been very easy to sit in the lobby the rest of the afternoon absorbing the history of the space. But there was more to see. So we checked that off our bingo card and headed out into the bright sunlight to continue our architectural tour of Los Angeles. We abandoned our walking tour and instead just plotted a looping path back to our car. After seeing the Bradbury Building, everything else listed seemed as if it might be anticlimactic.
I had forgotten about wanting to see the Ronald Reagan State Office Building. However, we unexpectedly walked past as we searched for the Last Bookstore on Spring Street. The Reagan Building was much what I had anticipated. A giant concrete structure looming over the street. It could easily have fit in somewhere in Moscow more than it did in downtown Los Angeles.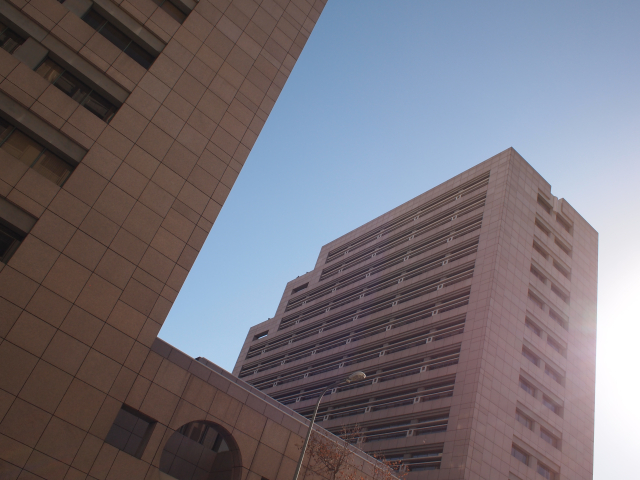 Despite the enormous stack of pancakes we were getting hungry. I took a few last photos of the buildings we passed along the way.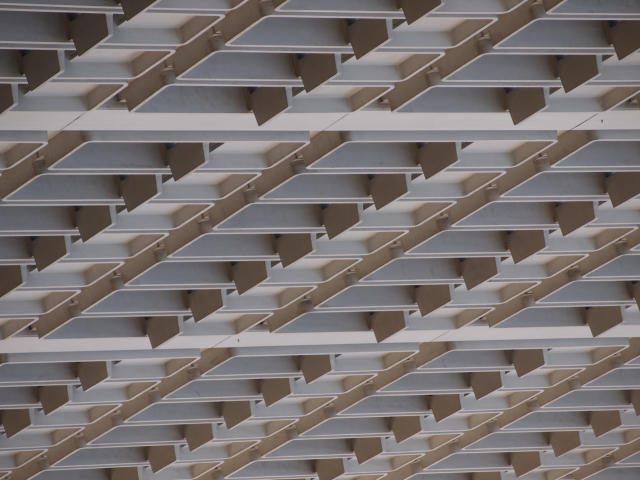 By lunchtime on our second day in Los Angeles, we had managed to mark off three items that we wanted to see.
We drove back to our hotel with no plans for lunch. We had tickets to see Lawrence of Arabia at the Egyptian Theater that evening so we had a little time to kill. We pulled into the In-n-Out Burger on Sunset near our hotel. Everyone raves about In-n-Out Burger. My lone experience with the chain came in Las Vegas late at night on a bachelor party weekend. I was not impressed at the time. Most likely because I was the one tasked with getting the food as carry out and trekking the half mile from the restaurant back to our hotel where we sat on the casino floor and furiously downed the food.
This experience was a bit different. The line was huge. My order was number 72 but the first number I heard called after placing it was 18. Amazingly, they moved pretty quickly. Less than twenty minutes later and I was enjoying a much improved In-n-Out Burger experience. So good an experience, in fact, that the only photo I have of my burger is a greasy tray with leftovers.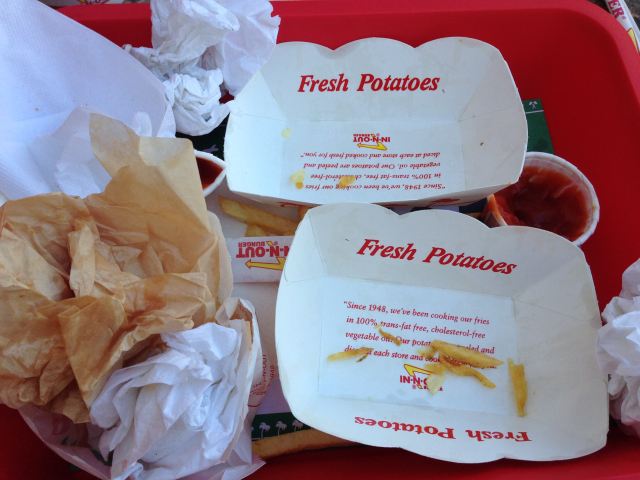 4. C List Celebrity Sighting

I don't know why, but something told us this was the night we were going to spot someone famous. Usually I'm not one to be awed by celebrity. I know they probably don't want to be bothered by me and really, I have nothing to say to them either. But we had tickets to see Lawrence of Arabia at the Egyptian Theater and we'd commented to each other that given the recent death of Peter O'Toole there might be someone cool there. Oh how right we were.



The night started out with a pleasant walk from our hotel along Sunset Boulevard. We passed a Ralph's Grocery store. It seems as if celebrities are always caught at a Ralph's by the photographers for Star Magazine. We stood beneath a buzzing Girls Girls Girls sign pondering the scene a bit, but ultimately suspected that this probably wasn't the same Ralph's that Jennifer Aniston was shopping at.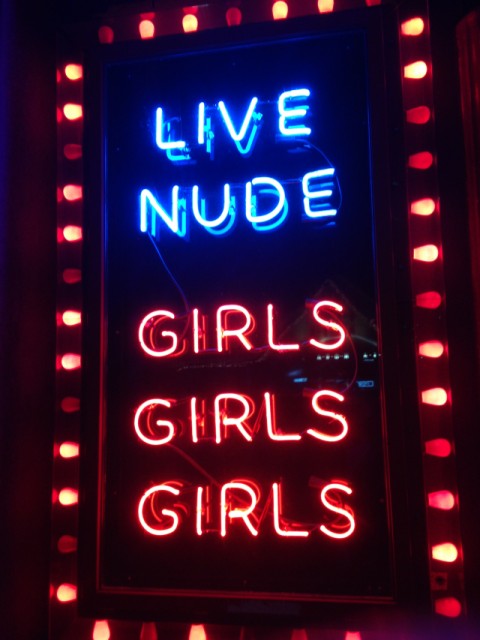 After a twenty minute walk we finally arrived on Hollywood Boulevard. We were drawn toward the excitement buzzing around the Hollywood & Highland Center, so wandered through there for a bit. We figured the movie started at 7:00 so we had plenty of time. As impressive as it was, it appeared to be just another mall.
Having had the crazy Los Angeles mall experience the night before, we decided to walk down the block and get to the theater early. It was a good thing we did. The line was huge and the seats were filling quickly. By the time we sat down, we were relegated to seats in the left section (thankfully aisle seats) about three rows up from the floor. At least we didn't get stuck with floor seats. For awhile before the show started, we watched people sadly walk in, look around helplessly, and resign themselves to sitting just a little too close to a massive screen. One couple presumably sent the husband off in search of better seats, or perhaps in search of open balcony seats. She stood facing the theater for quite some time perhaps anxiously awaiting some signal that a better location had been found.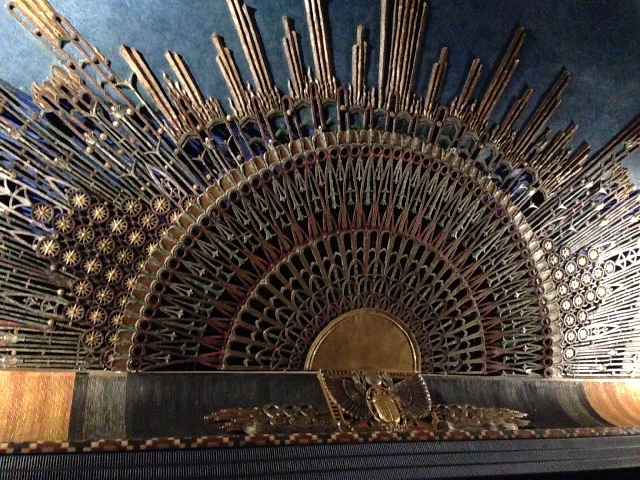 At this time, credit goes to my wife for our celebrity sighting, Mike McShane (at least we think it was him, since without speaking to him, we couldn't make the confirmation). Potentially known as Friar Tuck from Robin Hood, we placed him more from his work on Whose Line is it, Anyway? I was too busy looking at the ceiling and checking the rest of the theater out to see him at first. She noticed that the husband who finally returned from scouting for other seats looked familiar. She indicated she thought it was Mike McShane. It sure looked and sounded like him. Of course, my TMZ quality photo makes it difficult to verify. Clearly a job as a paparazzi is not in the cards.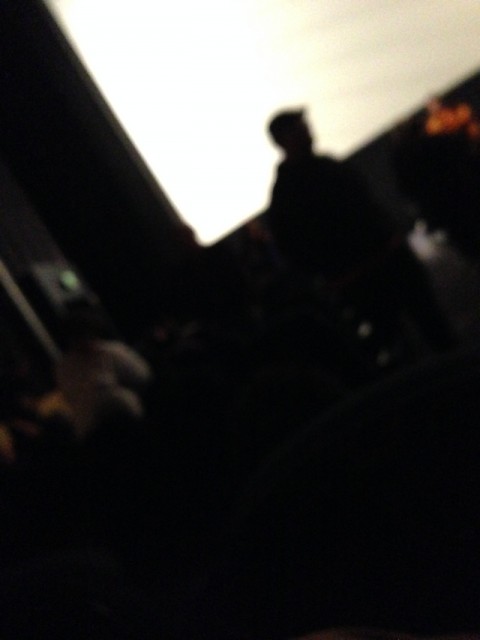 Seeing Lawrence of Arabia at the Egyptian Theater was one of the absolute highlights of the trip. The screen was huge. The print was impressively restored. The movie was a classic. The theater was beautiful. Everything about the experience just reminded us we were in Hollywood.
Four items down. Plenty more to see.
5) Hollywood Walk of Fame

The thrill of seeing Lawrence of Arabia was hard to top. It truly was one of the best cinematic experiences I've ever had. We hadn't factored in the that it was a three hour movie and had an intermission. It was after midnight by the time we finally walked out of the theater. Apparently dinner was going to consist solely of the popcorn, raisinets and a coke we ate in the theater. We were both OK with that. After sitting in a theater seat for nearly five hours, we were ready to be on the move.
We headed back along Hollywood Boulevard. As we did, we started noticing all the stars beneath our feet. We were less than impressed. Marilyn Monroe. But outside of a McDonalds. Elvis Presley. But right across from the cheesy Ripley's Museum. And it seemed for every Elvis and Marilyn we saw, there were a dozen that elicited a "who?" or a "really?". Phil Collins? Dick Van Patten? Really? Only wikipedia was going to help us identify another slew of these. After a few blocks of scrutinizing the ground, we realized we'd be just as happy looking at a list of them and discussing later, if at all. There probably would have been shame and scorn involved during our trip report if we went to Los Angeles without seeing one of the "must-do" sights. So we saw it. Color us unimpressed.
Day two was over and we'd seen a number of sights we felt like we had to see plus a lot of other stuff. The trip was off to a great start!
Part 2 should be coming up by the end of February. Amazing that a 6 day trip is going to need 4 parts. Stay tuned!

Jay Hood has lived in Baltimore, Maryland for the past 25 years.  He likes to travel and is an avid photographer.  His photography has been featured in several obscure and unassuming locations, such as John Ball Zoological Gardens.  He does not eat vegetables and is learning to enjoy seafood.  He strives to keep his DVR no more than 40% full.  Comfort is paramount and he is not above a little slacking.