It ended with a one-two punch. A weak jab followed by the knockout blow. Both thrown in quick succession. And when it was over, I no longer had a print magazine subscription in my name.
Sports Illustrated was the weak jab. The once mighty magazine refused to go down. Entertainment Weekly, however, went down with a hard shot immediately.
And with those two titles canceled, July, 2014 marked the end of an era.
Much has been written about the demise of print media. That discussion can rage on elsewhere. However, these two anecdotes might shed some additional light on that debate.
Sports Illustrated was the magazine I had subscribed to longest. I can't even recall when I first began getting it. I know the subscription was started in the late 1970's or perhaps early 1980's as a gift. My grandmother kept the subscription going for me while I was a poor student. From suburban Philadelphia through Baltimore, Maryland the name and address on my subscription might have changed, but delivery remained unbroken to wherever I called home.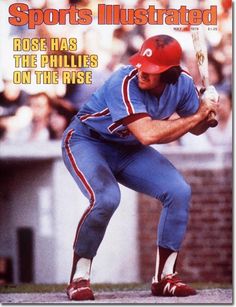 I treasured the magazine subscription enough that my Sports Illustrated collection moved with me. I saved big issues, issues that had special meaning to me or that covered historical events. The Phillies losing the 1983 World Series, the retirement of Dr. J and many others were packed into milk crates and were hauled from one house to another. These had classic covers and I just couldn't bear to part with them.
For thirty plus years, without fail, Sports Illustrated continued to arrive. Swimsuit models like Kathy Ireland, Paulina Porizkova and Hedi Klum graced my mailbox once a year. Improbable Super Bowl MVP's like Joe Flacco and Ray Lewis showed up faithfully. Sports Illustrated was my Desmond Hume, my sports constant across the decades.
I briefly flirted with other sports magazine subscriptions. In the 80's Inside Sports had a short lived run. A brief dalliance with ESPN: The Magazine did not go well and resulted in an ugly breakup.
I realized that it was time to cancel Sports Illustrated when I first got my iPad and switched to the electronic version. A customer service representative at the magazine said it would be impossible for them to stop sending a paper version, even though I only needed an electronic version. This didn't seem very environmentally friendly. The customer service representative told me I could do whatever I wanted with my print copy. So I did. I gave it to someone who was an existing subscriber so they could cancel their subscription. I was happy to save some paper, my friend was happy to save some money. And Sports Illustrated? They just didn't seem to care.
By the start of 2014, I realized that I just didn't want Sports Illustrated anymore. I could get my sports news faster online. While the photography was nice, my iPad also provided sharp photography from a myriad of other sources. I decided I would just let my subscription lapse. Every few weeks, I would get a renewal notice. Each one seemed more desperate than the last. By May, every issue of my magazine had a secondary cover with dire warnings that soon our 30 year relationship would be over.
The July deadline came and went. My subscription ran out but the magazines continue to be slid through my mail slot. I guess they just can't come to grips with the fact I left them.
One down (but not out). One to go.
Entertainment Weekly might be an even better example of how online media made a magazine subscription I had irrelevant. And the end of this subscription is an even more telling tale of the lack of value the customer service representatives for these magazines place on retaining a customer.
If Sports Illustrated was my Desmond Hume, Entertainment Weekly was Penny. My entertainment constant. It was my one true and trusted source for entertainment news. It was the magazine subscription with the most utility. When the Fall TV Preview arrived, I would map out what shows to watch live and how to squeeze everything else onto a VHS tape. If I had a question about what movie to see, I would turn to Entertainment Weekly.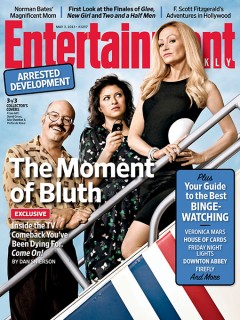 But as the Internet became more widespread, I found that I could get entertainment reviews just as easily elsewhere. I still needed my Fall TV preview, but most of the rest of the issues were just filler.
The decision to cancel Entertainment was a swift one. I had been using the tablet version for several years now. The print copy was immediately placed into the recycle bin. No passing along these issues to anyone else because it became old news pretty quickly.
One morning in late July I went to read an issue and it prompted me to enter my credit card details. Attributing it to a glitch, I went back to it a few days later. Same problem. I contacted customer service asking them what happened.
Thank you for contacting ENTERTAINMENT WEEKLY Customer Service.
Currently, subscriptions to the Entertainment Weekly Digital Edition are offered as an upgrade for print subscribers. Unfortunately, our records indicate that your subscription expired with the issue dated May 09, 2014. If you would like to renew, please log in at www.ew.com/customerservice. You will be asked to enter your account number, your five-digit ZIP code and your email address. Once we have your renewal order, we will begin service as quickly as possible.
We appreciate this opportunity to be of service.
That seemed odd. I was a print subscriber and I didn't get a notification that my subscription was ending. My print magazine continued to arrive. So I contacted them again.
I realize I am probably sending this email into the yawning void, but I felt the need to express my extreme disappointment with Entertainment Weekly vis-a-vis subscription renewal. I have been a subscriber for at least 20 years and in the past five years, the onus has been on me to remember that my subscription is coming due for renewal. I have received no notices at all that my subscription is ending. Each year, I've had to miss issues because I was not warned. (It's ironic – Sports Illustrated, a cousin publication, sends subscription reminders weekly.) This year, I've had enough. I am not going to renew – the frustration about how my account has been handled has finally gotten to me and I'm done. The magazine's quality (which has diminished in recent years) makes this decision relatively easy.
Given how magazine subscription numbers are on the decline, surely this would have kicked someone at the Entertainment Weekly headquarters into action to preserve what remaining customer base they have left. Wrong
Thank you for contacting ENTERTAINMENT WEEKLY Customer Service.
Our records indicate were received instructions on April 07, 2000 to remove your account from our promotional listings. Unfortunately, this also includes removal from any renewal notifications. If you would like us to update your account to receive renewal notices, please let us know.
We appreciate this opportunity to be of service.
So there you have it. If you want a reminder that your subscription needs to be renewed, you're going to get spammed with promotional material as well.
In the end, Entertainment Weekly didn't try to retain me, they blamed me.
Use Feedly to Subscribe to the Shea Magazine RSS Feed

Jay Hood has lived in Baltimore, Maryland for the past 25 years.  He likes to travel and is an avid photographer.  His photography has been featured in several obscure and unassuming locations, such as John Ball Zoological Gardens.  He does not eat vegetables and is learning to enjoy seafood.  He strives to keep his DVR no more than 40% full.  Comfort is paramount and he is not above a little slacking.