I have been lucky enough to perform comedy for 12+ years in Los Angeles, mostly all improv, and recently stand-up at The Comedy Store and the MBar among other venues. Along the way, I've met some of the greats, including the legendary Garrett Morris.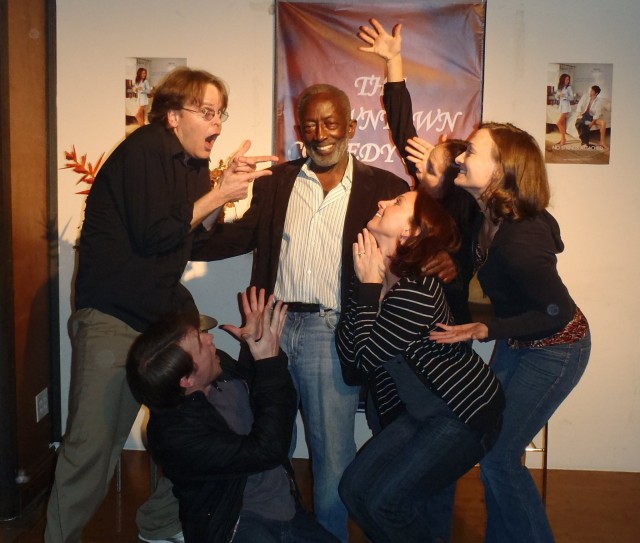 In early 2011, I came across an ad on Craigslist looking for an improv group, a paid gig that was helping to promote the newly released movie, No Strings Attached. I emailed the ad and ended up talking to Kevin, the Owner of the fairly new Downtown Comedy Club. He was looking for three improv groups.
The Omelettes are an improv group I started back in 2005 with my co-creator Steve Neuman. We had performed all over LA, at comedy clubs, theatre's, coffee houses, churches, any and everywhere, with a rotating cast of performers though the many years. We had a regular weekly gig for a long time, than it was a monthly gig, and by this point we had not been performing much at all.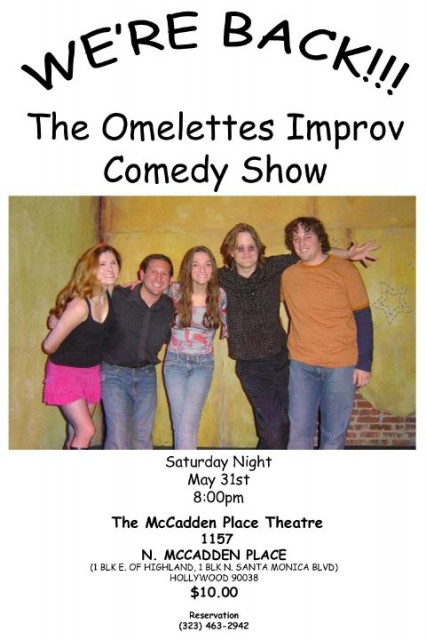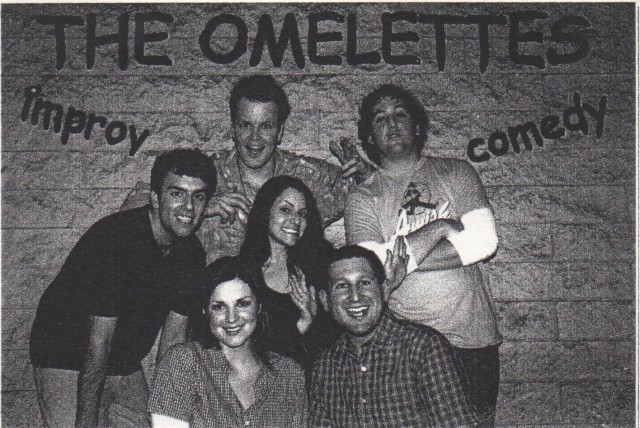 Only 3 members of of 5 member group were available for the show that night, 2 girls and me. Kevin called and informed me that the other 2 improv groups had dropped the ball, and we were now the only comedy group for the night. We would do two separate 15 minute spots instead of one 10 minute spot. This was great news except that I've always thought you should have at least 4 performers for improv, especially for a good sized crowd, so I reached out to a chap I had just met from England. We rehearsed together once, and he was good to go. A day before the show, a girl who couldn't make it now could make it, so we were 5 strong, Traci, Lindsey, Mary, Peter and me – ready to be funny.
Live improv is creating a scene based off of suggestions from the audience. There are many different ways to go about it. We do short-form improv games.  Improv is all about listening really. Listen to your improv partners and let yourself respond without thinking. It's about letting yourself flow, adding to the scene, upping the ante, all while interacting with your fellow performers. It's like jazz music, a free spirited way to create.
The Downtown Comedy Club had Saturday Night Live original cast member Garrett Morris as host. His 40+ year career was now thriving again. He was co-starring in the new hit sitcom, 2 Broke Girls, on CBS.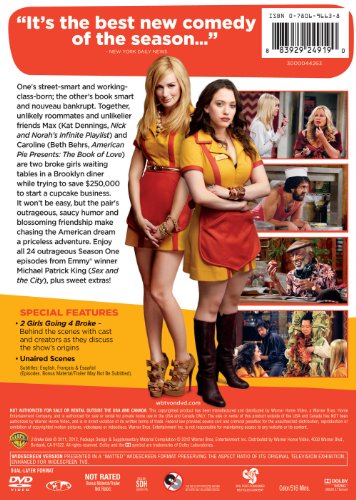 Garrett Morris has been involved with a lot of amazingly funny people through the years. Being a fan of his since I was a kid, I was excited to meet him and do some comedy in front of him.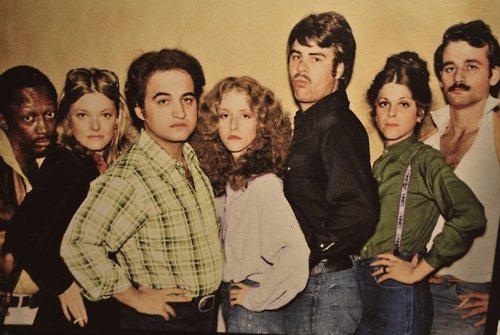 The small Downtown Comedy Club (old location) was packed that night in early 2011, a full house. There were posters for the movie, and free t-shirts, trinkets, pads of paper, and little shot glasses, all with the motto from the movie, "Can best friends be sex friends".
Garrett Morris got up to start the show. He was funny and smooth and got the packed house ready for some fun. After a few good stand up comedians, The Omelettes jumped up and did our first set. When Garrett introduced us, it was "Dan Dailey and The Omelettes", which was close enough. We did 3 games and got off stage to a big applause.
A few stand-up comedians later and we were called back up. We did 3 more games, ending on a high note, playing the game "Pick a line", which is where we ask the audience members to write down something on a piece of paper, a line of dialogue, a word or phrase, and then we base the scene on whatever they write.
Garrett gave me a 'good job' hug as we left the stage. A successful night for all of us to remember.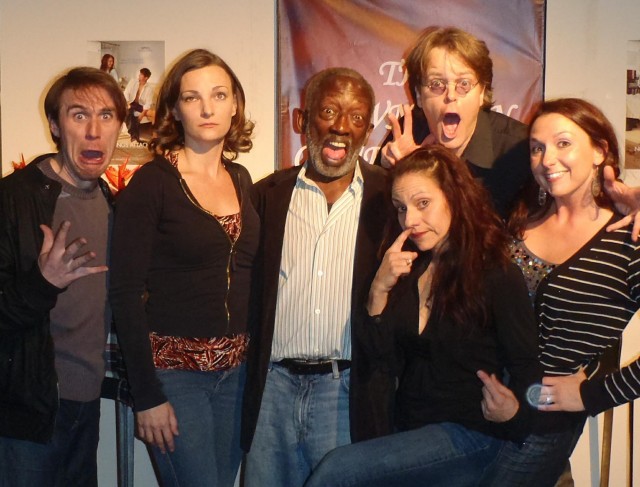 The Omelettes performed at the Downtown Comedy Club two more times and continued performing for about a year more at the Horrible Movie Night show in Hollywood. Afterwards, the members of the Omelettes got busy and stopped performing regularly for almost 2 years. This week marks our return as we perform in Manhattan Beach this Friday night, November 22nd at the Sunset Theatre Company.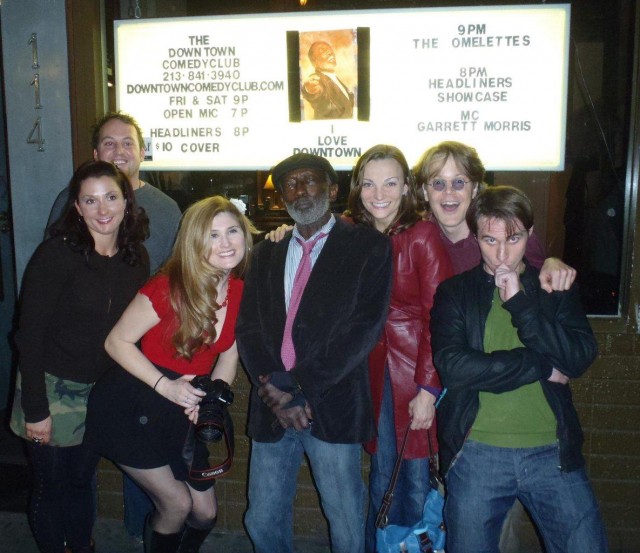 To see great comedy and Garrett Morris at the amazing new location of the DownTown Blues and Comedy Club, click HERE.
**You should like Shea Magazine on Facebook HERE!**

Pennsylvania native Dan O'Day McClellan is a seasoned actor, writer, comedian, voice over artist and producer. Dan is the founding member of Los Angeles improv comedy troupe, The Omelettes. Dan's ongoing film making/producing work with Pete Galaxie Productions includes the award-winning short film, The Silence of Bees, along with the short films, Just Out of Reach, Reality of the Situation and The Afikomen. Dan's 1st Novel, Lognotes of a Wino, is due out in fall of 2015.