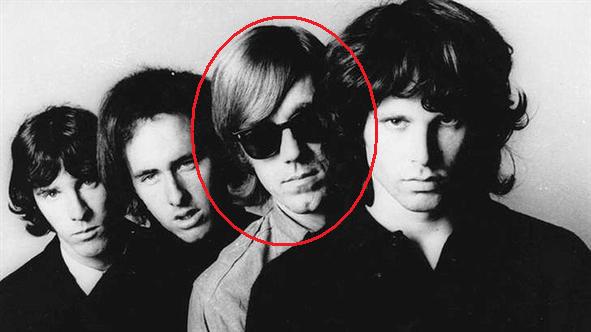 I was seven years old when I first discovered The Doors. I was visiting my sister's new house in Bethesda, Maryland one summer. I was with my parents. I was bored and had nothing to do so I poked around through her cassette collection that was still in boxes from when she moved in. And that was when I found The Doors. A plural noun? I was strangely curious. Why the doors?
"Who is this guy on the cover?" I asked my brother-in-law who was drinking a Pabst Blue Ribbon. "That's Jim Morrison," he said plainly, announcing a fact.
So I went home and played the tape in my H.R Puffinstuff tape recorder (indeed a charming oddity to produce psychedelic rock), and I heard Ray Mansarek's opening riff on that iconic Vox Continental organ (that he accompanied with on his Fender Rhodes piano) and my tiny eggshell mind was shattered.
There are many bands that have great chemistry, but few that ever synced so magnificently, with such an odd amalgamation of styles and influences like The Doors. Morrison was the great provocateur, shouting lyrics that were a combination of Rousseau, Montaigne, Sartre, Nietzsche and mystical shamanistic verse. Densmore and Krieger on drums and guitar, adept at flamenco. And then there was Ray Manzarek, enchanted by jazz greats Coltrane, Parker, and Davis. Besides being the organist in the band, Ray Manzarek also played bass, and was the lead singer when Morrison was unconscious, late, or incarcerated, which is to say frequently. Drummer John Densmore said it best yesterday, "There is no keyboard player in the planet more appropriate to support Jim Morrison's words. It was like we were of one mind, holding down the foundation for Robby (Krieger) and Jim to float on top of it." The distinctive Doors' sound is instantly recognizable, part carnival, part vision quest, part riot, part murder scene, part spirit rising.
When I found out yesterday that Ray Manzarek died from cancer, I was sad, but I thought what if he is somewhere Morrison had portended? On the other side of some cosmic infinity that's genuine when the soul leaves the body, the greatest fear departing as the greatest secret is revealed.
Break on Through Ray Manzarak. RIP.
Rick Phillips is a writer based in Los Angeles. He wrote the screenplay EDEN, a feature film that won the Audience Award at the 2012 South by Southwest Film Festival. Additionally, the film was the1st recipient of the Reel NW Award, as well as Runner-Up for the Grand Jury Award at the 2012 Seattle International Film festival. The film also screened at Cannes and Busan, South Korea. In August 2012, EDEN was purchased by Phase 4 Films and will be released in US theatres in early 2013.