Chris Bonno recounts meeting legendary comedian Jonathan Winters, who died last week at the age of 87. One of the true greats, Jonathan Winters was as versatile as he was hilarious. During a career that lasted more than sixty years, Winters  was a comedian, writer, performer, and artist, who recorded  more than twenty comedy albums (receiving 11  Grammy nominations for Best Comedy Album) and appearing in dozens of television shows and films. An Improv comedy pioneer, Winters paved the way for comics like Robin Williams (who idolized Winters) with his rapid fire stream of conscious delivery shifting between a host of characters as easily as you might change your hat. Jonathan Winters was a true American original, a multi-talented comic who did more than just make us laugh. TS
I met Jonathan Winters once. Heck, I got to bond with Jonathan Winters and spend a day with him – one of the best days of my life. It was July in 2010. My friend, John McDonnell, called me up and asked if he could give me a late birthday present. Did I want to have lunch with Jonathan Winters? "Yes!" I said in a slightly childlike squeal. Jonathan Winters was one of my heroes.
I used to watch him on the Wacky Wonderful World of Jonathan Winters when I was a kid. He would walk through an old attic filled with props that he would grab at random and improvise with, capturing my imagination many times. He could make anything funny. You could give him a stick and he would turn it into something interesting. He was unlike any other comic I had ever seen, an adult with a kid's sensibility, making up voices and playing characters, having the most fun in the world.
McDonnell and I drove to his house in Santa Barbara. I often wear t-shirts with fun crude underground cartoonist drawings on them. In this case, I wore my "Insectoids From Mars" shirt. It had a big awkward drawing of an alien with a bulging veined cranium and  eyes. When Jonathan opened the door, he said, "Who's that there?" pointing to my shirt. I said, "Strange aliens from Mars." He jumped in before I finished my sentence, "You said 'strange?' My people are from Mars." Then he pointed his two index fingers at me and made a whistling whirring sound like a piece of futuristic machinery. It was the same sound he made when doing the haunted house bit on the Jack Parr Show.  A Jonathan Winters sound! I, being nervous and wanting to be funny to Jonathan, acted like I was hit with an electric ray, shaking my body and quivering, then stopped abruptly and said, "I understand everything now." And in some ways, after the meeting with him, I would.
Jonathan and McDonnell showed me around the house. The living room was filled with fun unusual toys and memorabilia. "Those are toys Robin gave me. He brings them over when he drops by," Jonathan said. His friend, Robin Williams, was a frequent visitor. He knew Jonathan's love for toy soldiers and would bring them back from his travels. The ones we were looking at were from Russia.
Jonathan showed us his airplanes. Since his lovely wife, Eileen,  had died, he had all of his toy planes hung from the rafters of the vaulted ceiling  in his bedroom. There seemed to be hundreds of them, miniature replicas of fighters and biplanes. It was like a beautiful display in the best airplane toy store you might ever see.
We talked about his life and his family. He asked where I was from. I told him "Houston, Texas". He said, "Yeah I played Houston once, It was in the sixties. This was before the civil rights movement. They didn't care too much for a Yankee doing the show. Something happened and they had to sneak me out of the back of the building."
He talked about his friend Charles Bragg an artist who I'd admired. "We're good friends. I'll tell him 'Charles I have this idea for a painting', then he'll paint it for me. Those are some of the ones we did together over there," he said pointing to a wall filled with paintings.
I was mesmerized.
Somewhere amidst the conversation, I had to "hit the head."  I walked into the bathroom and closed the door. It was filled with 8 x 10 pictures framed on the walls of  Jonathan with John Wayne, Rose Grier, Dean Martin and numerous others. One of the frames held a letter from none other than Groucho Marx telling him that he had seen Jonathan and thought he "had it."
Jonathan asked me if I was a comedian; McDonnell chimed in "and he's an artist too, Jonathan!"
"Oh, we'll have to go see the drawing room then," he said leading the way. But before we got there, Jonathan fielded a call from Richard Lewis who was checking up to see how Jonathan was doing. Jonathan put his hand over the phone and told McDonnell to talk to Lewis, instructing him to do a British colonel voice and give him the business. McDonnell happily obliged, suddenly drilling Richard Lewis with questions as Jonathan smiled, knowing that Lewis had no idea who was on the other end of the line.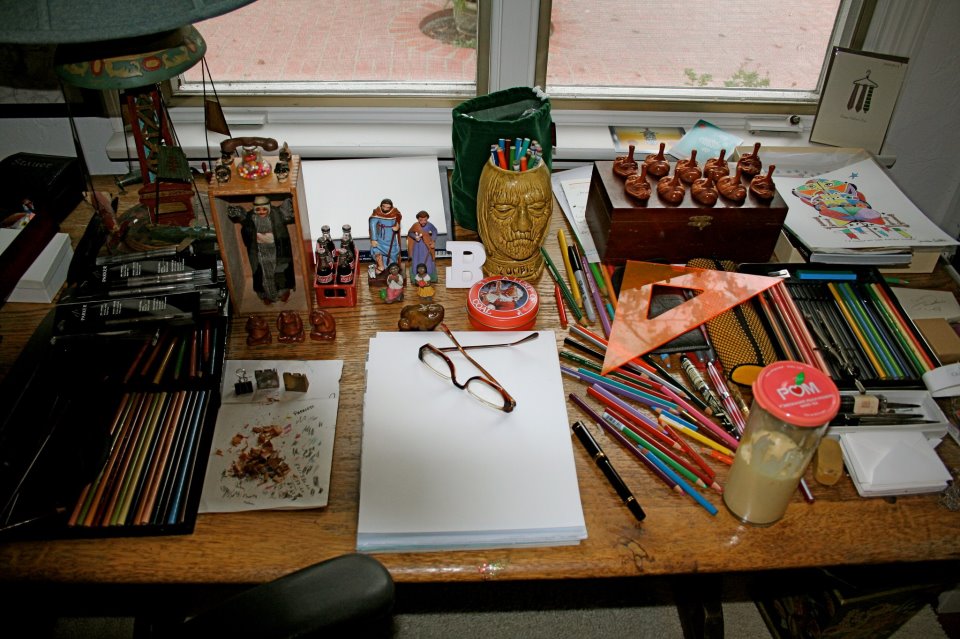 Call concluded, we were off to the drawing room again. We walked in. It was pristine. A neat, well oiled machine. Jonathan had his colored pencils and pens laid out and a stack of brightly colored drawings on the corner of the desk. While he was showing McDonnell a photograph on the wall he turned to me and said, "Look on that corner there. That one on the top is yours." I said, "What?" or made some other base guttural sound in disbelief. He said, "That top one over there, that's yours." It was a beautiful drawing in a Miro/Winters style of a character. On the bottom he had titled it, "Our Neighbor From Mars."
I felt I had met a kindred spirit. He was the uncle I wished I had.
Before I left, I started to draw him in the sketchbook that I was always carrying around with me while we were in the kitchen. He stopped me, came over and drew a guy's face in my book and called it "The Migraine." That sketchbook always stays on my shelf, within easy reach.
Before Jonathan passed away, two years after the visit, I called him to reconnect. He was very gracious and invited me to make an appointment with him. He was looking forward to talking about art with me, he said. We could draw. I was going to bring him a painting. He said, "Well, I'll have to dig one of the old ones up and trade you for it." Unfortunately we never got that visit. His health over the weeks deteriorated before we could meet again. But I had already been blessed with our time together, the day I met my comic hero, Jonathan Winters. RIP.

A nice spread of career moments. More comprehensive than the rest I saw online. I love the bit with Andy Williams at the beginning of the first clip and the Rosie Greer piece in the second half. Jonathan just runs with it and is like a train out of control. You just have to go with it and trust him.

Jon and Dean Martin. Laugh out loud funny to this day.

An appearance on the Jack Paar show doing various bits. My favorite is where he does his impression of a horror movie complete with all the sound effects and surprise Winters inspired characters, plus an approximation of a Telsa coil that still thrills me today. The sound he does when he describes a ghostly woman was the same sound he did for me when he saw my t-shirt.

Chris Bonno is a multi-hyphenate creative sort who lives and breathes in Los Angeles, California.  Originally from Houston, Texas, as an artist he received his Bachelor Degree in Studio Art ,with Honors, at the University of Texas at Austin. While in his junior year of college he started performing at the Comedy Workshop and with the local hit group, Esther's Follies as the lead male cast member.  A professional comedian, he was once named the Funniest Person in Austin and has been touring as the feature act for comedian Hal Sparks for many years, performing all over the country and in Canada.  Bonno, in addition has been on tour in California with a group of performers including Rick Shapiro, John Fugelsang, Rick Overton, Edie McClurg, Tracy Newman, Gary Stockdale and more.  Also an actor, he has been on many sitcoms and independent films as well as many commercials and cartoons. Currently he produces, directs, writes and stars in his own experimental comedy web series Electric Bonnoland (found on youtube or on his website at www.chrisbonno.com).  As a painter his work is owned by various show biz industry sorts like Laraine Newman, Paul Provenza, Rick Overton, Kelly Carlin, Cheryl Hines, comedian Andy Kindler and more. (For a more comprehensive list check the art section at chrisbonno.com).  His painting of Conan O'Brien is currently the number one art piece at teamcoco.com. He's illustrated for National Lampoon Magazine, the Writer's Guild of America magazine, the LA Weekly and the Austin Chronicle to name a few. And he can sing.