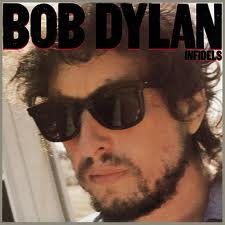 I wanted to add a little different perspective on the overall celebration of Bob Dylan's music, his songwriting, and his 72nd birthday.  In the aptly titled "The Picasso of Song" article, it was mostly his words that were celebrated, and rightfully so.  No one in their right mind would argue otherwise.  (And oh, by the way guys, no "Like a Rolling Stone" in his top six songs… OK).
I'd like to actually make a few comments about his performing, and the first time I actually saw Dylan, which was in 1986 at the Akron Rubber Bowl.  Ah yes, what better name for a monument to Ohio manufacturing and the vulcanization process, and a not too subtle, unintentional, but immediately recognized, reference to both tires and condoms?
Nonetheless that's where I first saw Bob.   And not too well, for the first song, I might add since we had seats way up at the back of the stadium.   A friend and I quickly decided we hadn't come this far in life, and our Bob devotion, to remain in the back of stadium watching a tiny figure on stage, so we worked our way forward until we were standing about fifteen yards from Dylan in front of the stage.
What I wasn't prepared for was how you really couldn't take your eyes off him.  Be it an acoustic song or electric, Bob really commanded the stage.  At the time he was being backed up by Tom Petty and the Heartbreakers, and in Petty, Bob had really found the perfect complement to the bluesy, rocked-edged aspect of many of his songs.  Ironically, at one point, Dylan cracked a joke before launching into one of his acoustic songs by asking the crowd, "How you liking this folk festival?"
I remember Petty played at least one set with just his band, and when Bob left to disappear backstage he didn't just walk off or even saunter off, he bounced off stage, propelled by a rhythm as if it were literally passing through his body.  I have heard recordings of Dylan and Petty from their tour together and some of the greatest versions of Dylan's songs I had ever heard came out of it.  I heard a version of "Slow Train Coming" recorded in Europe that was infused with a Chicago Blues edge and hypnotic rhythm that would absolutely blow your socks off.  If only more of that tour had been released, we might have an even more complete picture of Dylan as a performer.  Take the rawness and power of Down in the Flood recorded with the Band, and add all the newer songs he's written since the early seventies and you can imagine how staggering that might sound. The same could be said about the music of any one of a handful of top notch touring bands Dylan has assembled since the 80s.
Thank God for Biograph and the ongoing Bootleg Series, which has done just that—filled out the picture for rabid collectors who want clean sounding copies of songs, often only previously bootlegged, and the unreleased gems for the normal fan as well.  Since Dylan's career has been so longstanding these collections have truly been archival projects—the highlights of an extensive unreleased catalog, not the dross. And let's admit it, there's a fair amount of that too.  Dylan's reputation for spontaneity in the studio is legendary.  His preference for music unadorned is admirable, but sometimes the results have been less so. It's ironic then that the word is outtakes from his universally panned Self Portrait and Dylan albums from the early seventies are going to serve as the basis for a soon to be released 10th volume of the Bootleg Series.  Perhaps the record will be rectified once again.
I'd like to focus in on another interesting little chapter in the history of Dylan. Infidels was Bob's 22nd album released in 1983.  This followed a string of albums during his infamous gospel phase, so I'm sure his general audience (and probably his record company too) were interested to see what would arrive since word was it was music no longer cast in the gospel mode.  The album was enigmatic.  And the sound of the music was more polished than usual as it was produced by Dire Straits's Mark Knopfler.  There was also more drive and energy to the music I thought.  His lyrics had opened up again.  The lyrical and quite beautiful "I and I" maybe being the best example.
OK, so flash forward a bit to March 22, 1984.  The night Bob appeared on the David Letterman show—I'd like to think of this as the "real" Bob Dylan on full display.  Letterman had been after him for months and he ended up playing three songs accompanied by an LA punk band, the Plugz.  What resulted was a priceless piece of live television that only added to his legacy, standing in sharp contrast to the live versions of Dylan songs from the Infidels tour that Columbia released as Real Live.  A more appropriate title might have been "Real Unnecessary" for what were essentially stadium rock versions of ten of his songs.
The Letterman visit couldn't have been more different, starting with a rendition of Sonny Boy Williamson's "Don't Start Me Talkin'".  Even though Dylan made up half the lyrics and forgot the other half, their performance was electrifying.   You could tell Bob was on his "A" game and in his element as you watched him deep knee diving and wandering off-camera, in thrall, inhabiting Sony Boy's blues: a retranslated (literally in Dylan's own made up words) fiery homage to the original. Apparently, the audience felt the same, erupting as Dylan finished, adding his own uniquely weird exclamation point, pointing up at the ceiling in a showman's pose, as the song came crashing to an end.
According to Tony Marsico, the Plugz bass player, in Late Nights With Bob Dylan, the band had rehearsed the song once, not quite all the way through, and found out what they were playing when Dylan turned to tell them as Letterman was making his introduction to his nationwide audience.  Dylan and the Plugz had taken a 50's blues song written by someone who literally had rubbed shoulders with Robert Johnson and treated the Letterman audience to something quite rare, a legend winging it right on live TV.  The gamble paid off in the form of a raggedy, ecstatic wall of sound that blew the roof off.
Dylan's punk blues band played two more songs, both from Infidels.  The first, "License to Kill", and then the finale, "Jokerman", a punchy, revved up version which had been significantly sped up from the studio version.  This also ended up being a stunner—continuing what Marsico calls "a wild ride".  What was supposed to be Dylan's harmonica solo at song's end was quickly cut short after discovering he was handed a harmonica in the wrong key.  The Plugz soldiered on while the right harmonica was located and Dylan returned center stage to finish off a near disaster with a harp solo that was triumphant.
As the crowd, obviously still in the moment, continued going nuts, Letterman walked out to thank Bob for his once-off gloriously ramshackle piece of musical showmanship, asking Dylan, "Any chance you guys could be here every Thursday night?"
And even the normally deadpanned Dylan, in good humor playing along, couldn't help smiling after all that, simply replying, "Yeah."
**You should like Shea Magazine on Facebook HERE!
Brent Short lives outside Tampa and works at Saint Leo University as the Director of Library Services.  He's been a contributor to Sojourners, Radix, Mars Hill Review and Inklings. His poetry has appeared in Eads Bridge Literary Review, Windhover, Tar River Poetry and Sandhill Review, and still holds up "The Waste Land" and "Four Quartets" by T.S. Eliot as the towering achievements in modern poetry that the rest of us can only aspire to.