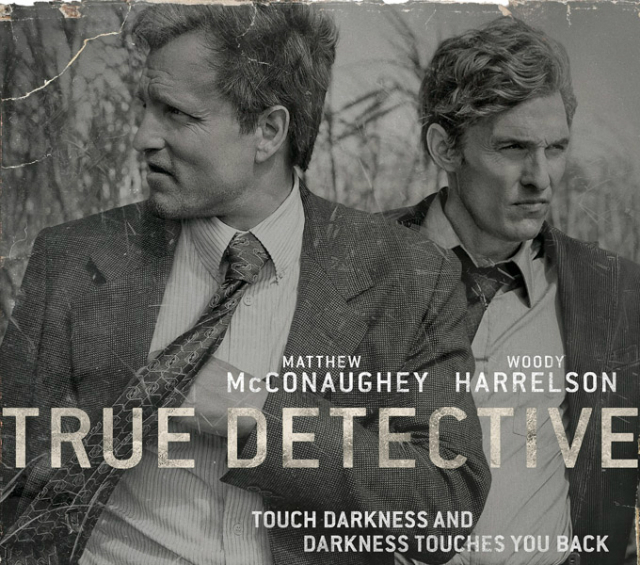 Matthew McConaughey has always been an actor who never quite seemed to resonate with me. I suppose I liked him in Richard Linklater's Dazed and Confused, but that was before he was "Matthew McConaughey" the brand name, constantly pictured on the cover of US weekly with his ripped abs surfing in Malibu, the "Matthew McConaughey" of such films as How to Lose a Guy In Ten Days, Failure to Launch and The Ghosts of Girlfriends Past, which is to say easily digestible entertainments meant for mass consumption, the sort of McDonald's happy meals of cinema.
That is until 2011 when something changed and McConaughey began an explosive run through a serious of intense and challenging roles in some great films. Presumably, he figured that he was rich enough to move in a different direction form his previously commercial fare.
The first of these films was under the direction of the great William Friedkin, he of the Exorcist, Cruising, and his last film Killer Joe. In it, McConaughey plays the title character, a fee for service killer, and ostensible maniac, who attaches himself like vines of poison ivy around the throats of a stupid family. In a scene that will undoubtedly go down as one of the most monstrous, and perhaps simultaneously most hilarious, in film history, he forces the matriarch of the family, played by Geena Gershon, to fellate a chicken drumstick that he uses as a surrogate penis, finally "ejaculating" the drumstick's imaginary seed. Failure to Launch, Killer Joe is not.
McConaughey followed that up with a solid performance in Soderbergh's Magic Mike, in a supporting role as the owner and requisite guru of a group of male strippers.
And now all of a sudden, McConaughey finds himself in two of this year's Oscar nominated films for Best Picture, including his supporting work in Scorsese's Wolf of Wall Street, and his starring turn in Dallas Buyers Club, as AIDS afflicted Ron Woodroof.
The Vegas Odds have him in the lead for the win. To say the least, an impressive year.
And, lest we not forget…there is his work in HBO's new series True Detective to consider – and indeed it is considerable.
Alongside Woody Harrelson, an actor whose work I have always liked, colored as it has been by a strand of pure eccentricity in films like Natural Born Killers and The People Vs. Larry Flynt, McConaughey plays half of a detective unit tasked with unraveling the mystery behind a young woman's ritualistic murder – posed and adorned with antlers, and surrounded by little stick sculptures like dream catchers called devil catchers.
The narrative of the show then flashes from this past into the present day, 17 years later, when Harrelson and McConaughey recount the events surrounding the case to a new group of detectives, who may be tracking new leads.
McConaughey and Harrelson are cast against type, flip flopping in the roles we might ordinarily expect them to play, since McConaughey plays the weirder character, and Harrelson plays the more conventional leading man role. As Rust Cohle, McConaughey is a kind of darkly realized Fox Mulder from that other great detective show, the X Files, whose worldview has been colored, to say the least, by his years of deep undercover narco work. To my knowledge, he plays the first character on television who has acid flashbacks as a character trait, which lends to the hallucinatory atmosphere of the show, along with the backwater Louisiana bayou country where the show is set.
Meanwhile, Harrelson's Detective Martin Hart, has a myriad of problems all his own, specially negotiating the terrain of his marriage and his love affair with his mistress, and dealing with Cohle's highly eccentric and uber-intelligent behavior, not to mention the actual murder investigation.
The relationship between the two men is characterized by mutual respect, and the show has a decidedly masculine edge, no surprise considering show creator Nic Pizzolatto's background.
The show so far has done an excellent job of balancing character with the machinations of the plot. More than anything the show produces a kind of fascinating anxiety. It's smart and philosophically challenging, as McConaughey's Cohle delivers his stirring monologues about the nature of existence and reality. It's dark and scary. And getting scarier by the minute.
The teaser for episode four coming at the conclusion of episode three was terrifying, an homage of sorts to the original Texas Chainsaw Massacre, as a nearly naked, tattooed, man holding a machete and wearing a dangling gas mask like an elephant's trunk, and who presumably works in a meth/LSD lab, emerges against a glade of trees and Cohle intones, "And like a lot of dreams, there's a monster at the end of it."
McConaughey has been amping up his intensity for the last few years and the result is something fresh and new for an actor who has been around for more than 20 years now. In True Detective , McConaughey is going deeper still as an actor and taking us along for the dark ride.
**You should like Shea Magazine on Facebook to see more of our curated content.**

Tony Shea is based in New York, having recently moved from Los Angeles after more than a decade on the sunny coast. His short films have won numerous awards and screened at major festivals around the world including Comic-Con. As a musician, he is the lead singer for Los Angeles rock n' roll band Candygram For Mongo (C4M) candygramformongo.com who has been a featured artist on Clear Channel Radio's Discover New Music Program and whose songs have been heard on Battlestar Gallactica (Syfy Channel) and Unhitched (Fox) among other shows and films.