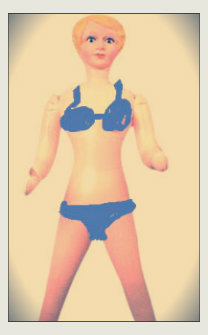 While attending the USC School of Cinema-Television, I was assigned to make a short character sketch. Students were only allowed to have one person in their short. For each additional human being who appeared, we would be docked a grade. I thought this was ridiculous. For starters, art – in any form – cannot be graded. If it could, the Mona Lisa would surely earn a C minus. In my opinion, her smile is not enigmatic at all. She is amused, thinking, "Look at these people, mesmerized, because I have no eyebrows and I'm really a man."
I quickly figured out a way to break the one-person rule without actually breaking it. My second cast member would be a blow-up doll. I would name her: Marcia Nadel. I don't know why I chose this name – chalk it up to the will of God. When I was in college, my soul was still somewhat pure. Consequently, I had no clue where to purchase adult paraphernalia. Buying a blow-up doll was the same as buying enriched uranium. I began my search using the same source I would have used were I seeking enriched uranium – the phone book. I thumbed through the pages, first through the B's, hoping to find "Blow-Up Doll." Where it should have been there was only "Blood Test" and "Blueprinting." Next I looked under "Sex" as in "Sex Doll," but only found "Sexual Assault Counseling." It was finally the A's that led me in the right direction. Under "Adult Products," I learned of a store called The Pleasure Chest, located in homosexually controlled West Hollywood.
When I pulled into the busy parking lot of The Pleasure Chest, my pulse began to race. I felt like I was buying condoms for the first time. As I self-consciously walked into the crowded store, I noticed an employee cordially ask a conservative looking man, "Can I help you?"
The conservative man, equally cordial, replied, "Yes. I'm looking for something evil."
Avoiding all eye contact, I began searching for Marcia Nadel. The Pleasure Chest was a whole new world. I discovered products I had never imagined, such as portable vaginas for people on the go. Strangely, I did not find any blow-up dolls. My inability to locate them forced me to seek assistance. I approached an androgynous employee standing behind the checkout counter and concluded she was female, judging by the badge pinned to her vest, which read, "Yes, I'm a dyke."
I asked the self-proclaimed dyke if she could please show me where the blow-up dolls were, clarifying the doll was not for my personal use, but rather for a film. She nodded and smiled, obviously convinced I was going to bang the doll's brains out. She led me to an area I had somehow missed, loaded with dolls, and explained the various differences as if she was selling cars. The low-end models ran at twenty dollars. They featured a drawn-on face with ruby red lips and a permanent wink. The higher end dolls began at five hundred dollars. They had real human hair, in all the places real humans have hair, and were capable of hugging back. Hugging back! On a tight budget, I decided to go with the twenty-dollar model. I also purchased an inflatable sheep I spotted, defiantly adding a third character to my film. The helpful dyke rang up my items and, with a sly grin, said, "Have a good night, Sweety." Again, I told her it was for a student film. She winked at me.
When I got back to my dorm room, I began to inflate my new friends. I started with the sheep, who I named: Alan Cartwright. It only took a few minutes to get Alan fully inflated. Next was Marcia Nadel. It was not as easy to blow her up. Like many women, it was taking a ridiculous amount of time to get her even halfway there. Nearly out of breath, I examined Marcia and discovered a fatal flaw. She had a lengthy tear down her right leg. I carefully sealed it with tape. But air continued to escape through microscopic openings. As I studied the flaccid blow-up doll, I realized I was going to have to go back to The Pleasure Chest and tell them my doll wasn't working.
With Marcia Nadel stuffed in my backpack, I left my dorm room and ran into a fellow student filmmaker in the corridor, Matt, from Utah. On the first day of class, Matt announced he wanted to make films to spread the word of Christ through cinema. He smiled when he saw me and asked what I was up to. I told him I needed to return some defective equipment for my upcoming film shoot. He asked if he could join me. I agreed. We arrived at The Pleasure Chest and Matt began to hyperventilate. I pulled the crumpled sex doll out of my backpack, informing Matt that Marcia Nadel was wounded. Matt stared at the store in shock, declaring it was a dirty place for sinners. He still went inside.
The store was even more crowded than before. Matt and I got in line at the checkout counter. The dyke was there, helping a young couple select the perfect vibrator. The boyfriend mentioned this was their first vibrator. His girlfriend added it was their first vibrator together. With his arms folded as he stood beside me, Matt looked convinced his presence here meant he was headed straight to Hell, which must have been disappointing. The young couple purchased their desired vibrator. It was now my turn. I placed Marcia Nadel on the counter. The dyke remembered me, sympathetically asking, "What happened? Is she not The One?"
Everyone in line behind me listened intently as I explained, "She's broken. She's got a tear in her leg. I didn't do it. I'm really making a film."
The dyke consoled me, saying, "Don't worry, Baby. We'll take care of you." She walked me over to the doll section and handed me a new box with a new Marcia Nadel. I didn't want to drive all the way back to USC only to discover this Marcia was also defective. So I removed her from the box and began inflating her in the store. And the people in the store began assuming I was a sex-starved pervert who couldn't wait long enough to get my doll out to the parking lot. After several minutes of huffing and puffing and sounding like a horny Darth Vader, the new Marcia Nadel came to life.
I looked around, curious to see if any customers were actually paying attention to me. All of them were. All of them, except for Matt, who had disappeared. I carefully groped Marcia Nadel, listening for the sound of hissing. A jolly, pot-bellied man walked by and asked, "Are you checking for holes? She's supposed to have holes. That's what she's for." Clearly, he was a sitcom writer. I found Matt salivating over a sixteen-month lesbian calendar. We left The Pleasure Chest with a healthy, inflated Marcia Nadel under my arm. Everyone who watched us go no doubt considered us as a happy threesome.
Now that I had secured Marcia Nadel, I needed to cast her love interest. I chose my roommate, a mild-mannered computer-science major named Dan. I told Dan, "I'm making a short. I want you to star in it. You'll have to have all kinds of crazy sex with a blow-up doll and also there's a sheep named Alan Cartwright. It's a character sketch."
Dan said, "Okay." We shot the film over the weekend. It was never my original intent, but somehow I ended up with a student film that contained fisting, oral copulation and bestiality. I considered it a portrait of a lonely young man who only wanted to love and be loved. And also be hugged back. When I screened it for my film class, half the students were inspired and the other half, horrified. Matt from Utah was not a fan. My professor was. Not that it matters in the slightest, but he gave me an A.
is left-handed and had five pet chickens when he was growing up in the foothills of San Diego County in a place called Lakeside. After graduating from high school as valedictorian, he promptly dropped out of the University of Southern California  in order to bring green organic tea to a number of highly acclaimed Emmy and Academy Award winning filmmakers. He began performing live shows in such venues as The Comedy Store, The Ice House, The Upright Citizens Brigade Theater and The Comedy Central Stage. He is a ten-time Moth storyslam winner, including two Grandslams and has been featured on KCRW's UnFictional as well as NPR's The Moth Radio Hour. His comic memoir of romantic misadventures, Please God Let It Be Herpes: A Heartfelt Quest for Love and Companionship has been published by Penguin books.