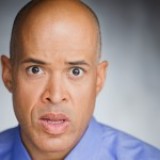 Monologist Christopher T. Wood delves into dialogue and presents an ingenious meta prequel to the trailer for his screenplay, Fagen, depicting the pitch to the studio. Watch it, read it or both. TS
INT – OFFICE
THE AGENT pitches to THE MONEY
THE MONEY
I don't get it.
THE AGENT
It's an old war drama.
THE MONEY
It's a period piece?
THE AGENT
It's a war drama set in the
Philippines in the late 1800's
about this African American kid,
Fagen.
THE MONEY
It's a black period piece? Sweet
Jesus.
THE AGENT
Not really.
THE MONEY
Are there white people in it?
THE AGENT
Yes.
THE MONEY
Do they suck?
THE AGENT
Some.
THE MONEY
Then it's a black period piece.
Not the easiest thing in the world
to get 63.4% of the country to part
with hard cash and spend two hours
learning how much they used to
suck. Three hours if we want an
award.
THE AGENT
It's not about that. It's about
Fagen.
THE MONEY
Yeah, right. Bet he doesn't suck.
Does he have to be black?
THE AGENT
He's actually a real guy, so yeah.
And eventually, he sucks.
THE MONEY
So he starts out good and then he
sucks.
THE AGENT
Yup.
THE MONEY
As bad as the white folks?
THE AGENT
Maybe worse.
THE MONEY
Why?
THE AGENT
Cause war's a bad place for a smart
man with good intentions.
THE MONEY leans back, furiously cogitating.
THE MONEY
I still don't get it. I mean, who
is this Fagen? Jackie Robinson?
Malcom X? W.E.B. with a temper?
THE AGENT
None of them. All of them. He's
me. He's everyone. Even you.
THE MONEY
Me?
THE AGENT
If you were young.
THE MONEY
If I was young?
THE AGENT
If you were noble. If you were
betrayed.
THE MONEY
No. If I was young, noble and
betrayed, I'd be… I'd be…
THE MONEY'S face darkens. THE AGENT leans back smiling.
Then THE MONEY gets it.
THE MONEY (CONT'D)
Press play.

Christopher T. Wood has been an actor in Hollywood since the tender young age of 36.  He has appeared in numerous commercials, television shows and films and has been loving every minute of it.  He has been known to spontaneously break out into uncontrollable laughter while sitting at what others might describe as a boring audition.  The prevailing theory as to why this occurs is that he has just remembered he used to be a corporate lawyer on Wall Street for eight years and has now been retired for ten.  He thinks that's very funny.