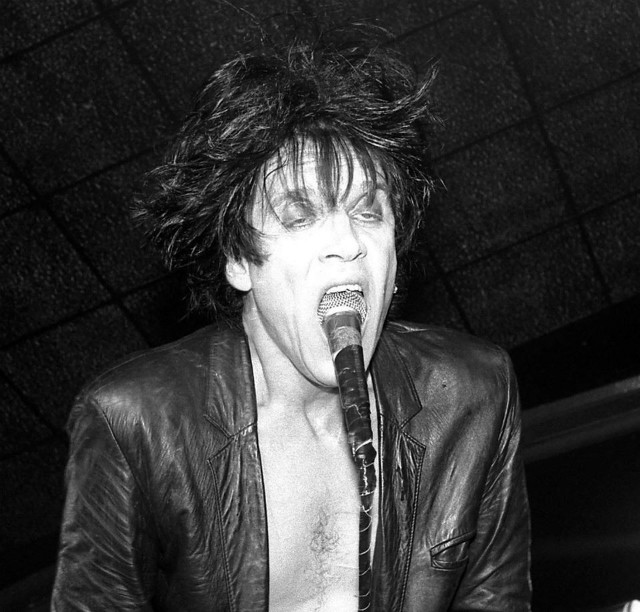 His parents called him Erick Lee Purkhiser, but everybody else knew him as Lux Interior. The frontman for psychobilly inventors The Cramps died on this day back in 2009 at the age of 62. While not as well-known as some of his contemporaries including Iggy Pop, the Ramones, and The Misfits, Lux Interior was every bit as good and, I'd suggest, every bit as important.
A cross between Frankenstein and a Praying Mantis, Interior was a force of hilarious menacing lust, monstrous and disgusting, beautifully ugly, standing beside guitar goddess, and real life wife, Poison Ivy as the Cramps set out to corrupt the minds of America's youth, throbbing like a Zombie's erection with their brand of patent leather LSD 50's beach blanket bingo monster movie music.
God, they were fun. And weird. And fun! Lux Interior is dead. Long Live Lux Interior!
Bikini Girls with Machine Guns

Combining surf and punk and Elvis and Rockabilly, the Cramps somehow managed to be completely kitsch and deadly serious at the same time.
The Human Fly

Like the Ramones, the Cramps had their impact on the New York club scene in the late 70's and early 80's. Here they perform at the legendary Mudd Club, which closed its doors in 1983.
Love Me

Here, Lux and the Cramps play DC's Black Cat Club.
**You should follow Shea Magazine on Twitter to see more of our curated content.**

Tony Shea is based in New York, having recently moved from Los Angeles after more than a decade on the sunny coast. His short films have won numerous awards and screened at major festivals around the world including Comic-Con. As a musician, he is the lead singer for Los Angeles rock n' roll band Candygram For Mongo (C4M) candygramformongo.com who has been a featured artist on Clear Channel Radio's Discover New Music Program and whose songs have been heard on Battlestar Gallactica (Syfy Channel) and Unhitched (Fox) among other shows and films.