I've spent a lot of time talking about the camaraderie and brotherhood of the men in the beard and mustache community, but here's something you may not know: there are ladies that compete too. Yes, I said compete! Don't worry though, their involvement in is an arts and crafts venture – not a strange hormonal consequence. And they don't just take the simple standard crafting route, using macaroni noodles, construction paper, and glitter, but create wearable facial hair dioramas using bottle caps, yak hair, girl scout cookies, and paper mache as raw materials. Some of their beards even require batteries for lights or motors for moving parts!
The ladies are known as "Whiskerinas," a term coined by Tessa Bischoff after a 1920's whisker club that crowned its male champion "Prince of the Whiskerinos". Tessa added a feminine ending and the Whiskerinas were born.
I attended my first Whiskerinas competition in 2011, during the National Beard and Mustache Championships weekend in Lancaster, PA. Truth be known, I was a bit wary of the Whiskerinas at first. I had no idea what they were about. Girls with beards? Uh, what? I was not prepared for the rowdy spectacle that was about to take place in that amish-town bar. The crowd was amped as the ladies paraded the stage, showing off their art. There were girls dressed in all sorts of costumes from a clam shell with a beard, to zoot suits with fedoras, handlebar staches, and canes. It was easily the most interesting, creative, humorous, and carnivalistic category of the event and clearly the crowd favorite. Every dude grows hair out of his face, but to see a beard made to depict a graphic scene from The Shining displayed on a lovely lady? Awesome!
Whiskerinas founder, Tessa Bischoff.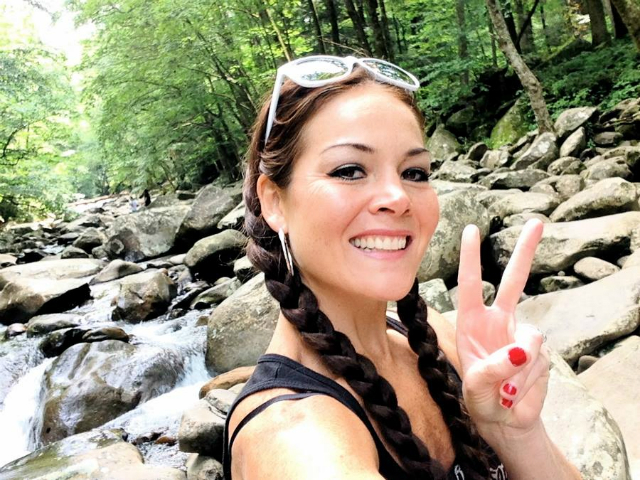 "Whiskerinas are creative, confident, courageous and caring woman. Whiskerinas have a strong passion for giving, through either competing in beard and moustache competitions to raise money for charity, or by donating their time in a local chapter to help out their community."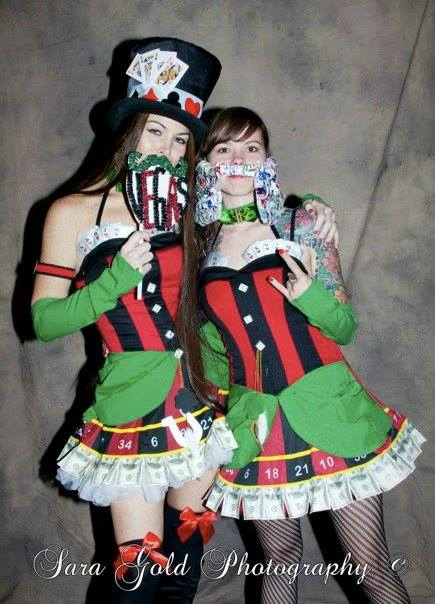 Vegas beard hosting 2nd National Whiskerina Competition
"Whiskerinas are wives, girlfriends, sisters, friends and mothers that love to support the men in their lives with beards and moustaches."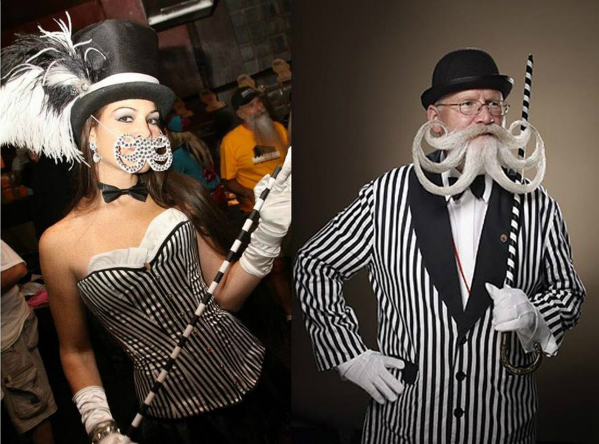 Paying homage to world freestyle champion, and bearding icon, Willie Chevalie
Chelsea Easterling: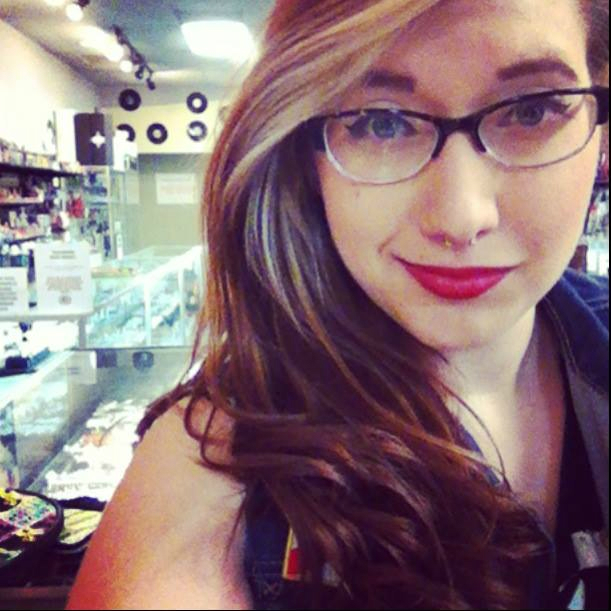 "I wanted to join because it seemed fun and quirky and i wanted my own place in the bearding world instead of just watching the boys"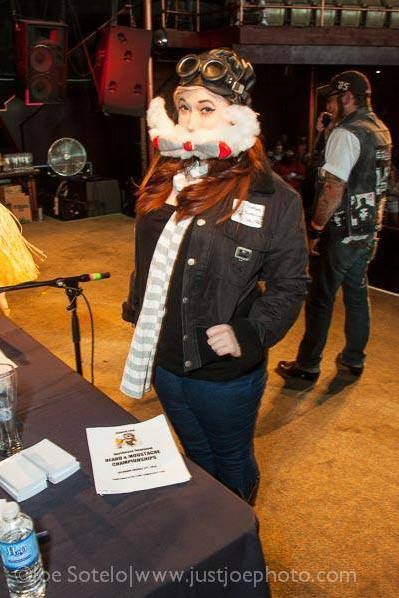 "It's a bit nerve-racking actually being on stage. It's exciting, but I'm always a bit worried that it won't be received well… Mostly it's just fun to see if I can pull off my ideas and see what the other girls come up with. I've met some of my best friends through bearding."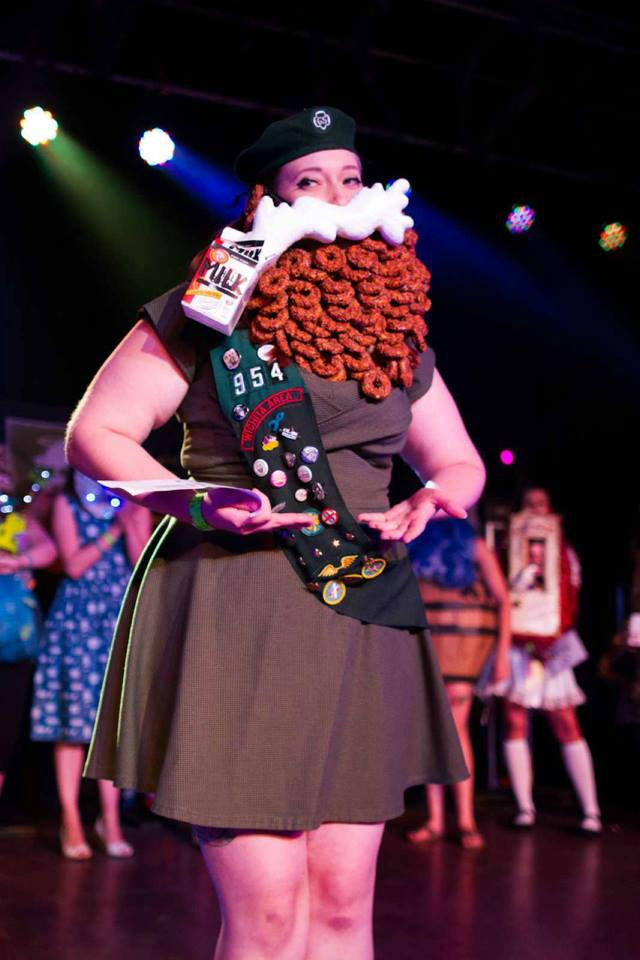 "Mostly they (my ideas) come from every day things. I'll be watching a movie or see something at work and try to think how I can incorporate it into a craft project. I'm a seamstress, so sometimes I'll think of a costume I want to sew then come up with a beard to wear with it."
Kim Sparks: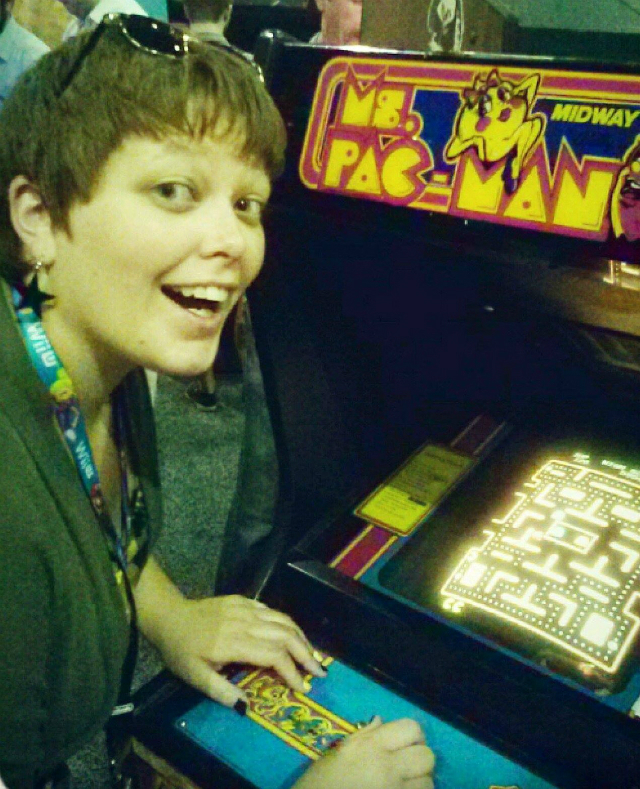 "My husband Sparky told me about the Whiskerinas. After doing some research and figuring out that the Whiskerinas were all about having fun, donating to charities and supporting the hairy community, I knew it was something I wanted to be a part of!"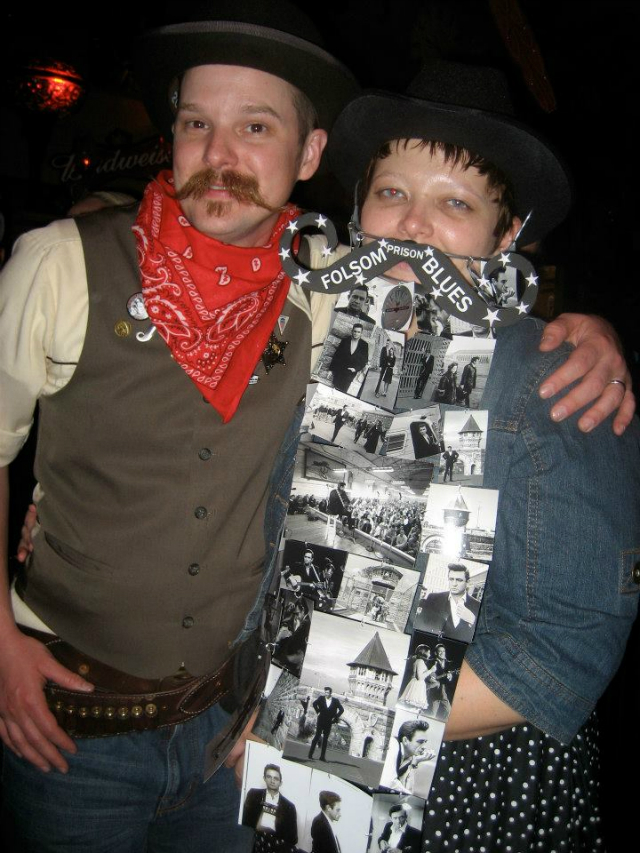 "FolsomBeard: This beard was inspired by the town we were traveling to for the competition…Folsom! When I think of Folsom, I of course think of Johnny Cash's song 'Folsom Prison Blues'. So I printed off several photos of Johnny's visit to the prison and fashioned them into a beard!"

"BirdStache: I made this mustache for The Whiskerinas' 2nd National Ladies Fake Beard & Moustache Competition in Las Vegas. I was inspired by artwork I found online of a dapper gentleman that had birds helping hold up his very long mustache. I thought it would be such a fun idea to bring to life, so I made it happen and it turned out great!"
Lindsay Stinner :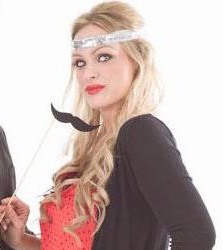 "I rehearse my name, beard club, and where I'm from before going on stage because even the mildest of stage fright can cause me to forget how to speak and think like a normal person."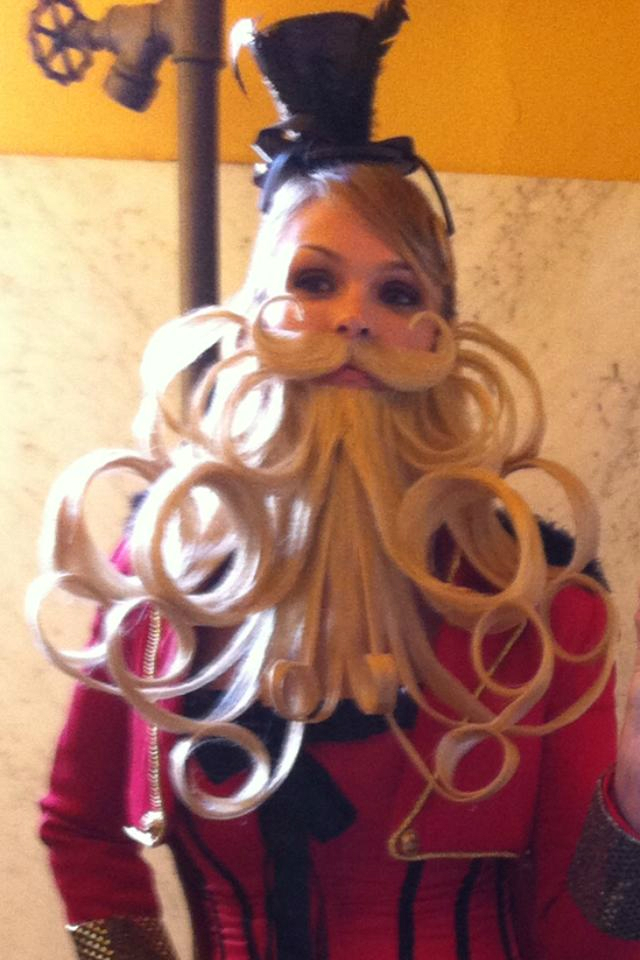 (First place Ladies' Realistic in Cincinnati, Ohio. Beard made out of a cheap Halloween wig)
"It took one competition to realize that competing is a hell of a lot of fun and I would make this routine. Being able to showcase and compete in a quirky piece of art that I created is an amazing thing. But honestly, I think it's the charities that benefit from these competitions that keep me coming back."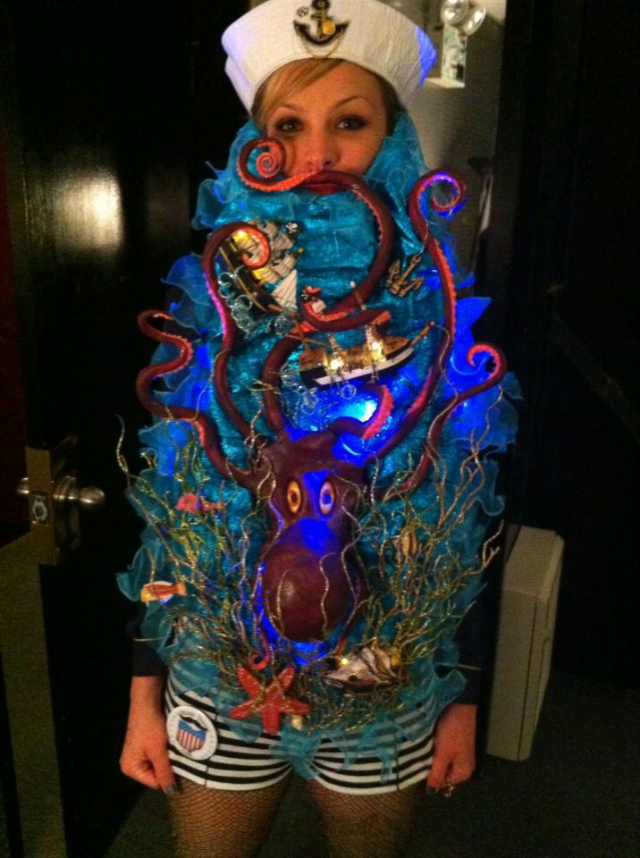 (First place Ladies' Creative in Philadelphia, PA. Kraken made out of wire, clay, and paint)
"Strangely enough, most of my ideas have developed while exercising. This is when I brainstorm, and I think my favorite beards originated while running or hiking"
Ashley Brown:

"I enjoy a man with scruff and the process of costume creation (I really wish Halloween was a monthly thing), so why not combine them?"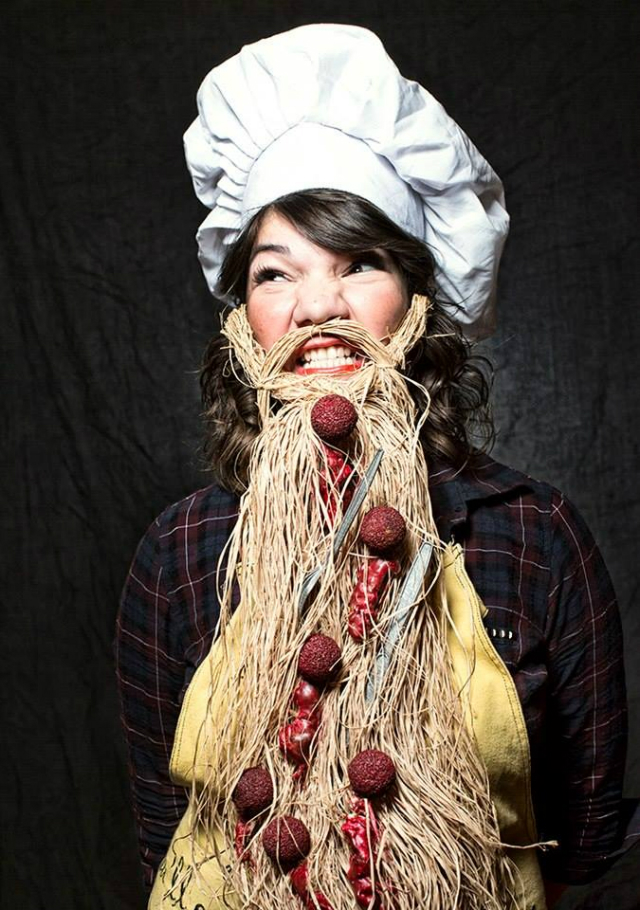 "My outfits are can be inspired by anything. An amazing sequin gown that's destined for a stage or seeing a beehive while out hiking. Inspiration is everywhere. When I'm competing I feel like Beyonce's alter-ego, Sasha Fierce! As in, a larger than life unstoppable performer and not plain ol' Ashley."
…and there you have it ladies and gents. The Lovely Ladies of Bearding! But those are only a few of them. There are lovely lady beardettes all across the country. To learn more, check out their Facebook page HERE.
**You should like Shea Magazine on Facebook HERE!**

Nate "Chops" Johnson currently holds more than a dozen competitive bearding titles, including 6, 1st place victories, and 2 for Best In Show. He lives in Los Angeles, and enjoys Pabst Blue Ribbon beer.