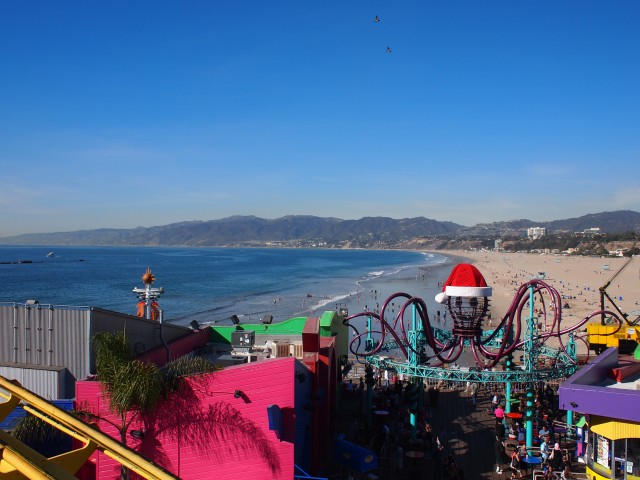 6. Santa Monica Pier

Our plans for our trip to Los Angeles were pretty fluid. We knew we had a number of items we wanted to check off the list, but we didn't have a clear schedule. We were just going to play things by ear. As it turned out, the weather for Monday was beautiful, so we decided to spend the day at the beach. Rather, spend the day at a few beaches. Specifically, Santa Monica, Venice and Malibu. Each of those beaches was on our Metropolitan Bingo Cards: Los Angeles Edition, so we got an early start.
We started with breakfast at Salt's Cure for an early breakfast. Our plan had been to explore a number of donut shops around the city, but the allure of meat got the better of us. And really, why not? What better way to start the day than with cured meats. We foolishly ordered a croissant and jam and a pretzel and mustard. They were perfectly acceptable. But they paled compared to the meats we were about to eat. From there, we took a slow drive down Wilshire Blvd to the beach. After the flurry of activity on the first day, it was nice to have a leisurely paced day ahead of us. We got to the beach around 11:00 am and found suitable street parking somewhat close to Santa Monica Pier. To our east coast mentality, this was the perfect parking situation. Grab the first spot you find and walk to where you want to go. The walk was perfect. A grassy park along the road followed by a twisting stairwell down the side of a cliff and across an aging bridge to the beach. We had no idea the cliffs were so big. We were now standing in sand. Our first item of the day checked off our bingo card. Hello Santa Monica.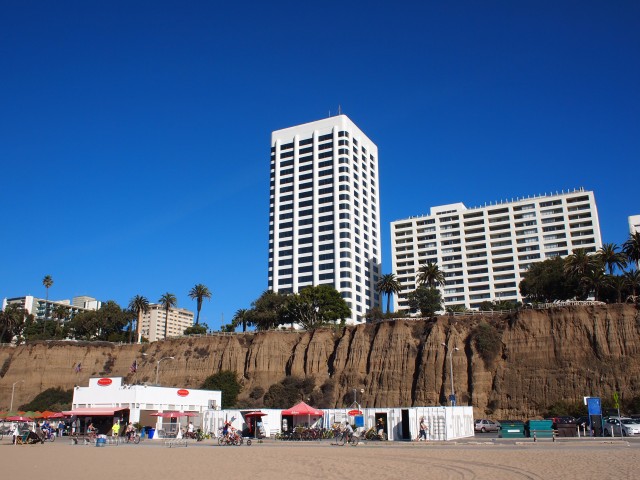 We walked along the beach toward the pier. Along the way, we stopped to admire the architecture of the houses built right along the beach. The fascinating part was seeing what appeared to be million dollar homes next to ones that appeared to be in a state of disrepair. But beachfront property is beachfront property, no matter how nice the home is.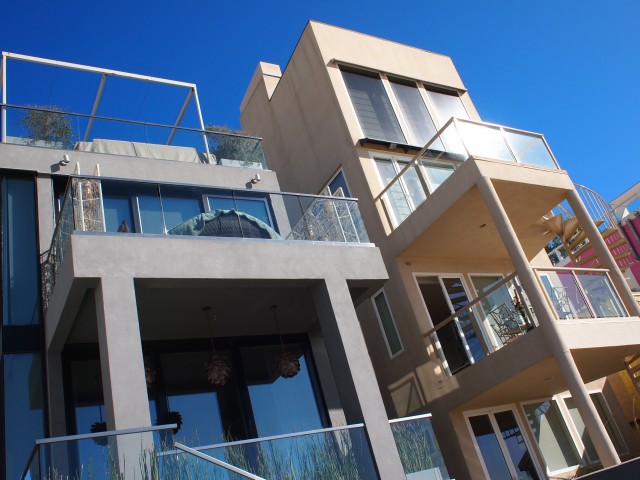 We eventually walked past the pier and made it as far as muscle beach. We had visions in our head of muscle bound men lifting weights and showing off. Instead, we were treated to a lone girl with her dad playing on the rings. A bit of a let down.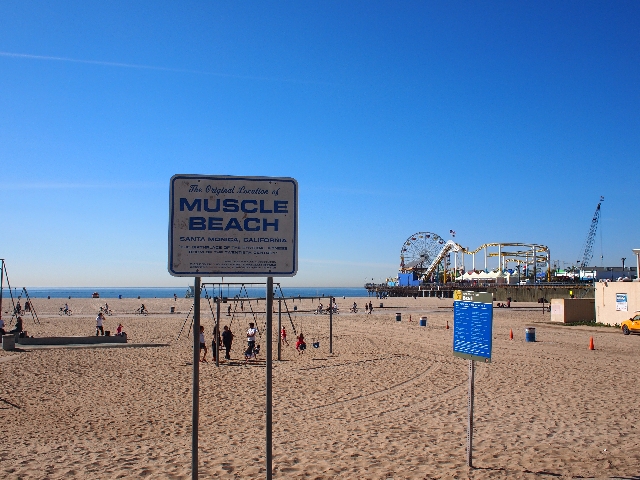 From muscle beach, we walked back to the pier. We wanted to take a ride on the Ferris wheel. Santa Monica Pier ended up being just a series of lines in a scenic location. We queued up to buy tickets. We queued up again to get in line for the Ferris wheel. Even on the Ferris wheel, we waited a good bit while the other passengers were loaded and unloaded.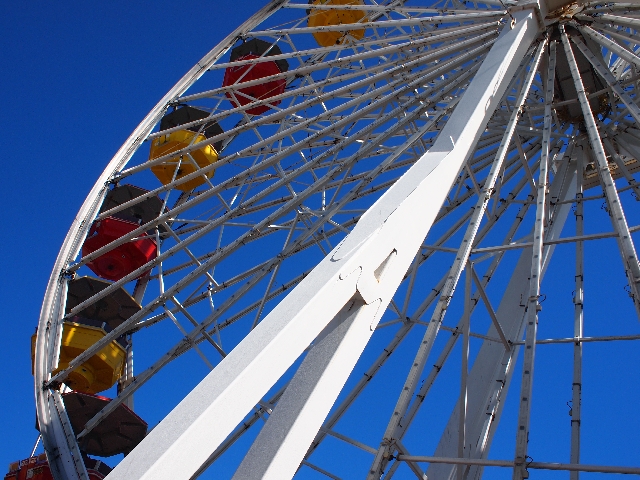 However, all that lining up and waiting paid off. The views from the top gave us the full sense of scale of where we were. To the north, we could see Malibu. To the south, our next destination, Venice Beach.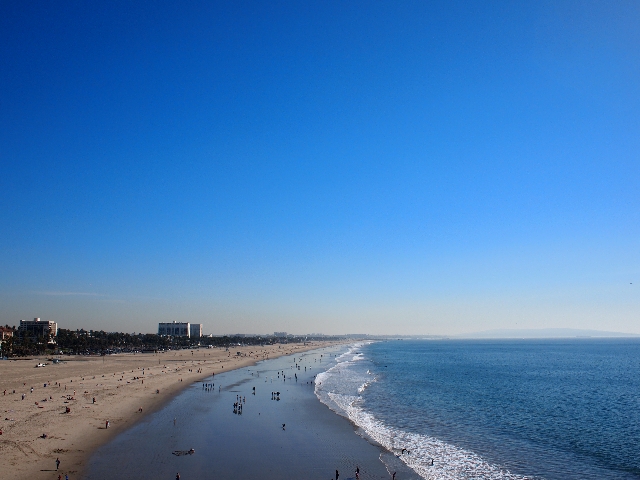 7. Venice Beach

The first crack in our leisurely plan arose when we realized we had no good lunch plans. The carnival-type food at Santa Monica Pier wasn't exactly what we were looking for. We decided to move on to Venice Beach and find some food there. While we had been warned that Venice Beach was a totally different type of scene from Malibu and Santa Monica, we figured we could take our chances and find something. We somehow ended up in a cafeteria style place called lemonade. While the food was nothing special, the lemonade was good. And even better was the Ring Ding cake. It looked like a sliced up Ring Ding on steroids and more importantly, tasted just like a Ring Ding.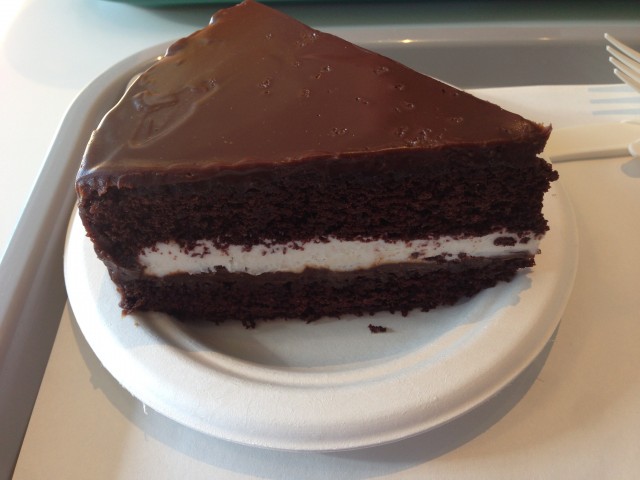 From there we drove down to the beach. We found parking and randomly headed south down the beach. It was the right move because within a block we hit one of the movie locations I had wanted to see. The apartment in LA Story with Steve Martin where SanDeE lived. While I had already marked off movie location on my bingo card (having seen where Blade Runner was filmed), I was able to mark off Venice Beach. Box number seven checked off.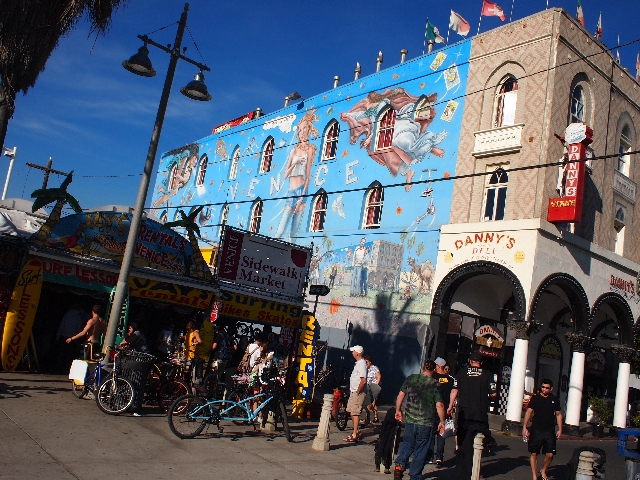 As anticipated, the rest of Venice Beach was a bit of a blur. We saw countless clinics to sign up for medical marijuana all staffed by friendly people in appropriate green medical scrubs. We saw all kinds of madness and craziness. Having just come from Santa Monica, this was a jarring, though welcome, contrast. It was more than we could absorb. Skateboarders, musicians, all kinds of people just doing their thing. Muscle Beach in Venice had a much different clientele. Photos would have been very NSFW. If I took one picture I could have taken a hundred. If I took a hundred, I easily could have taken a thousand. There was just so much to look at. In every direction was just some new sensory overload.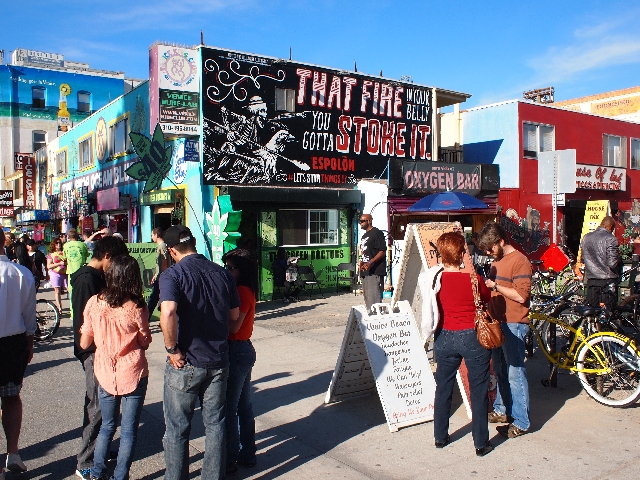 8. Malibu Beach

Like much of the day, we had no real plans. We knew we wanted to go to Malibu, but had to idea what to actually do or see. So we just pulled out of the parking lot in Venice and immediately hit traffic. And more traffic. Traffic that continued back up through Santa Monica. So we just kept driving north into Malibu. And driving. We passed small little shops. We passed gorgeous homes. We continued driving past Pepperdine.
The drive was pretty, and after the traffic, we were happy to be moving at a steady pace. So steady that we eventually realized we moved through Malibu and were considerably further up the coast. As it turns out, we had no idea when we were even in Malibu and when we were in some other part of the coast. It was all just really pretty. By this time, the sun was beginning to set. We figured we would head back toward our hotel and find food. Sadly, we never set foot in the sand in Malibu. We considered this checking off Malibu on a technicality.
Duplicate: Comedy Club

The theme of no and/or poor planning continued throughout the evening. Back when we planned our trip, we saw on the internet something about Paul Scheer and a live performance. The two things seemed to converge a the UCB theater. We bought tickets online. Fifteen dollars, what a bargain! At 10:30, we showed up and got in line. First in line, that seemed odd. The less said about the rest of the planning, the better. Turns out, it wasn't Paul Scheer, but just a Paul Scheer "Presents" the last Harold of the Year. Ooooops.
Regardless of the screwup, we still had an excellent time. Our time in line was spent speculating which window Tom Cruise was standing in staring down at us from the Church of Scientology Center. The Harold was a mixed bag, but the parts that were good, were very good. In that we'd seen Doug Benson the night before, we felt like we'd already fulfilled our comedy club quota. Our day of leisure was perfectly timed, because day three involved getting together with expert tour guide, Tony Shea.

Jay Hood has lived in Baltimore, Maryland for the past 25 years.  He likes to travel and is an avid photographer.  His photography has been featured in several obscure and unassuming locations, such as John Ball Zoological Gardens.  He does not eat vegetables and is learning to enjoy seafood.  He strives to keep his DVR no more than 40% full.  Comfort is paramount and he is not above a little slacking.