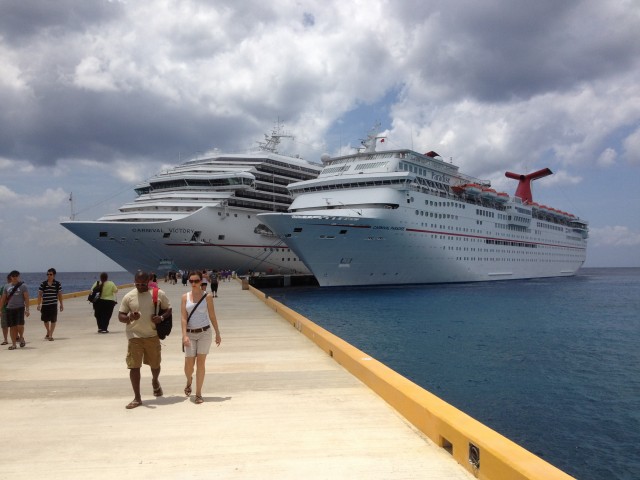 Ah, to work on a cruise ship; travel the world, see exotic places, play shuffleboard. It's a dream job, right? Well, yes, it pretty much is. However, it's like any other job.  When you "work" on the ship you begin to see some stuff a little differently. Please note, I am not complaining in any way. I work on cruise ships. People work in salt mines and sewage plants. I do not. I am lucky. I work as a "Fly-on" entertainer. So, I'm only on a ship a week at a time. I don't stay in one place for very long. Hence, the phrase "Fly-on." You fly out and meet the ship at one of its ports. Miami, Belize, St Marteen, Cozumel… Sometimes they even send you from one ship to another. You grab your bags, walk across the dock, and get on the other ship. It's a lot of travel. Sometimes you're so busy getting from point "A" to point "B" you don't have time to see the ports. But I think we can squeeze one in for this trip. So, enough pointless set-up…Let's work on a cruise ship, shall we?
First, we have to get there. "Fly-On" means literally that. You fly a commercial airline to a national hub. Then, a "not so commercial" airline to catch the ship at one of its ports.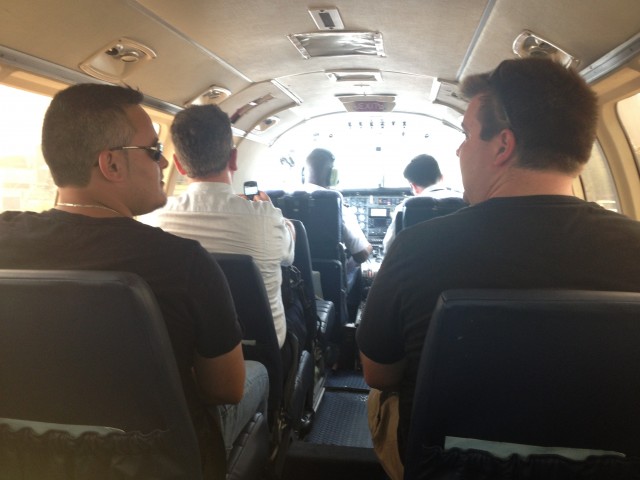 The "Not so commercial" flight. Kind of like a smart car with propellers.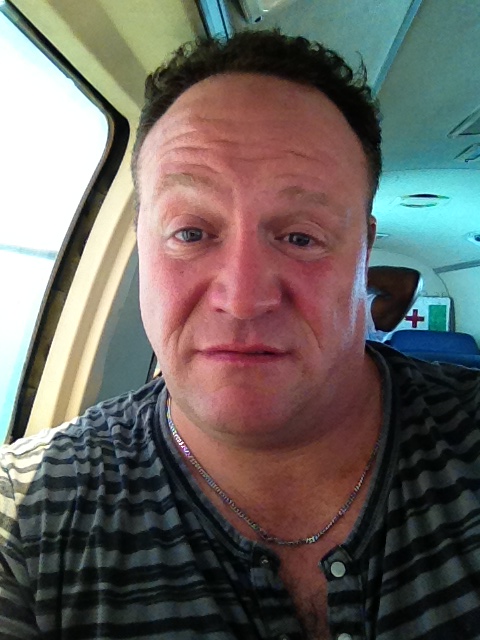 This is me enjoying the "Not so Commercial" flight.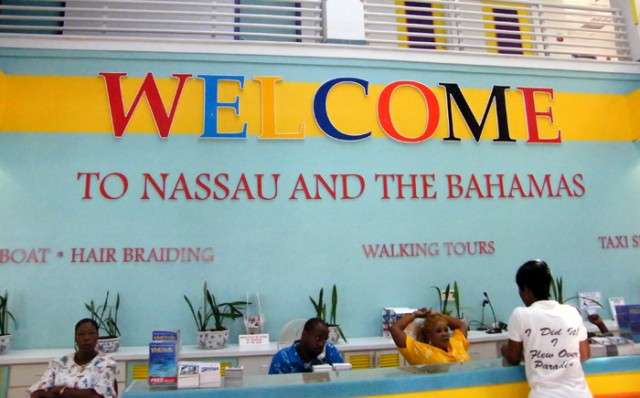 Yeah, first stop.  Bahama's.  While we're here, let's see as much stuff as we can. Don't have much time, so we'll stay close to the ship. Still, there's a lot of fun stuff in Nassau like…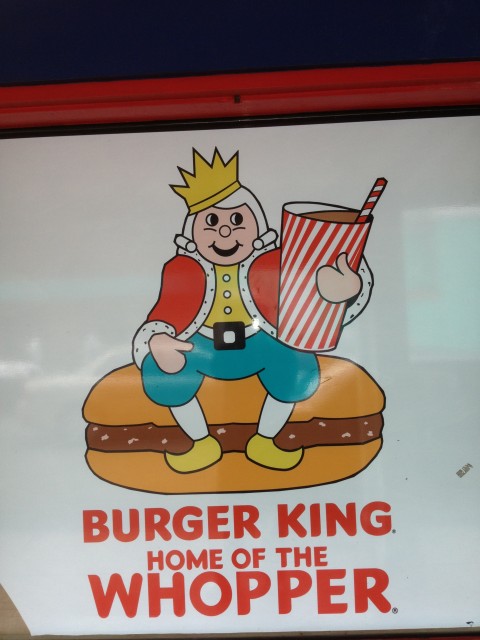 …Authentic Nassaunian food.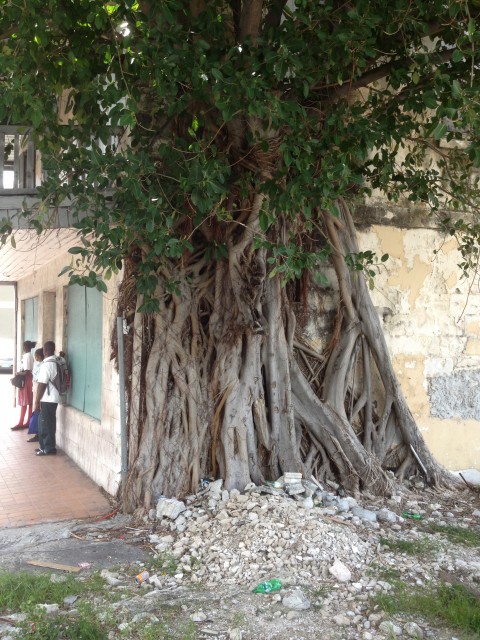 …And this weird tree, growing into a building.
There's also some things you have to be careful of. Have to keep your wits about you in a foreign country.
The infamous T-shirt jungle
Legend has it it was just a simple jungle, 'till a retired American solider came down the river. He hypnotized the locals with his western ways. Now, he has many followers.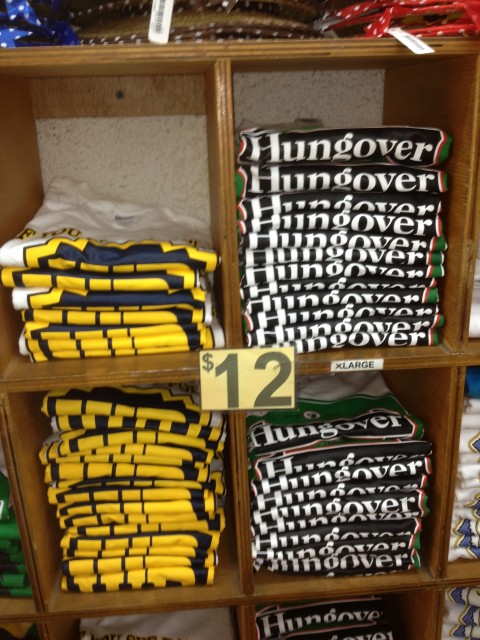 "The horror…"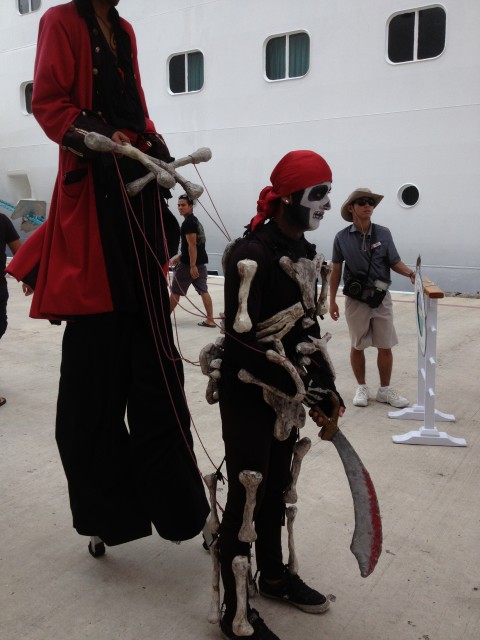 Pirates!!
Not just any pirates, a skull guy pirate. Very dangerous. I brought them a T-shirt as a peace offering. The were very nice. We talked for a bit. The tall one is from Pittsburgh.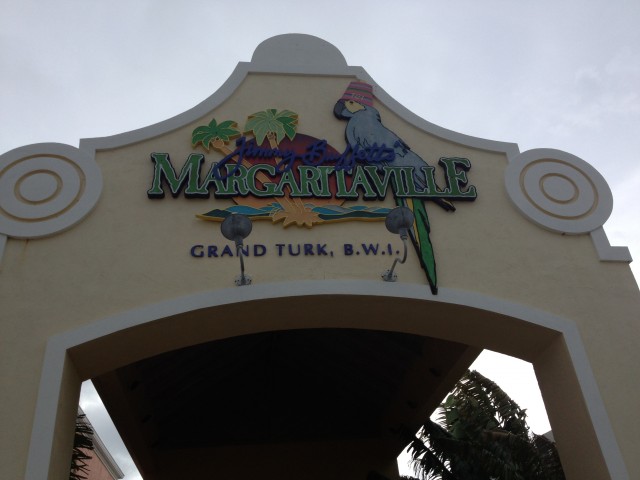 Let's grab a quick drink before we get on board. Luckily, there's a "Margaritaville" near this ship's port. What am I saying, there's a "Margaritaville" near EVERY ship's port.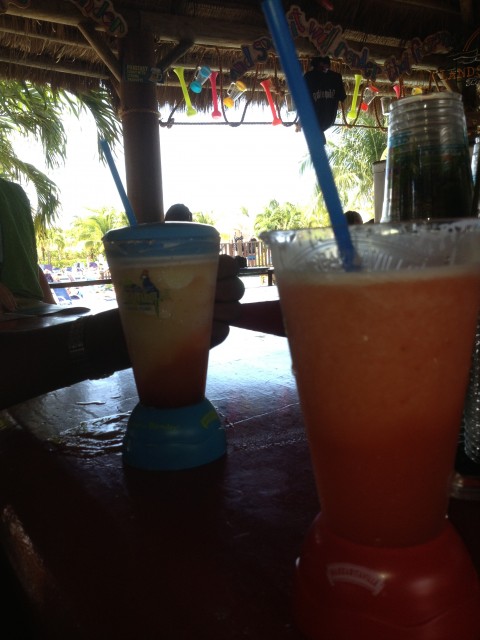 Margarita's are so delicious. Especially fresh, and made from scratch…awesome. Not here. Margaritaville is to margaritas what Soilent Green is to people. This is their specialty. I believe it's actually listed in the menu as "The Worst Margarita in the World!!"
Enough screwing around, time to get on board. But first, "The Gauntlet."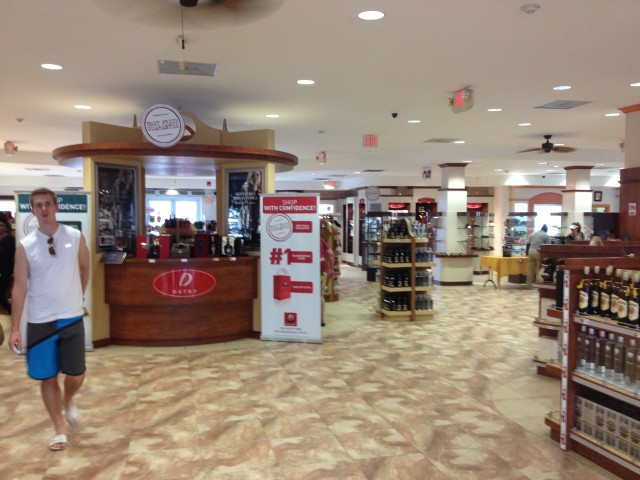 The Gauntlet.
Every ship/port has this. To get back on the ship, you can only go one way, a way that takes you through "The Gauntlet." A plethora of items for sale surrounded by people screaming "ITEMS FOR SALE!!!". In perfect English, by the way. No matter what country. Every item is described and pitched flawlessly. However, that's the only English they know. Ask them what time it is and they will stare at you confused for a full minute. Then, go right back in to the pitch. I don't think they are real people. Some sort of Stepford selling technique.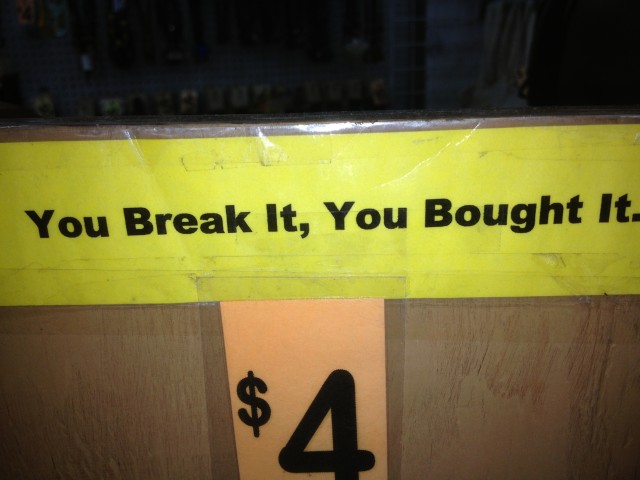 This is how it works: two comedians work every cruise. Many times you don't know who it is until you check in. Many times I don't know the other guy, but I know "of" him. But haven't had the fortune (or to be honest misfortune) to work with them, or even see them perform beforehand. Every once in a while, I work with comics who are not only friends, but guys I respect as artists. This week is one of those times.
Ladies and Gentlemen, meet Cleveland's own, Mike Lukas.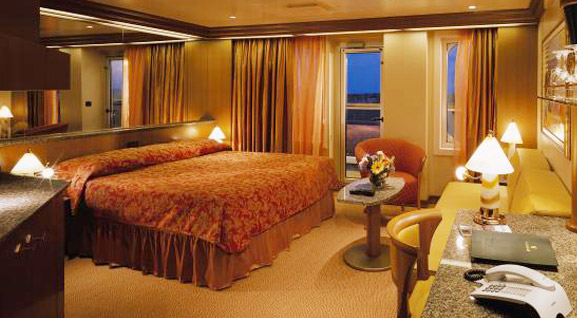 Guest Accommodations on the ship can be spectacular. Beautiful suites. ocean views, room service. Elegance on the sea.
This is my cabin. Look, TWO pillows!!!
FOOD!!!
The thing people talk most about on any cruise ship is the food. "There was so much.." "It was so good..!!" You know what, they're right. It's everywhere. Whether it's the buffet, seated dinner, sushi bar, afternoon BBQ, the cruise ships put it out. And the people eat it!! Boy do they. How many times have you heard somebody get off a cruise and say, "I ate soooo much.." That's great on 7 day vacation. But when you are on the ship every week, you have to be careful. You can't eat like that for weeks at a time. I mastered this. I got to the point where all I ate was boneless chicken breast and raw veggies.
Combine my healthy eating (on the ship) habits and the kick ass gym that is on EVERY ship…. and I was losing weight on every cruise. That's UNHEARD of!!! I had it all figured out.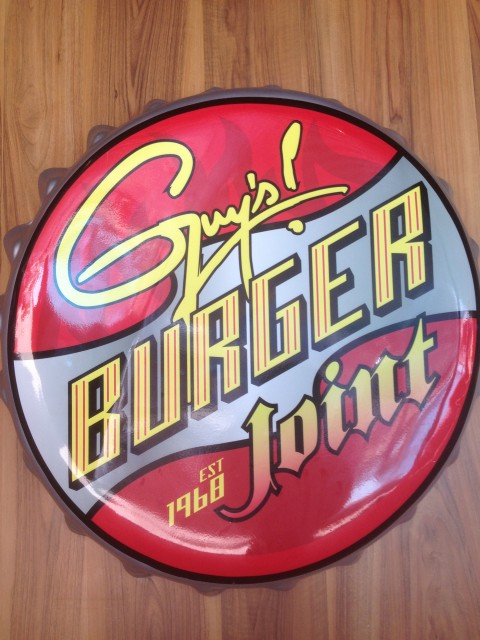 A few years ago, Guy Fieri opened a burger joint on the ships. They are quite possibly the most delicious burgers on the planet. And, let me tell you this, at a mere 7000 calories a plate (ballpark) I can easily work those off in a 5 hour work-out at the aforementioned kick ass gym. Remember, the key to staying healthy on the ship is be careful.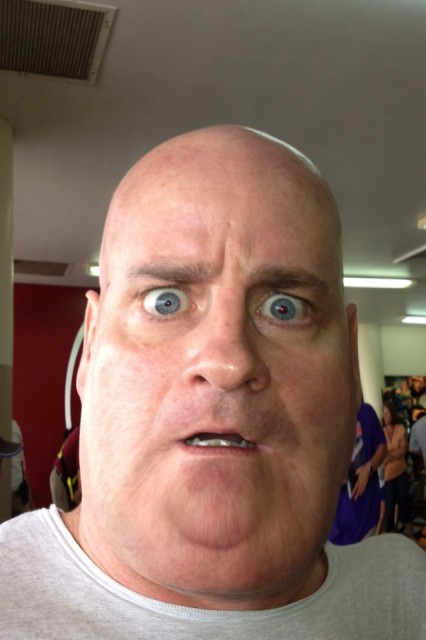 Cleveland's Mike Lukas, after not being careful.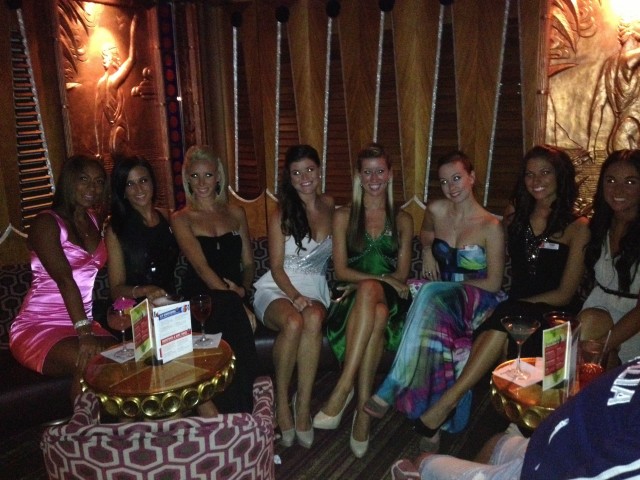 The lovely lady dancers of the CCL Paradise.
Here's the thing for me, or any fly on performer…We're only on a ship for a week. Everyone else that works on the ship, dancers, singers, stewards, engineers, nurses, cooks, everyone else signs a 6-9 month contract. They LIVE on the ship. Every day. I show up and meet them for a few days. For a fly on, so many ships, so many people, it's hard to keep track. It's hard to remember so many different people.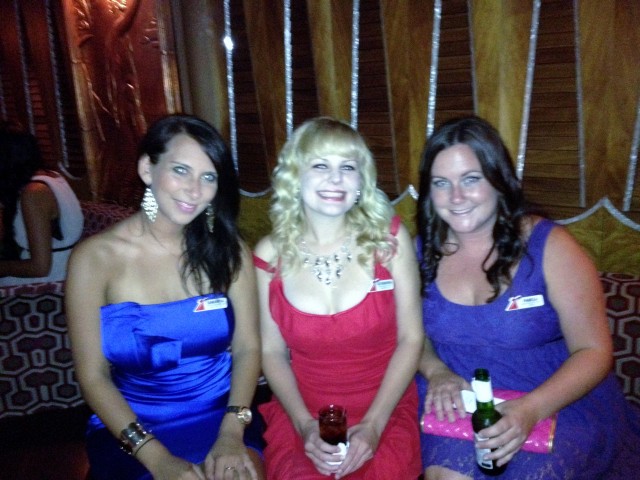 I remember these girls. Especially the girl on the left. Sam. Beautiful, talented, funny…a New York girl. She gave me a bogus phone number.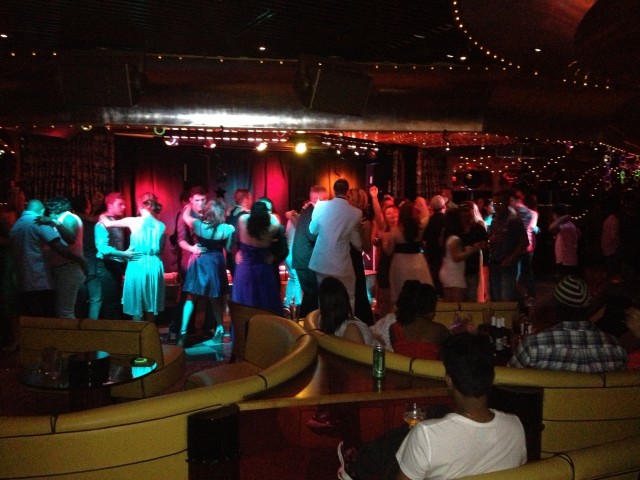 Crew Party!!!!
Yeah!! Even the crew has fun on the ship. Every two weeks or so, Carnival has a crew party of some sort. Carnival also has all sorts of crew excursions/functions – biking, hiking, volleyball, poker, sushi nights, basketball, trivia, karaoke…So, many things to do. Carnival jumps through a lot of hoops to make their employees/staff/crew happy, and rightfully so. They work and live on the ship. You can't call in sick. There's no "Sorry I.. cough, cough.. can't make it in," and then skip off to the beach. Cause they will FIND you. You're sick? Go to the nurse. If she thinks your sick, quarantine!! Can't have you getting other people sick. BOOM, you are locked in your cabin for the next 3-4 days. So, you might as well just go to work.
And, when I say work, I mean WORK. I was blown away at how hard everybody on the ship works. Not 8 hour days. 5 hours, then a 2 hour break, then 6 hours, then a 5 hour break, then 8 hours. The only thing more amazing is how nice everyone is. The customer service is amazing. Polite, quick, it's mind blowing. I mean you are surrounded by your job 24 hours a day. If I was eating dinner off duty after a 10 hour shift and a guest came up to me to complain about towels in their cabin, I would say very different things than I've heard the staff say. Bottom line; they are all better than me.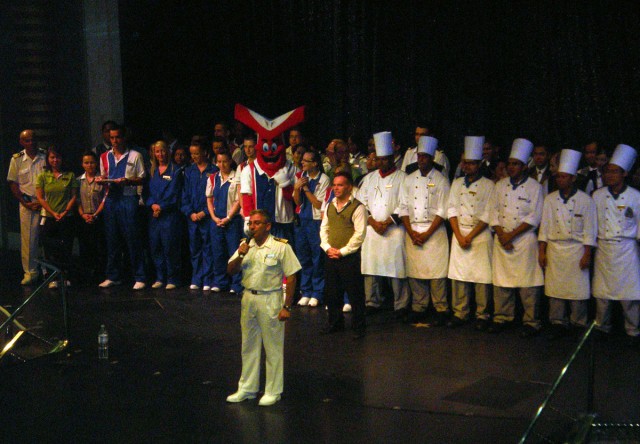 Sadly, my time on cruise ships may be coming to an end. The thing I will remember most always, will be the crew. There are people from all over the world. China, South Africa, Canada, Croatia… it's a melting pot. All ages, 20's to 60's, men, woman, gay, straight; sometimes as many as 1500 on a ship. It is definitely it's own little world. It's like a mini version of the whole planet. To watch these different people interact with each other in this small microcosm of a community is pretty rad, cause everybody pretty much gets along. Different cultures, different backgrounds, yet no major conflicts. Why? Sometimes you see the same people, eat the same food, see the same hallways everyday for 8 months. You're a grown-up who shares a 6X7 cabin with another grown-up. YOU'RE ALWAYS WORKING!! Wouldn't that drive you crazy? It would drive me crazy. Why doesn't it for these people? I'm not sure. Maybe it's because they all accept this place as their world. They are kind of in it together. This is their work/life/place. Doesn't it make sense to just accept it? Live it? Love it? Maybe that's why.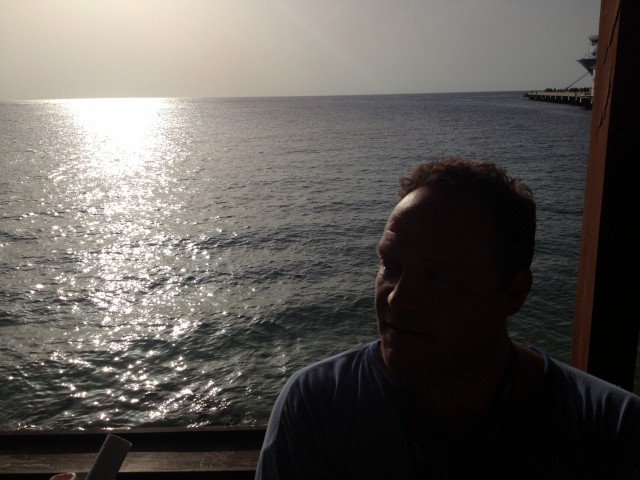 **You should like Shea Magazine on Facebook HERE!**
Lenny Schmidt is an actor/comic/writer/director who lives in Los Angeles. He's appeared in numerous films and TV shows including "Southland", "True Blood", and "Castle". He's performed stand-up in clubs, theaters, and cruise ships all over the world. He enjoys sleep, steak, and sports, not necessarily in that order.