(Westward Ho – Episode XV)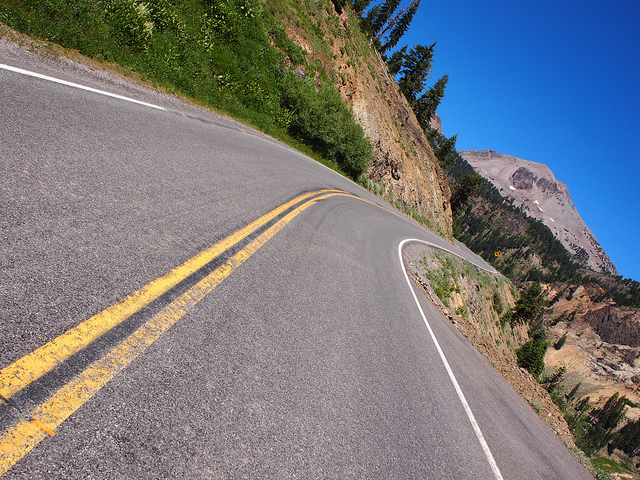 Poor Mr. Bumpass. He never really saw it coming.  I guess he should have expected it.  But hindsight is 20/20.  In his defense, it wasn't called hell at the time.  So how should he have known? Only after he'd been there did it earn the name.   It was indeed earned.
The journey to hell starts with a winding road.  Up, of all things.  Up into the mountains. Once at the 8000 foot elevation, the journey to hell truly begins.
The eye of sauron overlooking a lake across from the trail  is your first indicator that you are on your way.
At the start of the 1.5 mile trail is a snow pile.  Good for making snow balls.  I hear they are rare.  Might be a good market for them.
The journey to hell winds through the mountains along rocky cliffs fit for mountain goats.
The smell is a pretty good sign that you are getting close.  But finally, after one last climb, the view of hell spreads out before you.
After skidding down a rocky path, you end up in the middle of hell.
Filled with mud pots, boiling hot springs and other thermal features, it is easy to see why this place got its name.  Very little lives here.  What does is stunted and has adapted to the harsh terrain.
Minerals discolor the soil into psychedelic oranges and yellows.
The trip to hell is not for the lazy.  There is plenty to see.  But you've got to keep moving.  Boardwalks offer the hell bound visitor plenty of opportunity to view the surreal setting
And poor Mr. Bumpass?  He wasn't quite so lucky to have the luxury of wooden walkways.  He burnt his leg when the surface gave way and he fell into a mudpot.
He got off easy and went back to town to describe this hell he found.  He gathered up some press and took them to hell with him.
Retracing his steps a bit too carefully, he stepped into another mudpot.
This time losing his leg.
Bumpass Hell indeed

Jay Hood has lived in Baltimore, Maryland for the past 25 years.  He likes to travel and is an avid photographer.  His photography has been featured in several obscure and unassuming locations, such as John Ball Zoological Gardens.  He does not eat vegetables and is learning to enjoy seafood.  He strives to keep his DVR no more than 40% full.  Comfort is paramount and he is not above a little slacking.