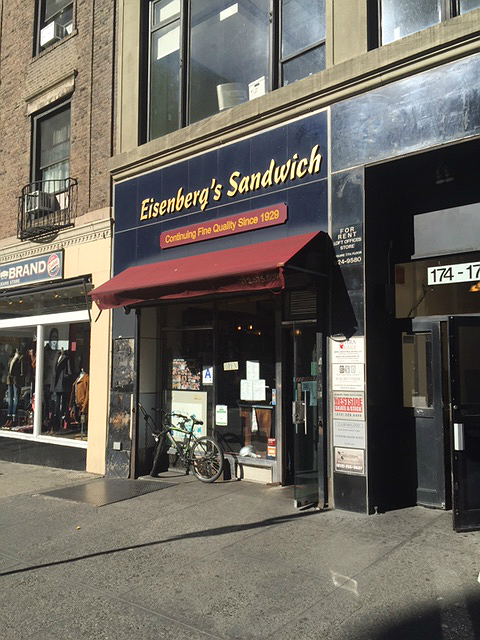 Right now the New York is experiencing what I think of as perfect weather, cool enough in the early morning that you might see your breath and then warming into the 60's as the day goes on. I was up and out early before the sun was up, tromping around the city. And I was "hangry," a word you'll be happy to know has been added to the Oxford Dictionary online, meaning "bad-tempered or irritable as a result of hunger." I only eat breakfast on the weekends and my stomach has a calendar.

Since the Carnegie Deli remains closed after that whole fiasco with the stolen gas, and the fines and the repairs, I needed to find another old-school joint. So Eisenberg's seemed like a logical choice. Opened in 1929, Eisenberg's is an NYC landmark that's been serving up classic diner fare for almost a century.
Eisenberg's is easy to find, located right next to the Flatiron Building at 174 Fifth Avenue, at the corner of 22nd st.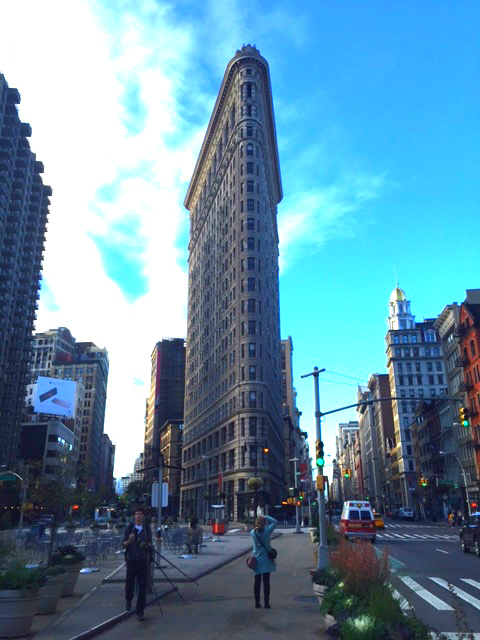 The place itself has a railroad car layout, long and narrow, with twenty-five seats at the counter and another small seating area in the back.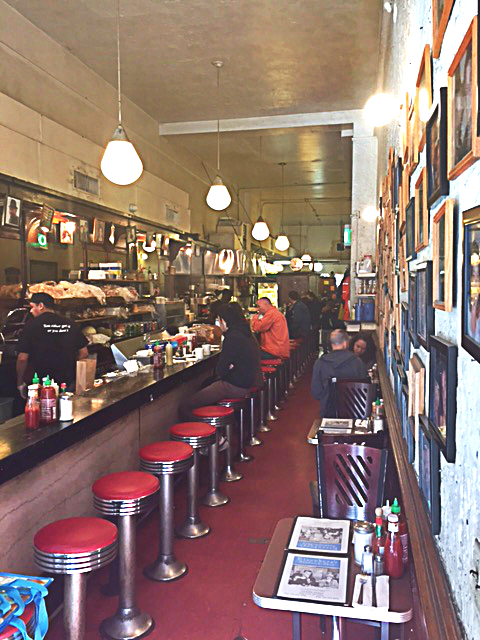 The menu features a nice assortment of old-school fare like eggs, knockwurst, rice pudding, and whitefish salad – the same stuff your grandparents ate.
Even though I was here for breakfast, I went with a corn beef reuben, which is my go-to sandwich of choice in situations like these, some pickles and a cup of coffee. Don't forget the side of Russian dressing.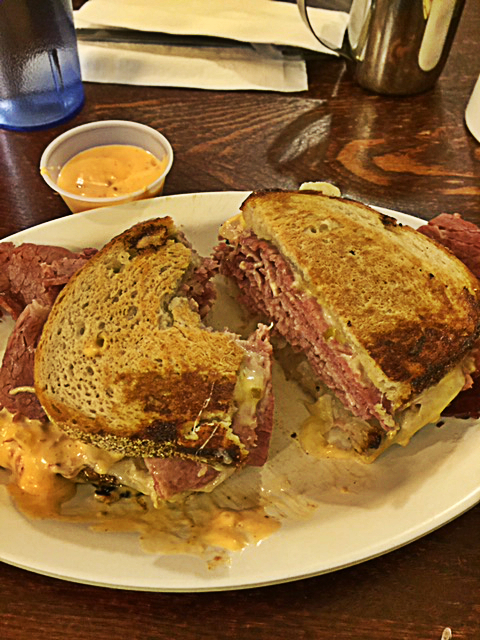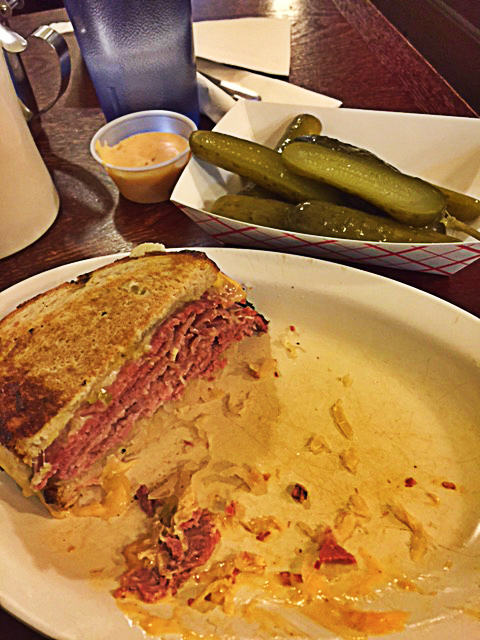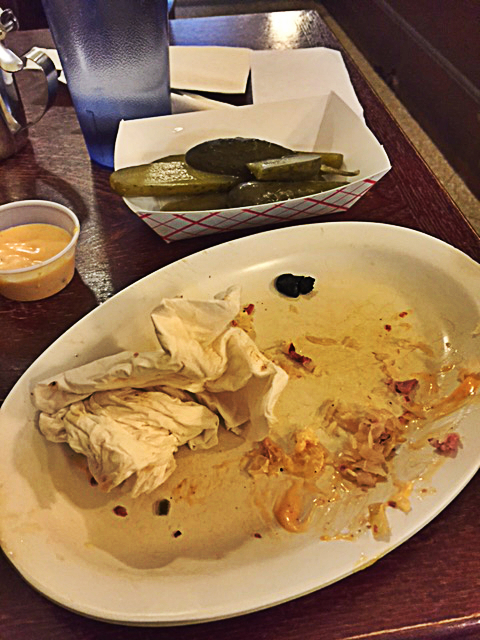 All in all, I loved the vibe of the place and the sandwich was solid, nothing flashy and no distracting side items like rippled potato chips, which always just seem to get in the way to me. Less than $20 bucks including tip.
One other thing that I forgot to mention, like the Carnegie Deli, Eisenberg's features its own illustrious wall of fame. This is where the stars dine folks.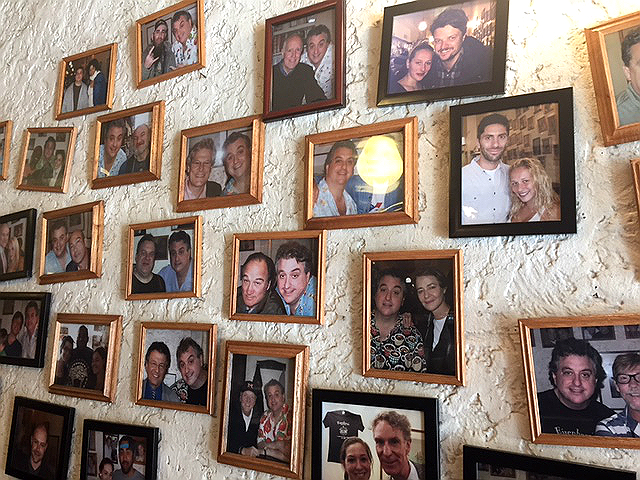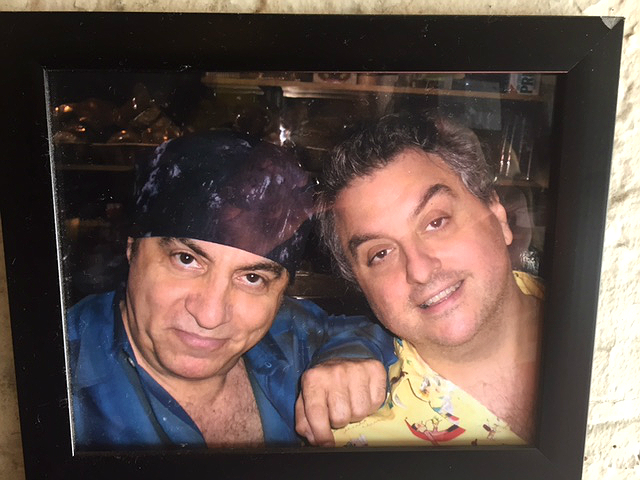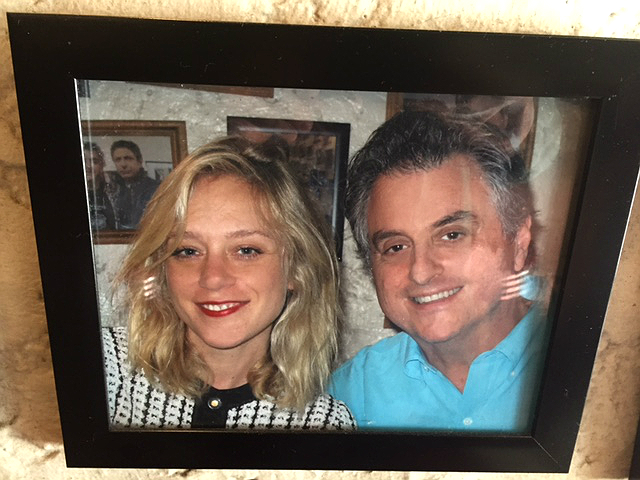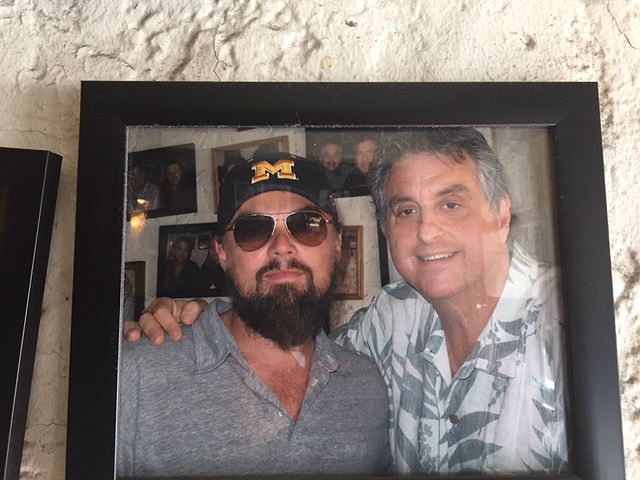 To learn more about Eisenberg's, go HERE.
**To follow Shea Magazine on Facebook go HERE!**
**To follow Shea Magazine on Twitter go HERE**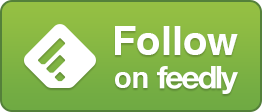 **If you liked this article you should share it!**

Tony Shea is based in New York, having recently moved from Los Angeles after more than a decade on the sunny coast. His short films have won numerous awards and screened at major festivals around the world including Comic-Con. As a musician, he is the lead singer for Los Angeles rock n' roll band Candygram For Mongo (C4M) candygramformongo.com who has been a featured artist on Clear Channel Radio's Discover New Music Program and whose songs have been heard on Battlestar Gallactica (Syfy Channel) and Unhitched (Fox) among other shows and films.