I had good intentions. Really, I did. I had an idea. I had a plan. I just needed the time to carry it out. It was going to be the ideal first story. The timing was immaculate. Right there outside my window at work was the perfect story for Halloween. Plus, it would capture a little slice of what makes Baltimore special.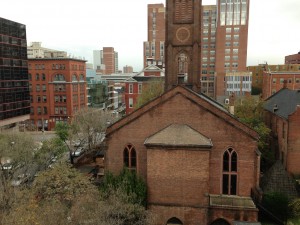 Down the elevator and two right turns would lead me past a crumbling stone wall. Another right and through an old gate and I'd be standing in a graveyard. All I needed was to get inside the gate.
Sandy! Sandy had other ideas.
Instead of being close to my story, I was trapped at home. The view was a little different. A little less clear.
Monday turned to Tuesday and Tuesday to Wednesday and I still didn't have what I needed. Access to the catacombs beneath the church and the graveyard outside in time for Halloween just wasn't happening.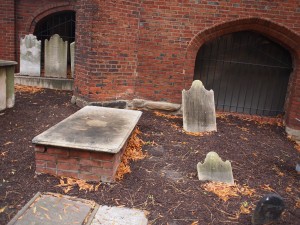 But by Wednesday morning, the skies were clearing. I walked to work and stopped at Westminster Hall and Burying Ground finally able to follow through. Unfortunately, time was still limited. I was able to see a few of the graves.
I was able to walk around a bit, but sadly, I had to get to work. And I wanted this to be done by Halloween.
I had a specific target. A particular grave I wanted to visit. One that just screamed Baltimore. One that truly makes this Charm City.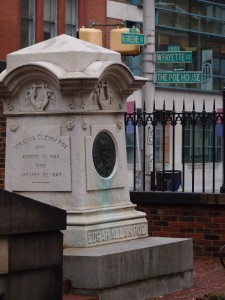 The big attention to Edgar Allan Poe's grave is usually paid on his birthday, when an unknown person leaves a glass of cognac as a toast. That hasn't happened in a few years now. But Poe's grave seemed worth checking in on before Halloween.
Sandy! The storm cost me my bigger opportunity, but left me with something almost better.
While the Poe toaster may be gone, some intrepid spirit in Baltimore managed to brave the storm and leave behind just what I needed.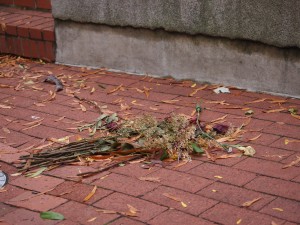 In the midst of a hurricane, someone left some flowers. Much like Baltimore, they were a little rough around the edges. Not quite perfect. A little worse for wear. But still there. Despite the rain. Despite the wind. Despite whatever else.

Jay Hood has lived in Baltimore, Maryland for the past 25 years.  He likes to travel and is an avid photographer.  His photography has been featured in several obscure and unassuming locations, such as John Ball Zoological Gardens.  He does not eat vegetables and is learning to enjoy seafood.  He strives to keep his DVR no more than 40% full.  Comfort is paramount and he is not above a little slacking.