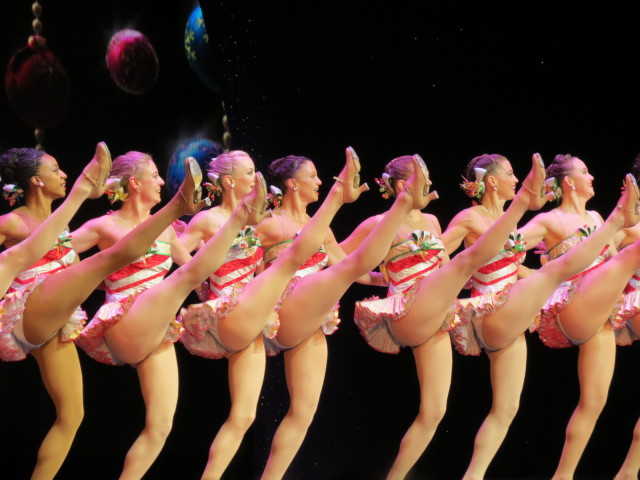 Fall has arrived in New York and that means it's time to take in a show by those gams gladiators, those legends of leg, the Rockettes.
You probably didn't know it, considering the Rockettes are synonymous with New York City, but the Rockettes were originally a midwestern outfit, starting out in St. Louis back in 1925. Since 1932 they have been performing at Radio City Music Hall, becoming a quintessential New York institution in the process.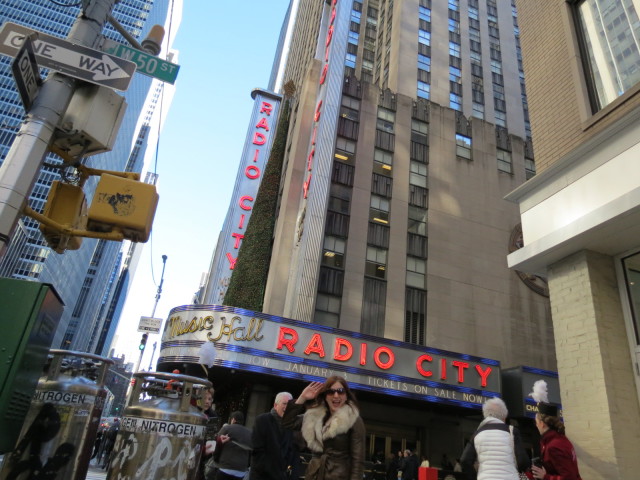 My wife and I arrived at 10:30 and shuffled in along with the throng of others. Radio City Music Hall holds 6015 people at capacity, and just about every seat was filled for an 11 a.m. performance on a Friday afternoon.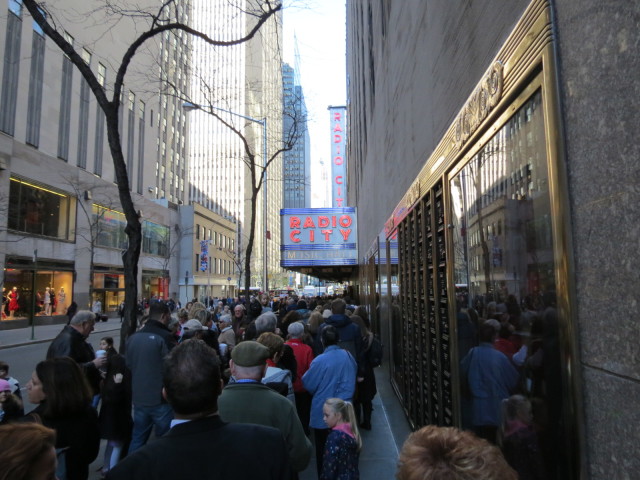 Through the lobby and under its grand chandelier we made our way to our seats within the massive inner orb of Radio City — that is after I stopped off at the candy bar for a few scoops of chocolate covered peanuts.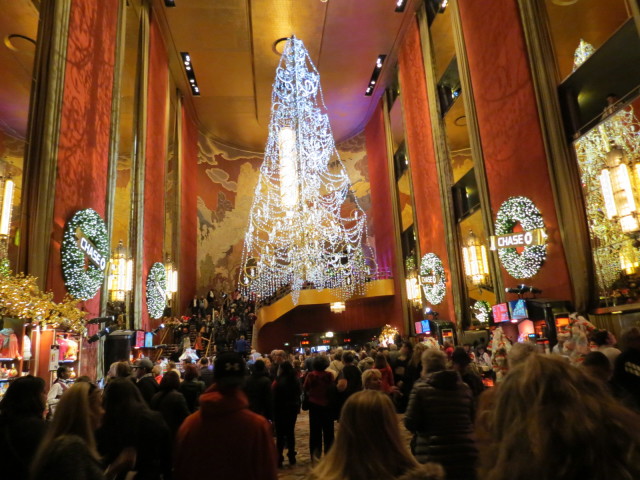 We had orchestra seats, stage right, about twenty rows back. And at only $65 bucks a pop, they afforded us an excellent view of the show.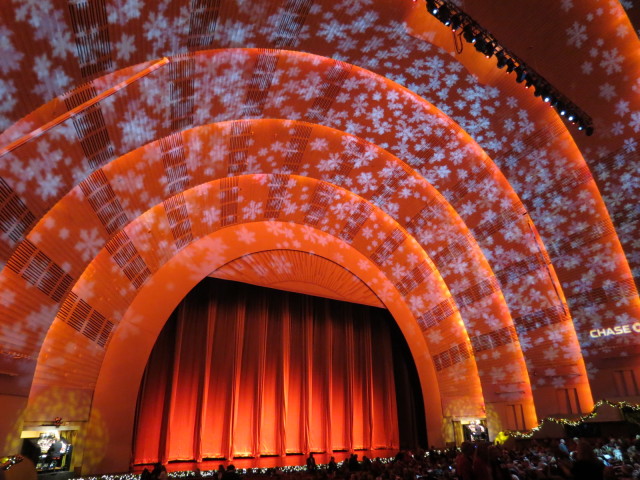 After a little music from the organist as folks got settled in, the orchestra played, rising from the subterranean depths on a motorized platform. Back down, the show began in earnest.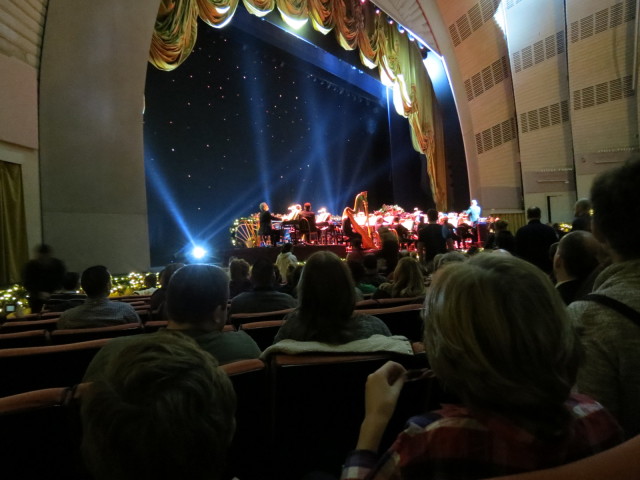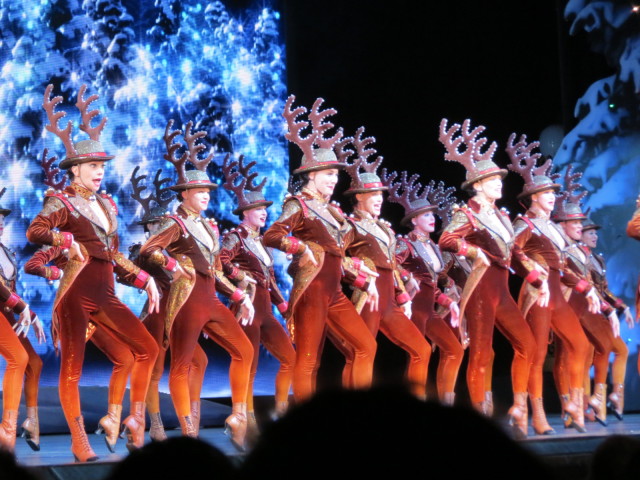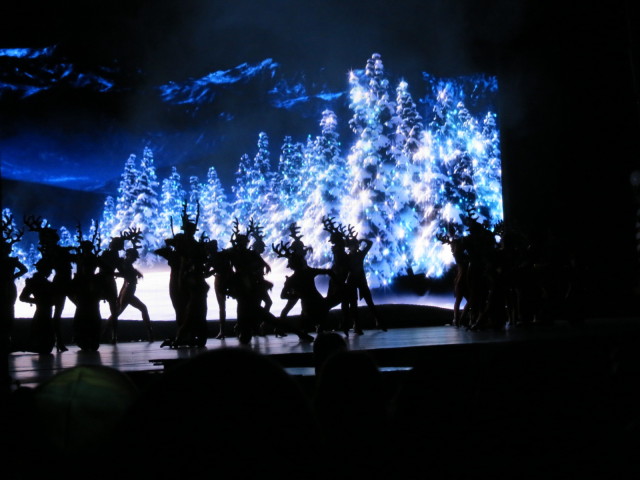 The opening number called "Sleigh Ride" saw the Rockettes dressed as reindeer and ultimately pulling Santa's sleigh off stage and into a short 3D movie that took the audience on a tour of midtown Manhattan, showcasing the technological abilities of the theater and functioning as a value-add for the many young (technology-addicted) children in attendance, almost all of whom were remarkably well behaved. There was scarcely a cry heard during the entire show.
There's several Rockette-less scenes woven into the the 90 minute show which (basically giving the Rockettes time to change costumes) feel like filler, the song and dance equivalent of that side of creamed spinach you're eating while your waiting for the fillet mignon to arrive.
"The Parade of Wooden Soldiers" was probably my favorite scene of the night and featured some fascinating military style precision and complex geometric designs, culminating as the Rockettes collapsed like a set of dominos down the line.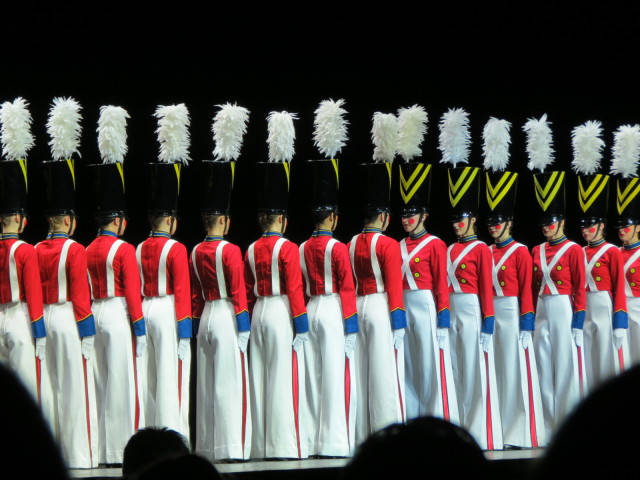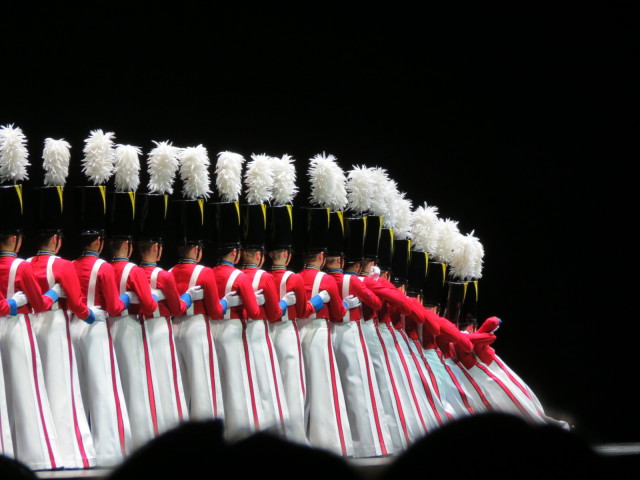 A close second was "New York at Christmas" in which the Rockettes rode a double-decker bus for a tour of a virtual New York, ditching their long white Winter coats for red and green sequined dresses, letting loose the legs.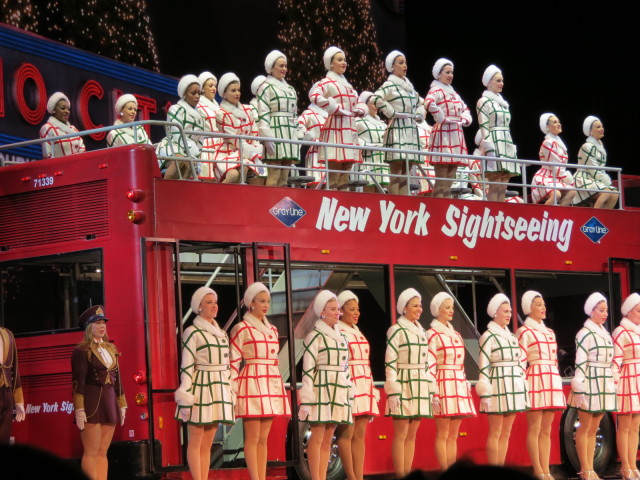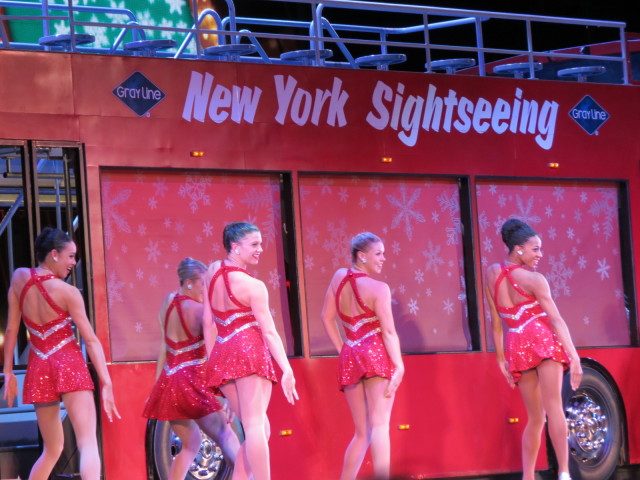 You have to hand it to the Rockettes, these girls can do it all: dance, sing, tap, spin and seamlessly execute complex routines with many moving parts.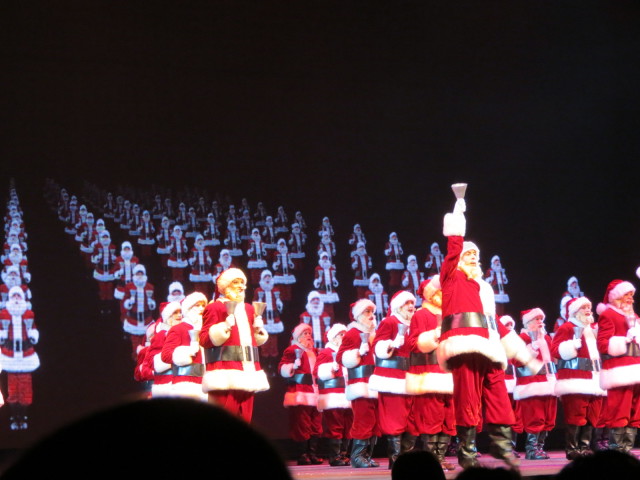 The show moved along at a quick pace and managed to have a little something for everyone whether you were six months old or ninety years old, which is pretty tough to do. It's not the kind of show you're going to see multiple times, even though I have several friends who told me it's been part of their family holiday traditions every year for decades. It's more of a once, or twice, in a lifetime sort of event and all in all it was really fun.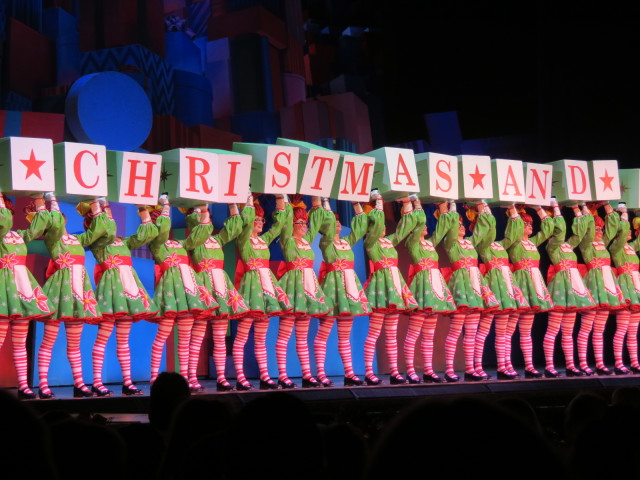 To see more pictures of the Rockettes and the Radio City Music Hall Christmas Spectacular FOLLOW US ON FACEBOOK.
The Rockettes and the Radio City Christmas Spectacular continues through the end of January and tickets range in price from $45 – $350 dollars. For more information go HERE.
**To follow Shea Magazine on Twitter go HERE**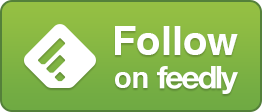 **If you liked this article you should share it!**

Tony Shea is based in New York, having recently moved from Los Angeles after more than a decade on the sunny coast. His short films have won numerous awards and screened at major festivals around the world including Comic-Con. As a musician, he is the lead singer for Los Angeles rock n' roll band Candygram For Mongo (C4M) candygramformongo.com who has been a featured artist on Clear Channel Radio's Discover New Music Program and whose songs have been heard on Battlestar Gallactica (Syfy Channel) and Unhitched (Fox) among other shows and films.