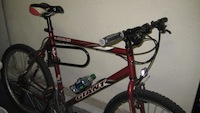 One of my favorite things to do in Los Angeles is to go for a bike ride. I average one ride a week with the occasional week where I manage to get two or three rides in. I usually ride between 5-8 miles. This week's ride, I went from Burbank to the North Hollywood Metro station and back. Approx 6 miles. I took my time and the round trip lasted about 50 minutes. I began on Magnolia and then more or less followed the Chandler Bike Path. I take all the pictures while I'm moving, unless I get stuck at a traffic light, or wipe out, which sometimes happens while I am trying to take the pictures.
Here's some music to listen to as you ride along.
I started off on Frederic street near my local market.
This is my local bar.
I went further down Magnolia. The cool people eat at Urban Eats.
Magnolia looking East
I rode north on Hollywood Way past the bike shop.
And this Travelodge where I once holed up for two days trying to finish a novel. No luck.
Then I rode west onto the Chandler Bike Path.
There were lots of flowers.
And power lines.
I rode past my favorite bookstore in LA – the Iliad used book store at the coner of Chandler and Cahuenga.
And then I kept on riding.
There's a long stretch of art on the walls of some industrial buildings.
And there's this great free manure pile.
I arrived at the NOHO Metro station.
I circled around and began going south on Lankershim.
This is Tokyo Delves, which is a novelty restaurant where Japaness waiters sing songs and make you chant while you drink Saiki Bombs.
I went past Phil's over to the Acadamy of Motion Picture Arts and Sciences. In the old days, I used to pick up 75 bucks here and there watching pilot episodes that the networks were developing. I would sit in a room, turning a pleasure meter to indicate how interested I was in what I was watching, up to  the second in real time. After we watched the show we broke off into focus groups and a little man with glasses asked us all sorts of questions about what we thought of the main characters, and if we related to them, and if we thought they were likeable, and what changes to the show we would make and so on. Most of the people in there were unemployed, like I was. Lots of them were drunk. I once sat across from a man in a focus group who only had one shoe on.
I rode past the steak and cheese place.
And some apartment buildings.
A friend of mine lives in here.
These guys were having their car towed.
Looks sharp.
Storage warehouse.
Then back on Chandler and that great free manure pile again.
A little nature to break up the hardscape.
I rode past this big orange truck that was huffing like a hungry dog.
Doesn't look too comfortable.
Some more flowers.
There's lot of signs with rules on them.
And more signs.
And a bronze statue of a girl riding her bike. Look Ma no hands.
And some more flowers.
And electric lines.
Two houses that look like barns.
These people have a white chimney. They probably don't get much use from it since we only have winter out here for three weeks a year.
And still I rode on.
Back past the market again.
And then to my local bar.
You can work up a real thirst riding that bike.